Shocking. Law and order, right?
From X:
Just In: As was expected once he got a lawyer who cared about protecting HIM, Yuscil Taveras from MAL has struck a cooperation agreement with the special counsel's office.
Perjure, perjure, perjure.
The man is incapable of not lying.
I'm sure there will now be unfounded rumors of those people having "flipped". Another day, another drama.
Yep,there is chatter that Lindsey is cooperating. But who knows.
Trump explaining he was completely aware that taking classified material would have been illegal and get him in trouble. Also throwing his aid under the bus at the same time.
You have the right to remain silent. Anything you say can and will be used against you in a court of law.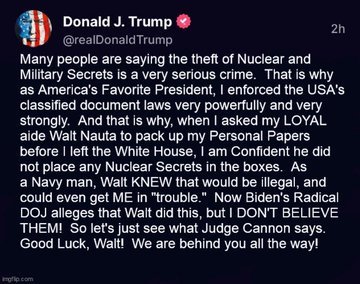 He doesn't care about anyone but himself.
If this is accurate… It's impressively stupid even by this group's standards.
Yes, that was a boneheaded mistake to make to give up a jury, if that
report accurate.
Also of interest was the one lone grand juror that voted against the Georgia
indictments. More then likely the same person who is not interested in truth only
worshiping Trump. And so , as others have speculated before, hung jury due to
a MAGAt infestation is real possibility in one or all 3 of the jury trials.
Cannon actually rules against Trump.
I'm actually surprised his "But I'll be much more careful with them this time" excuse didn't work with Cannon.
I guess Wood is gonna lay the lumber on Trump.