As of Oct 5, 2016 4pm: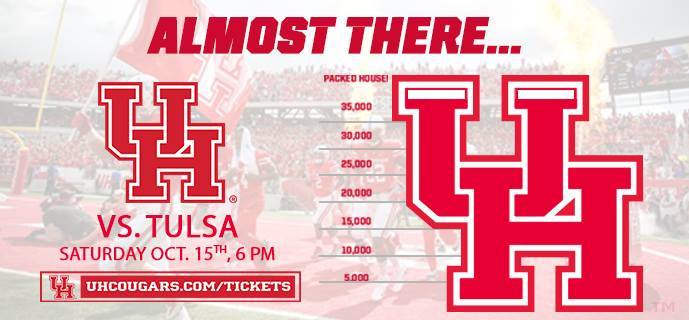 What? No dot counting?

I think the dot counters are taking the week off, lol. But cool to see that we are that close to a sellout already. I am loving the 6 PM kickoff as well.
I'm ruining it. We're at 3,289 available single game tickets. Sold about 500 tickets this week, but I'm guessing Tulsa returned some of their tickets as Section 224 now has 211 tickets available and Section 225 has 74 tickets available (both had singles only earlier this week). Going to need a big push next week to get this one sold out.

A Saturday night game should have a considerable walk up crowd.
Seems that alot of tickets are sold during the week of the game as well. People wait until the last minute for whatever reason. I have a cousin who goes to games, but will wait until like the Wednesday before the game to buy them. For him, it is a matter of seeing if he is going to have to work over the weekend or not.
I bet the student section will be pretty big. I thought I read somewhere, maybe a tweet or thread comment, that there were over 6000 students at the last game. Can anyone confirm that? If true I wouldn't be surprised to see 7K at the next game.
Tulsa and Coog wins this weekend should put this one over the top. Tulsa's support seems to be pretty sparse given some of its recent success. Maybe these small private schools have a tough time breaking through with local fans.
I thought I saw on Twitter that there were 150-200 tickets left for UConn several hours before kick off. We ended up selling 800 over capacity. Either the info was wrong, or there were significant walk ups for a Thursday night game.
Yes, Yurachek tweeted out that we "set a student record" with over 6K students for UCONN.
We actually had more (10K) at the UTSA game, but can't blame him for trying to block that one out of memory.
Significant walk-ups for the game in the form of almost 1K extra students.
Awesome. As long as they're in the stadium and loud, that's a good thing!
One week left, the need to sell out this game is even more important after the loss to Navy. Need to show how our fan base handles adversity.
Pretty sure we've all been fans long enough to know the fanbase dries up after the first loss. We didn't sell out the Navy game last year, and that was for a Conference Championship Game appearance.
At least all the scalpers that bought Louisville tickets are going to eat a loss.
We sold 40,562 to the Navy game last year. What are you talking about?
Pretty sure there were still tickets available.
"The Cougars clinched the West Division, setting off a wild postgame scene as most of the student section in the sellout crowd of 40,562 at TDECU Stadium spilled onto the field to celebrate the biggest win yet under coach Tom Herman."
Link ---- Houston Chron postgame
Navy was a sellout last year.
Navy sold out but there was over 5k no shows.
The trolls are really starting to show themselves after the loss.