Better than the FSU game.
Not on a weekday
vs a local team
Holiday weekend
8 months of build up and the press did a great job of pushing the "Playoff Crasher" narrative
Houston was tuned in! Hopefully some of those people who watched will hop on the bandwagon and get some season tickets.
This is absolutely huge. We got a 12.8 in Houston, a 7.3 in Dallas (sure, playing OU helped there), and, I think, a 4.0 nationally. Check out last year's local numbers for regular season games, and keep in mind that UH-OU did better nationally than the Peach Bowl, which got a 3.6 or thereabouts. Amazing ratings. It should be all but a foregone conclusion now that we're going to a P5, if not the Big 12 then the PAC or ACC. Houston has climbed to the #8 market, and we own it.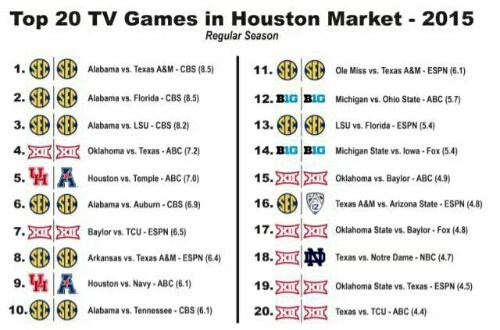 Did a quick lookup. That Houston-OU 12.8 TV number in Houston bigger than any regular-season or New Year's Six CFB game last year in market.

— Chuck Carlton (@ChuckCarltonDMN) September 4, 2016
We topped Dallas yesterday, too.
wow, that's pretty impressive! go coogs
Fantastic numbers
Think about our ratings to:
TWO SEC/PAC12 GAMES…Alabama, USC, UCLA and atm
Look at what atm got in Dallas
Compare to what the SEC tv numbers have been in Houston
Think about our fans showing up
The small12 has no choice but to invite us. This is history repeating itself. We got in the SWC for the same reasons.
Now don't you think that the SEC and PAC12 took notice? We are in the age of cord cutting. We bring a unique/fresh value. How many Schools can present the same case. I would not be surprised one bit if both conferences come calling.
That may be a reach but there is a bit of history with the SEC. IF they were to decide to fill out their hand and go to 16 Houston - both the city and the school - would be hard to ignore. I know A&M thinks they can do it by themselves but they haven't managed to pull it off yet.
I'm surprised that we smoked SC/Bama when they got so much press leading up to the Cowboys Stadium game.
If the SEC decides to go after us. It is checkmate. The small12 won't recover from it. Remember, we are the third most popular School in Texas. Our recruiting will go much further then where we are now.
Would you still call them the small12 if we get an invite? lol
Good you ask. I will only change my "tune" when we do get invited. Remember the same "rotten apples" excluded us when the small12 started. For the same reasons that they NOW WANT US IN. History keep repeating itself. This is our SWC invite all over again. That is why I favor the SEC, PAC12 or BIG10. I will never trust uta and even an invite won't change my mind. I always try to learn from history.
Every single member of the small12, SEC and even PAC12 know what the greater Houston area represents. We have the very best recruiting area in the entire country. Just imagine if we were able to keep the best recruits? Ed Oliver is a prime example. His signing was huge and hopefully many will follow. That is their worst nightmare.
UT-ND did a 7.0 nationally, tying the top regular-season game from last year (MSU-tOSU). It still didn't beat UH-OU in the Houston market.
So much for the Big 12's "we already own the market" argument.
Holy. UH-OH beating UT-ND handily in the Houston market is big. Even bigger when you compare the time slots and day.
More people watch tv on Sundays than any other day of the week.
Yeah, really. This is BIG. That's just about the biggest Houston market rating UT could hope for – national primetime game, functionally uncontested save for a severely delayed TSU-PV matchup on ESPNU, and an instant classic game against a blueblood opponent, all broadcast on an over-the-air network – and they didn't beat UH at 11 AM in a contested timeslot. This might be a bigger win than the one we got on the field.
Anyone know where tv ratings for total viewers would be? UT knuckleheads claiming the ratings mean nothing.
It's also fair to mention that the UT ND game was literally the ONLY game on tv yesterday, that helped their ratings astronomically. But still glad to see that we dominate the Houston market with our game
Well, there was technically TSU-PV, too. But yeah.
Truly only speculation, but imagine what those Houston and Dallas and national numbers would be if Advocare had pitted OU vs. any of the other schools under consideration. Cincy? BYU? Rice?
Bottom line is ESPN has to be paying attention to these rankings. It would be one thing if it were only a single game. They could even argue that the ratings were due to OU, but in reality they continue a pattern UH began back in 2011 when Case was here. Moreover it is fair, and smart, to consider what the ratings might have been had OU been playing BYU or Cincy, as one poster noted. NRG might have had 50,000 fans - at best. Nope! This was on UH and pretending otherwise by any party could become very costly to ESPN, and the Big 12. When UH pulls a 12.8 in its home market and the Mighty University of Texas, aided by Notre Dame comes in second with 11.5, well, the numbers speak for themselves.