Get on board, it doesn't stop until the Final Four in Houston in just over four months.
Can I get first-class? I hate riding with the "common folk."
Give me the caboose and a heap of beef jerky.
Interesting coincidence…I met a friend (and big Cougar fan) last night for a quick stop at the Amtrak station downtown last night as he made his way from Thibodaux, LA to Alpine on the Sunset Limited. He was not on the caboose, but definitely riding coach. However, he came bearing gifts – a package of BEEF JERKY from Bourgeois Meat Market in Thibodaux!
If you've never had it, I highly recommend some meats from Bourgeois!
During our brief visit we had just enough time to down a couple of beers and get him connected to the UH radio feed online to help with the ride to San Antonio.

There's nothing but common folk on the train. We're Coog fans, we're all first class.
Interesting since you posted earlier today that the line tonite was "easy money" for SMU
I thought it was, SMU looked good in Hawai'i against decent competition. Our buttwhopping of them only enhances my faith.
And for the record, I thought UH would win but only by 10-15.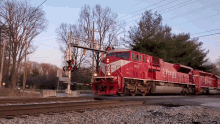 Woo woo!
We have a pit stop in Memphis and then after that, next off to Fort Worth. Choo-choo!
The train is leaving Fort Worth and next stop? Birmingham.