which of our recruits was drafted?
None of them in the 1st 10 rounds. Looking good that we might bring in this entire class.
Astros take Carson LaRue in the 14th. LaRue is a JUCO commit.
Rangers task OF Marcus Mack from Bellaire in the 18th; Coog signee.
Rays take Alfredo (Freddy) Villarreal in the 22nd round
Royals take JUCO signee Tyler Fallwell in the 19th round
Astros take Nick Slaughter in the 35th round
Red Sox take Carter Henry in the 40th round
One guy I hadn't been tracking as a JUCO commit, Cody Nesbit was drafted by the Royals in the 22nd round.
Try to do some research on him later.
Draft is over, just waiting to see who leaves now.
Villarreal has confirmed he's still headed to UH. Sounds like Henry and Slaughter are also going to UH.
LaRue is a question mark; depends on salary negotiations according to his father.
Fallwell sounds like he's probably going pro.
Nesbit is on the fence.
No idea on Mack.
Some articles on the recent draftees:
Dewey High grad Carson LaRue drafted by the Houston Astros

LaRue's father Scott told the E-E negotiations already have begun with the Astros, and that Carson's decision whether to sign will depend on their outcome.
PNG's Henry, two Cards drafted

Carter Henry of PNG became the 40th-round pick of the Boston Red Sox, but he said Saturday he will still attend the University of Houston on a baseball scholarship.
Chargers' Villarreal has a change of heart, will head to Houston
http://www.brownsvilleherald.com/sports/hs_baseball/article_f945b03e-3113-11e6-8836-03397463ec04.html
After The Brownsville Herald went to print Saturday, Villarreal had a change of heart and decided to honor his commitment to the University of Houston baseball team instead of becoming a professional right away.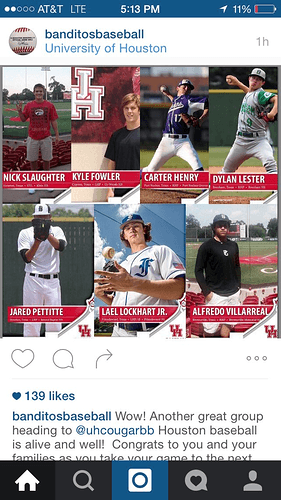 <img
My ol pal from back home was carter henry's english teacher. Says he is a straight shooter, very hard worker, all around good kid. Glad to have him before the red sox got a chance at him.
Also pretty happy to see a # of these guys stick with their UH commitment after being drafted.
Cody Nesbit has changed his twitter bio to read that he's part of the Royals organization so it looks like he's decided to go pro.
Nothing new on the others
Fallwell will sign with the Royals and forego coming to Houston.
Have a feeling Mack is about to turn pro as well; pulled down a pinned tweet of him signing his LOI.
No new word on LaRue.
Marcus Mack signed with the Rangers today and won't be coming to Houston this fall.
Only one left to monitor is Carson LaRue. Only word about him is right after the draft when his father said they'd be negotiating and make a decision soon; that was over a week ago. LaRue would be an awesome get.