Yup. This snuck up. I was on twitter and happened to see the link. Fees are insane thru AXS tix
I'm on row 6 section 120 until I flip these bad boys. I am assuming they have not opened the upper deck yet.
Anyone know where the UH group will be sitting? Also, I'm assuming the prices are for both games?
Can we buy them through Cougar Pride?
Thanks for posting! I grabbed some behind the goal.
No. Go through the link. Athletics posted it.
Well, Im 90% sure that this is a "go on your own," situation. Buy tickets now. If you can go through cougar pride later, then just sell them. These will sell like hot cakes later.
Went ahead and bought 6 in 120 as well. If CP comes up with something later, I'll take a look. Don't see how i can lose.
Section 107 row 20 - Go Coogs!
Thank you for posting! I had no idea they were going up for sale already. Got my 4!
I just picked up 6 tickets. Can't wait for this!
have to assume they will open up the upper deck?
Got mine. I should have got them yesterday

Tickets are going fast.
Plenty of seats left but going fast.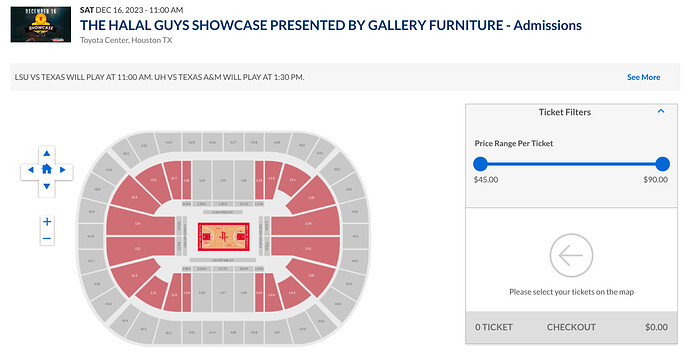 $45 seats getting scarce. Great X Mas present.
https://shorturl.at/cnqr0
So regarding tickets:
Season ticket holders will get a promo code to buy from a ticket allocation for this event. That allocation starts at 1k and can grow from there.
Note that the account base for basketball is mid 2000s (as in there are 2000 accounts that purchase season tickets in a 7.1k arena.
The growth would only happen in the upper deck.
Edit: know that this allocation could be cougar pride based. The ticket rep I spoke with said the largest donors will get first crack, followed by all others.
Is the seating mixed or does each school have designated sections? Thinking about making the trip down from Oregon.
I would assume each school has an allotment to fill which is a grouped block of seats, which can then be expanded
They should have sent the email out to STH already. Waiting this long is simply poor execution. My guess is most STH (myself included), already purchased tix.