Like the new look.
Looking at the completion date of 1 Dec 2018, wonder if it means we'll be on the road at the beginning of 2018, play at other venues in Houston, or hope that we can go ahead and play there.
Wow - something totally different from the earlier rendition. I am so very glad that the new one seems to have done away with that idea of half the seats being red, the other half being white (just waiting to get dirty and ugly), and that God-awful, gaudy "UH," made up of white seats in the middle of the red ones!
I am disappointed that the concourse does not seem to continue all the way around the seating area, and I hope this new concept does not reduce the seating capacity yet again.
Before y'all get excited one way or the other, these are conceptual drawings. Not final drawings, not construction drawings. If you look the conceptual elevations, do not show the Guy V Lewis Development Center. The concourse is still there, but it does not always look onto the court, at this point… Have fun.
This document was attached within the last couple of days to the contruction manager bid package. It was likely presented at the pre-submittal meeting on August 10.
It states that schematic design is 100% complete, and final design development will be 100% complete on October 10.
It's the latest info we have, and is only a couple of months from being final.
It's also a lot different from the original conceptual drawing, as well as the renderings submitted to the Board of Regents in February. See below.
So you're right. It's not final. Yet. But it's likely to be dang close to the final design. And it's what the construction managers will be using to make their bids.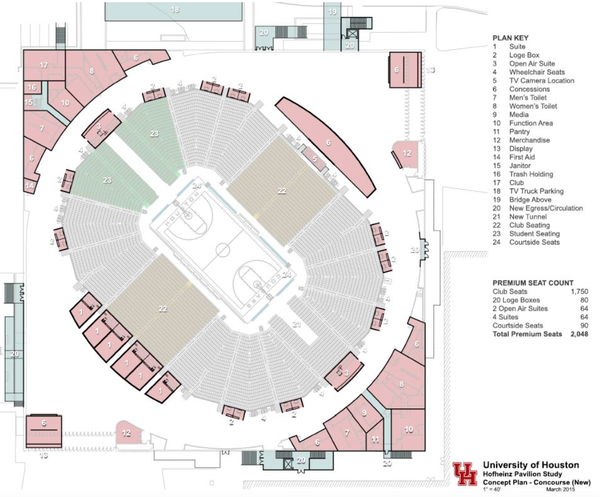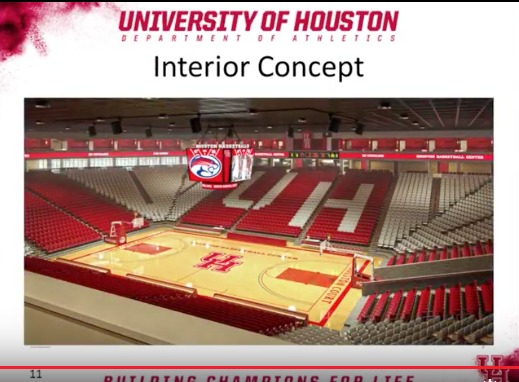 Sorry - my original post was meant for another site but was made on this one in error. It is being replaced now with this one because I could not find a way to simply delete the original post. Strange!
Maybe I am missing something.