http://www.uhcougars.com/sports/w-golf/spec-rel/042318aab.html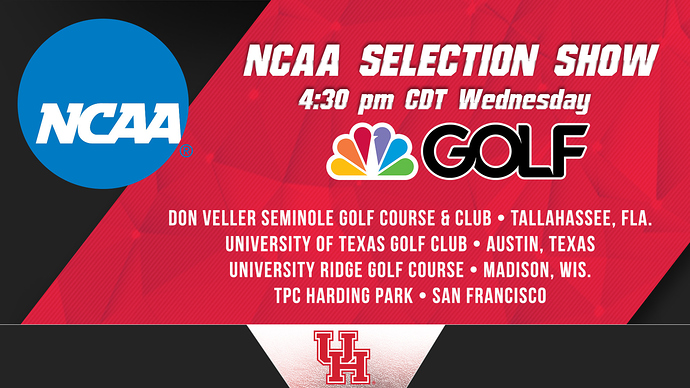 The show airs at 4:30 p.m., Wednesday, on Golf Channel's Golf Central and will be streamed live on the Golf Channel web site. Head Coach Gerrod Chadwell, Associate Head Coach Lucy Nunn and the Cougars will watch the show as a team inside the Dave Williams Golf Academy.
Seventy-two teams and 24 individuals will be selected to compete in one of four NCAA Regionals across the nation. The Cougars could be sent to UT Golf Club (Austin, Texas); Don Veller Seminole Golf Course & Club (Tallahassee, Fla.); University Ridge Golf Course (Madison, Wis.) or TPC Harding Park (San Francisco).
From the NCAA Regionals, 24 teams and 12 individuals will advance to the NCAA Championships, set for Karsten Creek Golf Club in Stillwater, Okla., on May 18-23.