I'm offocially on the fire Dana train…
Go Coogs, Beat Sam!
https://twitter.com/BigGameBoomer/status/1704558870654283934?t=lDADiIsMdFv68twDG_wBsA&s=19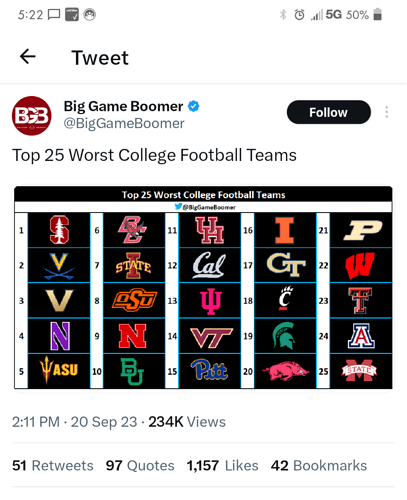 Well in our defense, of those teams only UH and Cincinnati were G5 programs last year. (Not sure about VT)
Also, that's only P5.
Still though.
TWO of my alma maters are on that list.

Yay! Can't wait to move up the rankings! We have the right coach to get us ranked number 1. LFG!
Was looking for the 'others receiving votes.'
I'm surprised no there's teams that's are ranked higher than us. I would think we'd be top 5. Having 4 B12 teams doesn't look good for our conference. We're only hurting our conference by being bad in a big city.
We get to play 4 of them to improve our rankings
P5 is the only thing that matters…
I like that positive thinking!
BYU was G5, too… Sort of…
Nevermind, I see what you meant… Of the teams on here not new to the B12.
The next time Big Game Boomer says something nice about UH will be the first time. He is still mad that we beat them in 2016.
Pretty good company if you ask me.
He ain't wrong today, though…
We lost to RICE!!!
FREAKING RICE!!!
And then scored ZERO TDs on offense against TCU…
I think I know why Alton transferred now…
The moment we lost that game I joined the Fire Dana team.
Five B12 teams on the list, 6 if you want to count future B12 Arizona. 4 in the top 11.
Were you on the fire Yeoman team? He lost to Rice 4 times (W12-L4 75% win record).
Dimel was dismal, He lost to Rice 2 times (W1-L2 33% win record).
Briles also lost to Rice but only once in 6 games for 83% win record.
Sumlin was 2-2 against Rice.
Levine and Applewhite were both 2-0 against Rice.
Holgorsen is 1 and 1.
Is losing to Rice a firing offense? So, have you wanted to fire every coach including Yeoman, except maybe Levine and Applewhite, since we first played Rice in 1971? After all they all lost to Rice, except Levine and Applewhite. Just putting things into perspective.
He led up to Rice by having several bad loses last year then he beat UTSA because the defense scored, lost to Rice and blamed it on the players saying they were not motivated. He followed that up with an embarrassing lose to TCU on national tv. I am on the fire Dana bandwagon and he hasn't shown me any reason to get off.
Man this is hilarious. I guess all we can do is laugh to keep from crying.