This tells me that if we lose one more game we won't be a No.1 seed.
Wow, not even Mark Berman voted us #1 but Seth Davis did.
Edit: Not our Mark Berman.
Somebody asked this question in the comments of Seth Davis' The Athletic column, and I think it's a good one: Should a team who gets ranked #1 have lost a game by 24 points (to the worst team in the Big 12) just a few weeks ago? The jury's still out for me.
Ohh this again, he is not our Mark Berman
He's not our Mark Berman.
I'll bet most, if not all of the voters, are going to hang their hat on the Alabama beat Houston hook. 24 point blowouts be damned. Go Vols!!
Homerism aside, I am amazed that two voters, one in Indiana and one in Illinois still vote Purdue #1.
Only if it remains true next year when we're in the Big 12
I agree with your point but having seen them play, Auburn is overrated and Florida is terrible. Auburn lost to A&M twice! Basically getting pumped up because SEC imo
If Bama beats Tennessee they pretty much have it locked
Exactly! Who did Alabama play this week vs the who we played for our 1 game this week
I admit did not see that coming. It's a slight that should inspire the squad in these last six games, we can hope
Told yall… After being snubbed by Purdue a week or so ago not shocked!!!
Alabama beat us even though I think we had them and gave it away, so head to head they won and deserve to be #1 over us
#2 is cool. i dont want that #1 pressure lol
The second half of Temple + Tulsa was the best we've played since early January so hopefully we are breaking out of the funk we've been in
Aggies are 2nd in SEC so it's hard to convince me that league is all that lol
Not worried about rankings. Can't wait until March
Agree. While being ranked #1 for 6 weeks this year and wire to wire top 5 has been nice it won't hit the same if we lay an egg and bow out in the R32 in the tourney

I know they beat us at home no denying that scoreboard. But the beatdown to OU should be a worse loss than Temple. OU has been smashed in most of their games outside beating Alabama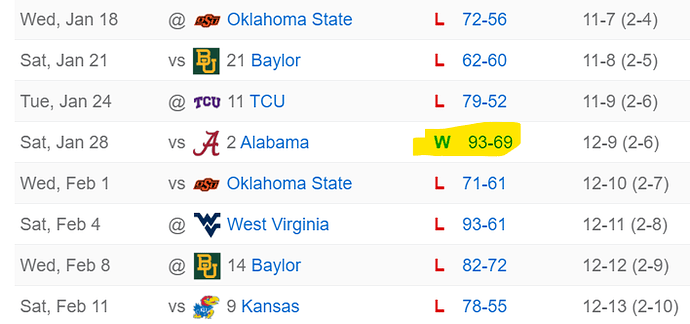 Pressure is for the weak minded lol
If being ranked #1 is pressure just wait until tournament time.