2016-17 Houston Cougars Basketball Season Preview
By: Jimmy Schofield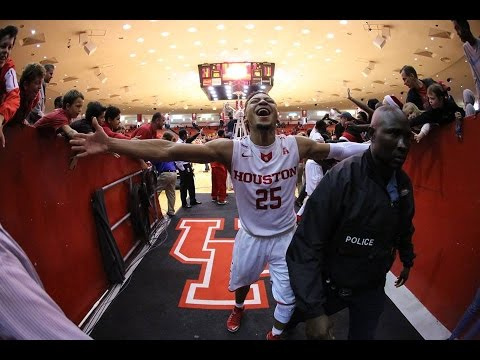 photo courtesy uhcougars.com
With aspirations of an American Athletic Conference championship and an NCAA tournament run, your Houston Cougars men's hoops team begins the 2016-17 season with a home game Friday night (Nov. 11) against Morgan State.
Entering his third season as the head coach, Kelvin Sampson said a few weeks ago at the AAC's Media day that the NCAA tournament is a legitimate goal this year and not just a dream, "Our talent level has risen to the point where that's something we can shoot for."
At Houston's media day last week Sampson continued the theme of high expectations, "The goal every year should be to get to the NCAA Tournament. To be in the position to compete for that, a lot of good things have to happen. Your best players have to have good years, have to have key guys healthy every night, balance the whistle and foul trouble. All of those things have to factor in. I like our team, and I like our leadership. Leadership can be a lot of things, but if it's not selfless, then it's not leadership."
Sampson's first season was about establishing his culture, or how he wanted his team to behave both on and off the court. While building a team that consisted of just five players when he was hired in April of 2014, the Coogs have been on an upward trajectory ever since. Having been picked to finish seventh in conference in the 2015-16 American Athletic Conference media pre-season poll, the Coogs finished the regular season tied for third place (at 12-6 and 22-10 overall). That represented the 12th best turnaround in the NCAA regular season, improving from 13-19 during that first season in 2014-15. The 12 conference wins last season was the most since the 89-90 squad went 13-3 in Southwest Conference action.
Returning from that team are wings Rob Gray (6-2, 185, Jr.), Damyean Dotson (6-5, 210, Sr.), point guards Galen Robinson Jr. (6-1, 190, So.) and Wes VanBeck (6-2, 190, Jr.), along with posts Danrad "Chicken" Knowles (6-10, 200, RSr.), Kyle Meyer (6-10, 230, Sr.), Bertrand Nkali (6-9, 235, RSr.), and Xavier Dupree (6-9, 210, Sr.).
Newcomers include guards Armoni Brooks (6-4, 180, Fr.), Morris Dunnigan (6-3, 195, Jr.), and Mateen Hirbod (6-2, 185, Fr.) and posts Valentine Sangoyomi (6-9, 250, Jr.) and most importantly; JC transfer Devin Davis (6-7, 230, Jr.).
Gray is the team's leading scorer and seems to have taken a huge step maturity wise from last season as Sampson surprisingly said he'll start the season as the backup point guard. While Gray, a Howard JC transfer, led the team (and was second in the American) in scoring averaging (16 per game despite coming off the bench most of the season), he was suspended for one game for his shot selection, or lack thereof earlier in the season. Sampson on that that benching in that close 77-73 loss at SMU on January 19th of last season as he told me after the season ended,
"Rob has to learn to become a better team player. He's a very talented offensive player and in his mind there are very few shots he can't make. Sometimes you have to give your more talented players more rope than others but you can't give them rope to the point where they are playing outside the team scope and that's something we really had to work at. That's the reason why I had to hold him out of a game," Sampson admits of the SMU contest.
"The reason why he didn't start was because he wanted to go outside of our team play and as a coach you have to do what's best for the team. But he did make a lot of strides this year. I think of all the great games he had, and even the struggles, was just a part of the process. Don't forget, even though he was at Howard for two seasons prior, he was just a sophomore this past season, not a junior or senior. Rob's going to be a big part of our future. He's got to work on his shot selection and he's got to get better in some other areas of his game; he can be a better rebounder. He's capable of leading the league in steals. He can be a much better assist guy. He's got to become a better 'ball mover' and then he's got to eliminate his defensive mistakes. I have a lot of things for him to work on but he's a talented enough player that he can do all of those things and be an even better player for us next year."
Gray really improved his game (or decision making as Coach Sampson described it) and overall leadership skills as the above quote from March is in stark contrast to what he said after this past Saturday's 94-67 win over UNC Pembroke in an exhibition game (via uhcougars.com), "Rob Gray Jr. is our backup (point) guard and has been since the first day of practice. I like the way he has played there. If we were a football team, I would probably have a wildcat package in for Rob. He's not a traditional point guard, but Rob listens well. He'll get the ball to where it needs to be. I can keep him organized. Remember, we won four straight games with J-Rod (Jherrod) Stiggers as a point guard. We'll be all right."
In his role as the team sparkplug last season, Gray was fearless in throwing his body into the action with a quick first step that often resulted in either a midrange floater or a trip to the free throw line. He averaged those 16 points-per-game on 44-percent shooting (34-percent from '3') and 70-percent from the free throw stripe. He also averaged 2.2 rebounds, 1.5 assists and 1.2 steals in just over 26 minutes-per-game in 26 total games played.
Dotson meanwhile averaged 13.9 points-per-game and led the team in rebounding with an average of 6.8 per from the other wing spot. The former Oregon Duck was also the best shooter on the club, shooting over 50-percent from the field, 36-percent from "3" and over 83-percent from the line. The two combined to score 45 points on 8-of-13 shooting from 3 against Pembroke, in what will be a familiar theme this season.
Sampson on Dotson, "He's just a tough competitor. He doesn't have a lot of bad days. He's pretty much on-point every day. He's improved his shot selection and played within himself. He's become a very dependable three point shooter and made himself into a good rebounder. I'm impressed with the way he's embraced rebounding and coaching. He's all about winning and he's set himself up for a nice senior season."
Galen Robinson Jr. will be the man at point this season as both Ronnie Johnson and L.J. Rose have left the program, "The biggest thing with the point guard in our system is embracing responsibilities. He has to get tougher. He has to win some battles and guard the other team's point guard and keep them out of the paint. I'm glad he's excited, but I'll be more excited when he gets better defensively," Sampson said of Robinson who averaged 7.9 points and 3.4 assists in 32 games (22 starts). Robinson had 6 points and 5 assists but 5 turnovers in 17 minutes against Pembroke Saturday night.
"Galen made the all-freshman team which was a big honor for him," Sampson said of Robinson Jr. at our end of the season interview in March, "There are a lot of really good freshmen in this league so he's pleased with that award. What really impressed me the most about Galen was how he played against the best teams, at Cincinnati, at SMU, at Connecticut. He really developed as the season went on. He really rose up to the level of his competition. Coming out of a smaller high school we weren't sure how he would react to the play at this level. He just needs to improve his consistency and maintain his intensity level and be ready to play every night. Next year he needs to be ready to play an entire season but for this year that was ok. You don't see a lot of freshmen playing in the Final Four. Oklahoma, Syracuse, North Carolina, Villanova; those teams aren't playing too many freshmen, they're all upperclassmen. But the year Galen had was very encouraging. You can tell he's going to be an outstanding player here for us for a long time."
Gray is the backup point because none of the other guards have stepped up between Brooks, Dunnigan, Hirbod or VanBeck, though none are true point guards in the traditional sense anyway. Brooks is said to be the best pure shooter on the team behind Dotson and maybe VanBeck as he averaged 16 points and 6 assists as a junior at McNeil High in Round Rock, Texas. Last year as a senior he was named District 13-6A Most Valuable Player and was a member of the All-District 13-6A First Team. He chose UH over Creighton, Kansas State and Tulsa. Dunnigan meanwhile averaged 22.9 points and 5.8 rebounds-per-game last season at Blinn JC after his HS career ended in Joliet, Illinois where he 17.2 points, 5.2 boards, 3 assists and 2 steals his senior season. He's not going to play much early in the season because of a knee injury as he was on the court for only 7 minutes Saturday night, not scoring any points on two shot attempts while Brooks had six points in 14 minutes.
VanBeck scored 10 points, and added 3 assists, in 23 minutes of action Saturday night. More of a combo guard, VanBeck isn't afraid to drive to the lane to make something happen for either him or a teammate. Last season he averaged 3.4 points in 7.5 minutes but was gritty enough to earn a scholarship. Sampson on the overall guard play after Saturday night, "As we go along, we're going to have to develop our guard depth. You can tell that Armoni Brooks is 18 years old, and Morris Dunnigan has been out with an injury and has really struggled with his right knee in the preseason. It's good to get those guys minutes tonight, no matter how well they play. It's just good to get them out there."
As for the front court, the Coogs lost a lot in starting power forward Devonta Pollard but gain a lot in Davis. First, Sampson on Pollard, who averaged 14 points and 5.7 boards-per-game last season, "The bigger the game the bigger he played. He scored for us. He rebounded for us. He singlehandedly carried us against Memphis. Some of the things he did on the road at UConn, at Temple, on down the list. Last year was kind of a wash for him due to the off the court things he had to deal with but he came back a new man; more mature, his leadership, his willingness to buy into the team. The thing I love about Devonta is that he's a caring soul. He really cares about people. I'm really going to miss him and LeRon (Barnes). They were unbelievable leaders in this program and we're going to have to find out who's going to step into their spots."
Now Sampson on what Davis brings to the team as compared to what Pollard did, "There are some things that Devin Davis is better at than Devonta Pollard, and there are some things that Devonta was better at, but they're both good. Devonta was one of the top 7 or 8 players in this conference, and Devin is going to be very similar to that. The biggest difference is contact rebounding. A lot of guys can rebound vs. air. If all I had to do was fight molecules, I usually could get it. Devin is 237 (pounds). Devonta was 194 (pounds); that's a 40-pound difference. Devin can go up in a crowd and create space with his body. Devonta's body wasn't made for defensive rebound. His body was made for offensive rebounding. He used his quickness to get an angle to either keep it live or go get it. Devin is a big strong kid, but he's also athletic. Not as athletic as Devonta. Devonta was a world-class athlete. For 6-7, 237 (pounds), Devin is pretty athletic. Both are pretty good medium-range shooters. Devonta's strength was getting to the foul, line and that's how we used him. We would create space and take advantage of his match ups against bigger post guys. That's how we won a lot of games last year, especially down the stretch using him in that position. Devin is a good 1-on1 player too, but the difference is the guys around him have improved. Devin is going to be a good player for us."
A good coach tweaks his offense and defense based on the personnel he has each season while adhering to his basic philosophy, so it should be interesting to see how an offense that averaged 77.4 points-per-contest (70th nationally) looks this season. Last year the Coogs shot 46-percent from the field, 35 from the 3-point line and almost 71-percent from the line, but missed plenty from the charity stripe down the stretch in shooting less than 64-percent in 7 of the 10 losses. When the offense was rolling, the ball movement was a beautiful thing to watch in Sampson's open post offense that emphasizes spreading the ball for driving lanes which create layups or open perimeter shots via the assist (12.8 per game). The offense struggled when the ball slowed down with the team taking the shot clock down below ten seconds, or with certain players going one-on-one, stifling ball movement. The Coogs also struggled against bigger teams that were able to take away their advantage on the offensive glass.
Sampson during our end-of-year interview touched on his team's offense and how it can improve via their defensive play, which yielded 69.2 points-per-game but held opponents to barely 42-percent from the field shooting (95th out of 346 Division 1 teams) and an outstanding 30-percent from the three-point line (EIGHTH nationally), "You improve by being a better defensive team and rebounding, which triggers the break. One of the weaknesses of our team was rebounding, no doubt. Our best rebounders were Dot, Barnes and Pollard and we lose two of those three. Who's going to rebound for us now? Another year of playing at this level with Kyle and Bert, Chicken and X, Dot, Rob Gray Jr. and our points; collectively we can be a better rebounding team next year because we'll have some experience. Nothing will jump up and surprise these guys next year. We've got some guys who have been through the wars. Last year almost all of these guys hadn't played at this level, at least on our team. So improving our 'pace of play' includes getting stops, finishing possessions with defensive rebounds and get it out and run."
The bigs Sampson trotted out onto the court Saturday night were Davis and Knowles (with Robinson, Gray and Dotson) as he mentioned after the game that he would prefer that Chicken be a starter, though Chicken himself doesn't mind coming off the bench. In his three seasons the consensus four star recruit has only averaged 7.7 points, 5.5 rebounds and a block per game in 95 career games (54 in which he's started). Sampson on Chicken from our interview last year, "We preach to Chicken everyday about being more competitive, playing with more fire, you know? Play like your hair is on fire. He just needs to be more consistent."
Davis meanwhile averaged 16.8 points and 8.2 boards last season at Odessa Junior College after sitting out a year due to injuries suffered in a car accident at Indiana during the 2014-15 season. Davis put up almost those exact numbers in Saturday night's exhibition game; 16 points, 9 boards and 3 steals. His true freshman campaign saw him average just 2.4 points and 2.6 rebounds in 8 minutes of action over 29 games (one start) during the 2013-14 season as a Hoosier. Sampson commented Saturday night about how he has high expectations for Davis but he needs to let the game come to him instead of forcing the action, which will come with time.
Another new coming big is Sangoyomi, who averaged 7.7 rebounds, 6.9 points and 1.1 blocks-per-game in 33 games (28 starts) at Northern Oklahoma College this past season. Sampson has said he would like to redshirt him but that will depend on the rest of the bigs.
Speaking of the returning bigs, Sampson wants to see definite improvement out of Meyer, Nkali and Dupree as they only averaged 5.2 points and 6.6 rebounds combined last season. Sampson on the three, "Kyle did some good things this year but we need more. He needs to rebound better. He needs to play like a senior. Bert's got to figure out that when he gets an offensive rebound, what can he do to enhance his positioning? He needs to get the ball to the rim and finish against length. He needs to play more aggressively on defense as well. Both he and Kyle can have much better years. X (Dupree) is our best outside shooting big but it's all about his motor. He can't depend on me to stick his key in his ignition and start it for him. He has to do that himself. When he decides that's important to him and he wants to be a factor in this program he will because he has the ability."
The key to the season will be their defense, which fluctuated with their offense, traits of a younger team (that can be used no longer). When their offense flowed, the effort and enthusiasm was great on the defensive end, especially when pressing as they averaged 5.9 steals-per-game and forced 12.4 turnovers-per-game from their opponents. This would get them in their transition game in which they anywhere from 12 to 18 points-per-game when the defense played efficiently.
After Friday's game against Morgan State, the Coogs have seven other non-conference home games (highlighted by Rhode Island on Dec.10 and Harvard on Dec. 23) and five road games (at LSU on Nov. 29 and at Arkansas on Dec. 6) before travelling to Hartford, Connecticut to take on the Huskies on Dec. 28 to start AAC action. Those final 18 contests include games against Cincinnati (Jan. 7), Memphis (Jan. 19), Temple (Jan 28), SMU (Feb. 18), and the home rematch against UConn (Feb. 22) at Hofheinz Pavilion.
Road contests include games at USF on 11 AM CST on New Year's Eve, at SMU on Jan 21, at Memphis on Feb. 26 and at Cinci on March 2. The final home game at the Hof will be on senior day, March 5, against East Carolina. Sometime after the game a $65 million dollar renovation (thanks in large part to the BOR Chairman Tilman Fertitta) will take place which will have the team playing home game at some other venue for the next two seasons.
Sampson on his squad heading into the season opener, "We have a lot of veterans back. Last year, we had a lot of question marks, not if we were going to be good, just how good we could be. This year we think we have a chance to be pretty good."