2017 Houston Cougars fall practice preview: Linebackers
By: Jimmy Schofield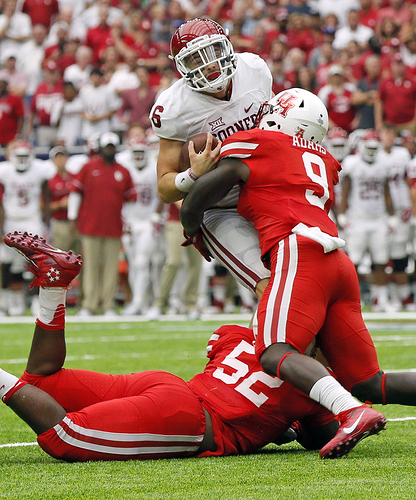 photo courtesy
Newsok.com
With the dog days of summer upon us, Coogfans will break down each position for your 2017 Houston Cougars football team led by first year head coach Major Applewhite. Each Monday a new article will be published, today we look at the heart of the defense, the linebacker unit.
When Applewhite hired defensive coordinator Mark D'Onofrio he stated that the defense wouldn't change much from Todd Orlando's aggressive 3-4 scheme, saying if it's not broke don't fix it. Seeing as how the "Third Ward Defense" played in the nickel 60 to 70 percent of the time, we'll take a look at the depth chart from a 3-3-5 point of view.
Post-Spring depth chart: (this is my guess as Applewhite hasn't released an official depth chart)
Outside linebacker: D'Juan Hines (6-foot-1, 225, RSr.), Austin Robinson (6-3, 220, Sr.), Jordan Milburn (6-1, 225, RSo.)
Inside linebacker: Mathew Adams (6-1, 230, Sr.), Roman Brown (6-0, 220, RJr.)
Outside linebacker: Emeke Egbule (6-3, 230, Jr.), Leroy Godfrey (6-3, 240, RSo.)
True Freshmen Contributors:
Derek Parish (6-2, 245), Elijah Gooden (6-1, 215), David Anenih (6-3, 220)
Parish is an old school middle linebacker; a hard hitter who loves to play downhill. Already 245 pounds as a true freshman, the former Pearland Oiler standout was ranked the 50th best inside linebacker by 247sports. Gooden led 3A power, Boling, to a state championship by rushing for over 1,200 yards with 70 tackles. He also placed state wise in track and field along with powerlifting during his high school career. He projects as an athletic weak side outside linebacker who can cover tight ends or running backs coming out of the backfield. Anenih meanwhile played weakside defensive end and signed with UH over programs such as Oklahoma State, Kansas State and Baylor. The Arlington Mansfield stand out had 40 tackles including 9 for loss last year and could play either outside or inside linebacker. All three could contribute on special teams but would need to pass a lot of players to play regularly this season so look for all three to redshirt.
Analysis:
Coogfans have been witness to some outstanding linebacker play over the past decade, from Marcus McGraw to Derrick Mathews to Elandon Roberts to Steven Taylor and Tyus Bowser (the latter two having graduated this spring). With that, the 2017 defense belongs to Mathew Adams, a heat seeking missile who had a team leading 82 tackles (57 solo) with 7.5 for loss, 2 sacks, 2 forced fumbles and a fumble recovery last season. Though he's improved every season as he's been given more responsibility, going from 40 to 49 to the aforementioned 82 total tackles in his first three seasons, D'Onofrio is going to rely on him to make the calls at the line of scrimmage, getting the front and back end aligned properly. As a team leader he won't be able to rely on Taylor or Bowser to cover up for his disappearing in spurts during games as he has in the past. Adams will also have to do better in pass coverage as he's had just one pass defended (during his freshman season) and zero interceptions over the course of his career.
When D'Onofrio goes with two inside linebackers in a true 3-4 look, a player who's impressed during the spring is walk-on Roman Brown, who though has had only six tackles over the previous two regular seasons had a combined 11 tackles during the three spring scrimmages in showing he's ready to step up this coming season.
When talking about the linebacker crew you're going to see a lot of that; student-athletes who have played a few years but haven't put up eye popping stats, such as two players who will probably man the two outside spots; Emeke Egbule and D'Juan Hines.
"He's fast and really big," former strength and conditioning Coach Yancy McKnight told me last spring of Egbule. "He doesn't say a whole lot. He just works really hard and is going to be a big kid and he can really, really run and he competes hard. If he continues doing what he's doing progression wise, I think he'll show up during fall ready to have a great season."
Egbule will probably play Bowser's 'rush backer' spot though he's only had 33 total tackles (23 solo) over 27 total games with just 5 starts over his first two seasons on Cullen Boulevard. He's tough, physical and fast but just needs to put it all together, such as when he had the game winning 24 yard fumble recovery for a touchdown last season versus Tulsa.
Hines also needs to step up his production, and doubling his 44 total tackles (30 solo) would be nice as he started just 7 of the 13 games he played last season as the junior has 61 career tackles in 36 games. He did lead the defense in tackles in two games last season at Navy and versus UCF so he has the ability. He just needs confidence going into his final season.
Others looking to contribute outside are Austin Robinson and Leroy Godfrey. Robinson made the switch from safety and has done a nice job playing closer to the line of scrimmage over the spring as he led the defense in tackles with a combined 12 over the 3 spring scrimmages. Most will remember the 220 pounder from the game saving tackle last year versus Tulsa at the goal line against a much bigger Jesse Brubaker, who was a 6-3, 270 pound defensive end turned tight end for the final plays. That game alone probably led to the switch to play linebacker along with his athleticism as he played quarterback at UTSA during the 2014 season, completing nearly 56-percent of his passes for 645 yards and a 53 yard touchdown on the ground. Godfrey meanwhile has potential as an edge rusher as he had 20 QB hurries and 8 sacks as a senior at Missouri City's Elkins High but had just 3 total tackles in 5 total games last season.
Jordan Milburn also played sparingly last season as he had just 3 solo tackles in 12 games as he played mainly on special teams a year after redshirting. He did start 35 straight games though at Galveston Ball and had 118 tackles, 11 for loss, 7 sacks and showed plenty of athleticism with 8 pass breakups and two blocked kicks his senior season.
Others mentioned who will get an opportunity to step up include: Nomluis Fruge (6-0, 225, RSr.), Ralph Harvey Jr. (6-2, 245, Sr.), Ja'Von Shelley (6-1, 230, RJr.), Khari Dotson (6-1, 210, RJr.) and Rasheed Tynes (5-11, 220, Sr.).
Fruge has seen action in 18 games over the past three seasons but showed a quick step in getting to the QB in limited action last year with six tackles (of the eight in his career) with a sack and a TFL in the game against UConn at TDECU. He was the number-8 ranked "athlete" in the state by Dave Campbell in 2013. Harvey Jr. is an imposing specimen but has yet to put it all together in the "rush backer" specialist mode, appearing in just six games the past two seasons after transferring from California's El Camino Junior College. He did have five tackles during the spring, including one for loss and a sack. Shelley could also be a member of what ESPN college hoops analyst Dick Vitale named the "All-Airport Team" but has not seen any game action the past two seasons mainly because of injury. He was named a member of the Houston Chronicle Top-100 out of Klein Oak HS. Dotson and Tynes are more athletic "in-space" linebackers who had a combined six tackles over spring ball (four by Dotson). 'Dot' has been an American Athletic Conference Academic All-American the past few seasons while Tynes has had 8 total tackles in 15 career games, contributing mainly on special teams, and like Dotson was also a conference Academic All-American two seasons ago out of Baltimore's Poly Tech High.
Expectations
For a unit that allowed just 100 yards-per-game last season rushing, ranking them fourth nationally, D'Onofrio and outside linebacker coach Dan Carrel will need a lot of unknown faces to step up in order to keep the defensive play rolling like it did under Orlando but the opportunity is definitely there for a lot of players who have had to wait their turn. A few things that stand out to me is the combination of speed, size and athleticism of the 18 listed members of the linebacker unit on the roster. Hopefully D'Onofrio continues the numerous "kamikaze" looks where almost the entire front seven is standing, making it impossible for the opposing offensive line to know where the pass rush is coming from. Next week we take a look at the defensive line.