2017 Houston Cougars Summer series previews: Cornerbacks
By: Jimmy Schofield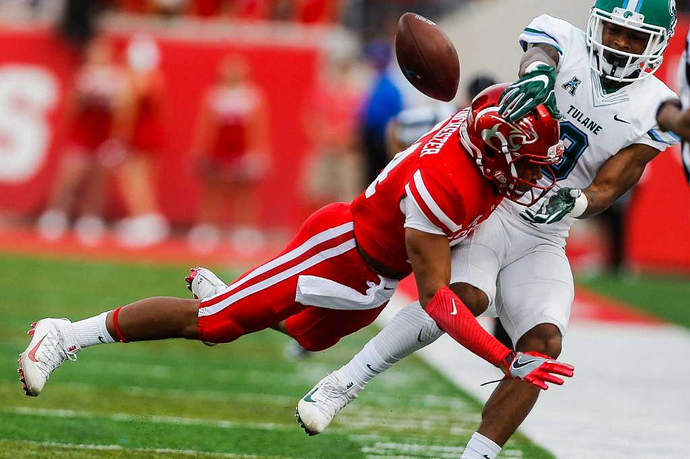 photo via
houstonchronicle.com
With the dog days of summer just about upon us, Coogfans will break down each position for your 2017 Houston Cougars football team led by first year head coach Major Applewhite. Each week a new article will be published, starting today with the cornerbacks.
The Coogs have had four defensive backs drafted into the NFL over the past five seasons (and five will be on NFL rosters if you include undrafted free agents).
Post-Spring depth chart (this is my guess as Applewhite hasn't released an official depth chart)
Jeremy Winchester (6-foot, 190, RJr.), Javian Smith (6-1, 165, So.), Isaiah Johnson (6-'4, 205, Jr.), Ka'Darian Smith (6-0, 175, So.), Alexander Myers (5-10, 185, Sr.)
Note: These aren't listed by field or boundary corner as Jeremy Winchester is the only corner with game experience returning and its unknown which corner position he'll play, or if he'll play both like last year. Also, Patrick Rosette is listed as a corner on the official roster but turned more than a few of the coaches heads at nickel back during spring ball so we'll cover him next week when we preview the safeties and that nickel back position.
Those on the way
D.J. Small (5-9, 160, Dickinson, Tx.), Devodric Bynum (5-10, 175, Dallas Lincoln)
Both Small and Bynum to could redshirt unless they find a spot for themselves on special teams. Small was named to the District 24-6A First team his senior season but could look to get bigger via Rod Grace's strength & conditioning program, along with working on his fundamentals after not playing in his first three seasons in high school.
Bynum played on both sides of the ball at Dallas Lincoln but is playing cornerback full time after registering 62 tackles, intercepting two passes and forcing a fumble his senior season. If the 3-star ranked signee is looking to get on the field in 2017, special teams will be his ticket as he had a combined six kickoff and punt return touchdowns last season via his stop-on-a-dime ability and speed.
Analysis (of 2016)
The "Jack Boyz" allowed 219.5 yards-per-game passing last season to rank 51st overall nationally while surrendering only 6.8 yards-per-attempt (38th), though they only had seven total interceptions to rank 104th. They also allowed opposing quarterback's to complete 56.1-percent of their passes, also good for 38th in the nation. But that was all under defensive coordinator Todd Orlando, who left for TU with Tom Herman.
The major question is what will the Third Ward Defense, under new coordinator Mark D'Onofrio, look like? How many all-out blitzes will the new DC call, leaving the corners on an island like last season?
Expectations
Both Applewhite and D'Onofrio have said the scheme will remain the same. The new head coach also said good coaches adapt their philosophy to the talent they have, not the other way around. D'Onofrio has coached both predominately zone and man schemes in his stops at Temple and Miami as DC over the past ten seasons.
The surprise of spring ball occurred when Isaiah Johnson was moved from wide receiver to cornerback, but it's not a major surprise considering he has something you can't teach; size and speed and with cornerback lacking depth wise this seems like a no brainer to me. Add that to the fact that he was inconsistent as a receiver over his first two seasons and it makes sense to see why he moved from offense to defense. While he still has a ways to go technique wise, Johnson has impressed new defensive backs coach Clay Jennings with his effort and tenacity.
Johnson is in a tight battle with Jeremy Winchester, Javian Smith and Ka'Darian Smith. Alex Myers has been another pleasant surprise so far this off-season as he hasn't allowed his walk-on status to affect his play on the field. All five have had their ups and downs with Applewhite and Jennings stressing needing to finish plays (interceptions) while gaining chemistry, which will come by playing together as a unit.
If Winchester follows the paths that former Coogs DB's who are currently in the NFL have taken (DJ Hayden, William Jackson, Howard Wilson and Brandon Wilson), the redshirt junior could become the secondary's next lockdown corner. Over his first two seasons the 3-star rated prospect out of Klein Collins has combined for 62 tackles (46 solo), 11 passes defended and a fumble recovery. He's a sure tackler on the boundary side as he had two tackles-for-loss last season and a sack while being able to play in space on the field (or wide open) side. He hasn't had an interception yet but he did register one in the Red-White scrimmage to close spring practice. He needs to improve his consistency technique wise; one play he'll make a great play on the ball only to get beaten badly on the next. If he's to become the next lock-down corner he'll need to keep his confidence high on a play-by-play basis.
Both Javian and Ka'Darian Smith (no relation) have the length to matchup in man-free coverage if D'Onofrio wishes to do so, but they do need to add more size as they are at only 165 and 175 pounds respectively, but both have had their moments this spring. Javian had limited playing time last season, mostly on special teams. When he did enter the game at corner (in three games), he amassed three tackles and a pass breakup. Ka'Darian played in just five games, registering two solo tackles in the win at Texas State. Myers has made quite a few plays on the ball throughout practice and if he continues to do so could earn a scholarship and an opportunity at extensive playing time.