2017 Houston Recruiting Synopsis
By: Jimmy Schofield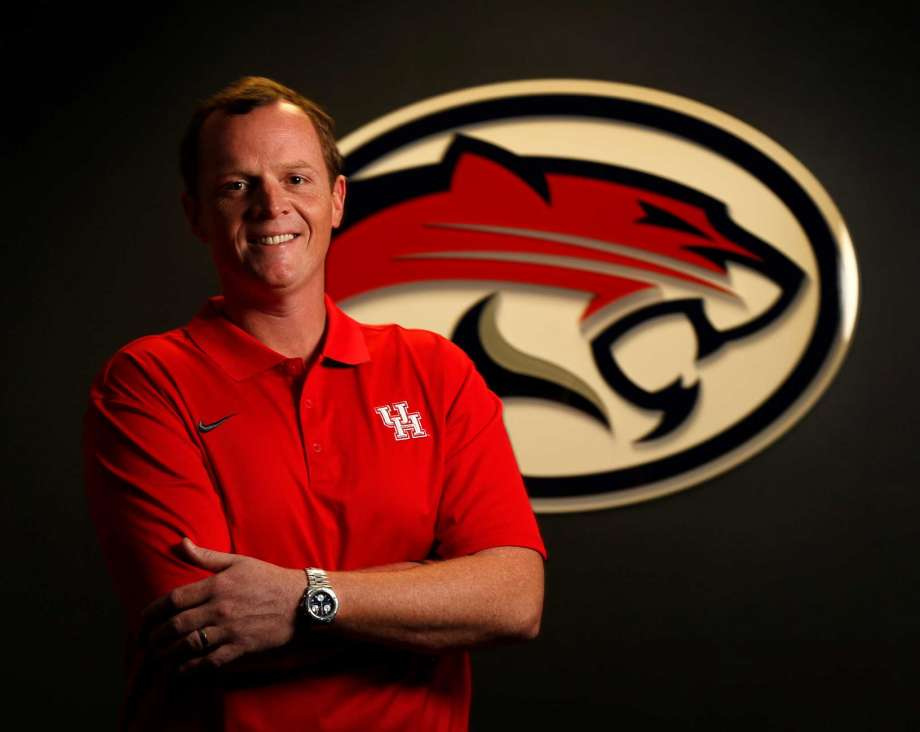 photo via Houston Chronicle
The Houston Cougars football program added 17 soon-to-be high school graduates (and a junior college kicker) this past Wednesday, otherwise known as 'National Signing Day,' which is like Christmas day for us college football junkies. The complete list, along with bios, can be located here at uhcougars.com. The Coogs were ranked the 69th best class via 247sports (which is a composite of ESPN, Scout and Rivals).
While many of you may be disappointed with such a low ranking, considering the program was coming off a 36th ranking in 2015, don't be. It's the 'Cougar way' to sign lower ranked prospects and 'coach them up' on the field. Consider this, the Coogs have averaged being ranked 70th over the past five classes (2011 through 2015) previous to the magical 2016 class, and still managed to put athletes into the NFL such as DJ Hayden (Oakland), Derrick Mathews (Green Bay) and Kenneth Farrow (San Diego), all 3-stars from the 2011 class which was ranked 73rd, along with Joey Mbu (who was a 2-star from that same class) and is currently a Washington Redskin.
Let's not forget Elandon Roberts, who wasn't even ranked coming out of junior college for the 2012 class (which was rated 56th overall), who will be playing in the Super Bowl later today for the New England Patriots. That same class had Adrian McDonald rated a 2-star and he's currently in the league as well. And who can forget a 2-star 215 pound prospect at defensive end named Cameron Malveaux, who turned out to be a 275 pound monster with 37 career starts whom may get drafted this year himself. Demarcus Ayers is a wide receiver who's currently playing with the Pittsburgh Steelers and Tyus Bowser is getting a lot of good publicity as a pass rusher off the edge who was also a 3-star prospect from the 2013 class. And last but not least, let's not forget two of the best quarterbacks in recent memory, Greg Ward Jr. and Case Keenum, were 3 and 2-star prospects for the 2013 and 2006 classes which were ranked 56th and 73rd respectively.
Finally, the 2017 class, much like the 2015 class (Herman's first) is a "transition class," as the new staff led by Major Applewhite only had a few weeks to offer kids, many of whom had already committed as recruiting is a "relationship business." Only two assistants were retained from the previous staff and if you don't start forging relationships with these kids in their freshman and sophomore years, you're already behind the 8-ball as a staff. That 2015 class was ranked 92nd by the way and produced the starting center for the past two seasons in Will Noble, and will have many more contributors by the time the class graduates in my opinion.
With that, let's take a look at this year's class:
Marquee recruit: Bryan Jones; Defensive end
At 6-foot-5 and 240 pounds, Jones has the size and athleticism to contribute right away in a defensive line rotation that used five linemen last season. With starting end Cameron Malveaux and reserve BJ Singleton graduating, Jones could see time right away if he impresses in fall camp as Nick Thurman looks to move up from reserve to starter and Zach Vaughn from the sixth linemen into the two-deep on the depth chart. The one time 4-star prep star (per ESPN) from Madison Preparatory Academy out of Baton Rouge, Louisiana, has the length to keep offensive linemen at bay as he's quick to disengage off of blocks. Jones already has the size to play Tyus Bowser's rush linebacker spot, but may not have the speed to drop back into coverage. He could play inside at end as he has a quick first step that allows him to shoot interior gaps and also plays with nice leverage, though he does tend to play a little "too tall" which easily gets him stood up or pushed back as he needs to learn how to "play low" with his 6-foot-5 frame.
The one who got away: While nine players decommited from the time Herman left until Applewhite was hired as head coach (and 15 total per 247), the one who probably hurt the most was probably Daniel Young, a 3-star running back out of Westfield High (the same school that produced Ed Oliver).
At 210 pounds, Young has the size to run between the tackles, something the offense missed last season after Kenneth Farrow graduated and signed with the San Diego Chargers before the 2016 season. Many labeled Young as a sleeper as he's only played running back since his junior season due to injuries (he played linebacker before that).
Young signed with Texas as did linebacker Marqez Bimage, a 225 pound super athletic outside linebacker. Two players who could have helped a young Cougars secondary are Donovan Stiner and Adam Beck, a 3-star safety and cornerback, who signed with Florida and Minnesota respectively.
Position of strength: Defensive front seven
With five defensive ends listed between 220 to 240 pounds (Bryan and Noah Jones, David Anenih, Alexander Duke and Payton Turner), defensive coordinator Mark D'Onofrio should have plenty of candidates to replace Bowser at "rush linebacker" along with adding depth to the linebacker unit as well with Derek Parish, a 255 pound hard hitting downhill inside linebacker from Pearland and Elijah Gooden, a 5-foot-11, 205 pounder from Boling moving to linebacker from running back.
Applewhite on 6-foot, 195 pound linebacker Amaud Willis-Dalton (Cypress Cy Ranch) via uhcougars.com, "Any time you turn on a linebacker's highlight tape and the first two plays are of him returning a kickoff for a touchdown, you know you've got a guy who can run." Grant Stuard is a 6-foot, 200 pound speedster at safety (Conroe-Oakridge) who may replace Brandon Wilson at the nickel back spot.
Applewhite continued to emphasize speed and wants his defense to continue being aggressive. The head coach commented during his NSD press conference about Anenih and a few of the other signee's speeds in the 100, "a lot of these guys are 10.7, 10.8, 10.6 guys in the 100 (yard dash), and we want to continue to stay fast. We're going to be physical, we're going to be tough and we're going to coach them to be smart. Those are all things you can teach as a coach, but you can't teach fast. We've got to make sure we continue to put that at the front, not at the very front, but it's at the front of what we want from our prospects."
Position of worry: Offensive line
With only one signee, Dennis Bardwell, a 6-foot-5, 275 pound tackle out of Huffman-Hargrave, new offensive line coach Chris Scelfo has some work to do on the recruiting trail this spring. Luckily the offensive line returns all five starters from last year along with all the top backups.
Overall, recruiting isn't about quantity, which a lot of fans want to see, but quality. If a staff adds kids just to get high numbers, what you get is a lot of attrition (players leaving the program) later on which is what you don't want as it affects depth. Recruiting is about building relationships, which takes years, not months. While this class may not stand out on paper, it adds quality depth as most of them should be able to redshirt as eight starters return on offense and six on defense. With over 40 underclassmen who played at least a small role last year along with half a dozen redshirts and transfers who were not eligible returning, the 2017 season has the makings of a great season and Coogfans will take you through the journey with Spring ball beginning on March 6 and the Spring game April 15.