2018 Houston Cougars Season Preview: Offensive line
By: Jimmy Schofield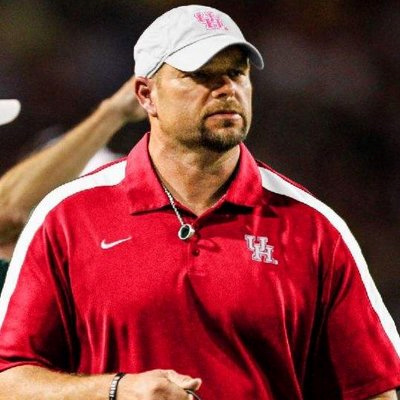 With Fall practices quickly approaching, Coogfans.com takes a look at what's in store for the upcoming season by previewing each position. Last season's run blocking game was quite offensive leading second year head coach Major Applewhite to hire veteran offensive line coach Randy Clements to revamp the blocking schemes.
One misconception about new offensive coordinator Kendall Briles is that his offenses are pass heavy. While he does love tossing the ball all over the field, the former UH receiver also loves to pound the rock, especially between the tackles. That along with a quick tempo based on running as many plays as possible should give the OL an advantage of wearing down opposing defenses this season as the "big uglies" up front love firing off the ball in an aggressive manner.
As discussed last week, with wider offensive line splits (three yards instead of the normal two), opposing front 7's will have to declare which gaps are their responsibilities up front. This does two things; it widens the edge off the C (or D) gaps making it more difficult for an outside pass rush, while allowing offensive linemen to see an inside blitz (and/or stunts/twists) more defined. This can help in the run game as there are huger holes up front, but only if the linemen hold up in their one-on-one blocks.
Seven lettermen return who have started at least one game, accounting for 97 total career starts led by senior Will Noble (6-feet-4, 297 pounds). With 32 starts over his first three seasons he's the unquestioned leader and the anchor of the offensive line at center. Shoulder, neck (stinger) and lower leg injuries have hampered him over parts of the past two seasons (including spring ball). Though these injuries haven't kept Noble out of the starting lineup, it has kept the Leander native from playing his best ball as he hasn't been the "pile mover" in the middle the past two seasons that he was during the 2015 season in which the then true freshman averaged 3.1 "knockdown blocks" per game as the offense averaged 235 yards on the ground, 249 through the air and 40 points-per-game. His knockdown blocks slipped slightly to 2.5 last year. Along with toughness, the other key trait for the Leander native is his football IQ as he calls the blocking assignments for his fellow linemen.
After sitting out last season due to his own injury issues (back), Kameron Eloph (6-3, 290, RJr.) stepped in for Noble over spring ball but will battle Mason Denley (6-4, 308, RSr.) for a starting spot, presumably at left guard as both have a combined 20 games worth of starting experience at both guard spots (12 for Denley). Eloph meanwhile started four games at left guard each of the previous two seasons. The converted defensive lineman has graded out at 68-percent over those two seasons with 26 knockdown blocks in a combined 772 snaps. Denley is more the road-grader with 45 knockdown blocks in over a thousand combined snaps during the 2015 and 16 seasons. During the 2015 season he averaged 3.5 such blocks per game, subbing in at both guard spots that saw a combined 11 different starting lineups over the course of the year. Knockdown blocks and grades were taken from uhcougars.com.
One thing that did concern me during the spring game was the number of high snaps by both Eloph and Cole Miller (6-2, 295, RSo.), which are obviously bad for an up-tempo offense that's based on timing. The battle for the backup center spot between Eloph, Miller, Ryan Deshotel (6-4, 304, RJr.) and Keenan Murphy (6-1, 290, RSo.) will continue throughout Fall camp and it will be imperative that the balls get to the QB in a timely spot so he can get rid of the ball quickly.
After starting at left guard for most of the past two seasons, Braylon Jones (6-3, 311, Jr.) will probably move to right guard (assuming the spring game is any indicator). The John Tyler product maybe the most athletic linemen as it's him who's often seen pulling to the second level, clearing the path for his running backs or quarterbacks in the run game. As quick as Braylon is for his size, he needs to become more physical at the point of attack as the line hasn't gotten the push up front along the interior of the line over the past two seasons that was needed in the tough short yardage situations.
The starting tackle spots will be manned by "veteran" Josh Jones (6-5, 303, R-So.) on the left side and first year starter Jarrid Williams (6-6, 295, RJr.) on the right. Jones has started 23 games over the past two seasons after redshirting his true freshman season and along with Braylon Jones is probably the most athletic of the OL, having played hoops in high school. The Richmond-George Bush product should hold down the quarterback's blind side for the next two seasons as he should only get better under the tutelage of Clements. The few times the line did allow a sack (17, good for 19th nationally), it usually wasn't from Jones as he has quick feet and gets on his opposing defensive lineman locking him up quickly in their zone schemes.
Williams has just two games experience as a starter (having replaced Jones at LT due to an ankle sprain in the middle of last season), but has the body type an expert offensive line coach could work with; lean and long meaning with his frame he has the reach to keep defensive linemen disengaged, allowing him to easier handle linebackers on the next level on pulls as he gets off blocks quickly.
Lining up a second string at both guard spots during the spring game were the Murphy and Deshotel. Murphy played in just two games last season as a redshirt freshman after starting 39 games for Crosby High, going 34-5 in that span, while grading out at 92-percent with over 100 knockdown blocks, mainly at center. Both can also line up at center in a pinch.
The second-string tackle spots were led by Bo Alexander (6-4, 272, Jr.) and Dennis Bardwell (6-5, 290, So.) at left and right tackle respectively. Alexander is a transfer from Arizona Western and has two years of eligibility remaining. The Orlando DR. Phillips (a Florida 8-A powerhouse) product handled himself nicely against a fierce pass rush from the first team defense during the spring game, as did Bardwell, who was good enough to see playing time last year as a true freshman after averaging 8 knockdowns blocks per game his senior season at Huffman-Hargrave, proving his toughness.
The great programs redshirt most of their true freshman though that may not be the case anymore as the NCAA just relaxed the redshirt rules, allowing for true freshman to play up to four games yet still maintaining said redshirt. That bodes well for Max Banes (6-5, 300), Jack Freeman (6-3, 280) and Kameron Lewis (6-4, 270) as the three true freshmen will be able to see playing time in blowouts and still retain that extra year. Every offensive line coach will tell you he'd rather have a fifth-year senior returning over having to play a true freshman. With the new redshirt rule he'll now be able to do both.
Who the offensive line will be opening up holes for will be the focus of our next season preview article as we take a look at the running backs.