2018 Houston Cougars Season Preview WR/TE
By: Jimmy Schofield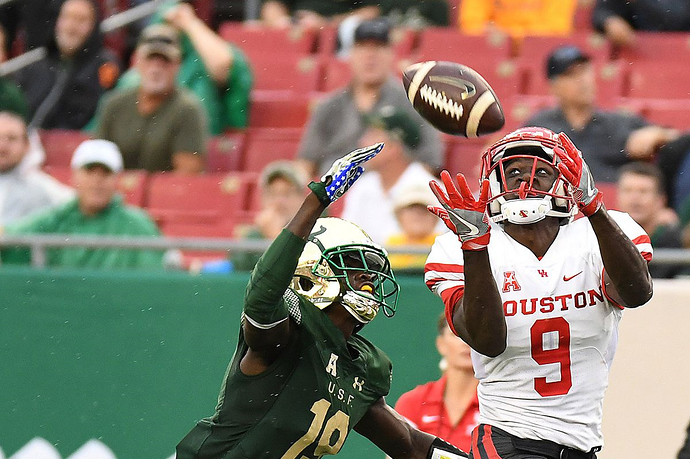 photo courtesy USA Today
Wide receiver is a position which boasts plenty of talent on the 2018 squad, just a lot of inexperience. In losing multiple year starters Steven Dunbar and Linell Bonner to graduation, the duo takes with them a combined 380 career receptions, 4,700 yards and 24 TD's. More importantly the receiver's meeting room lost a lot of leadership. Who steps up?
For the purposes of this article we'll only look at scholarship athletes and remember, in new offensive coordinator Kendall Briles system wide receivers are not differentiated by slot or outside receiver. Of all the receivers on the roster, only four have caught passes in their short careers (and one of those is a transfer); Courtney Lark (6-2, 195, Jr.), Keith Corbin (6-3, 193, Jr.), Terry Mark (6-1, 195, Jr.) and Raelon Singleton (6-3, 215, RSr.). The foursome could be the opening day starters depending on how often Briles uses his tight ends (which we'll get into later). Both Lark and Corbin have 16 receptions each over their first two seasons. Lark caught 13 last season for 235 yards and 2 TD's. The 4-star Bellaire product's 18.1 yards-per-reception was a team high as he and King meshed well in the deep passing game. Corbin caught 10 passes for 164 yards with a high of 49 from the other outside spot. Mark has just 3 career receptions, for 8 yards during the 2016 season but played on special teams extensively last year.
In the Spring game, Lark had 3 receptions for 107 yards (including a 60-yard touchdown on a deep post), while Mark added 94 yards on just two grabs himself (one for a 59-yard score on a deep post). Corbin caught one pass, yet another deep post for 54 yards. Speaking of the long ball, that's exactly what Singleton brings as he has the perfect combination of size to shield defensive backs on jump balls, and the speed to go deep as his career 15.1 yards-per-catch stat would attest. In three seasons at Utah (the past two as a starter), the Crosby native has 69 receptions for 1,044 yards and 8 TD's (most of those coming the past two seasons with 63 grabs for 995 yards and those 8 TD's).
Adding to the depth at the position includes redshirt freshmen Tre'von Bradley (6-0, 185), Jeremy Singleton (5-10, 175) and Marquez Stevenson (5-11, 177, RSo.). Bradley has true track speed having been timed at 4.3 in the 40 at Cleburne High, he's the true definition of an "athlete" as he played quarterback, running back, wide receiver and defensive back in his four years as a Yellowjacket as he had over 7,000 career yards (3,700 yards passing, 3,000 rushing) and a combined 72 touchdowns (23 passing and 49 rushing). He also added 6 interceptions during his senior season to boot. Though Singleton was just a 3-star recruit, he signed with UH over schools such as South Carolina, Arkansas and Missouri. He had over 1,500 receiving yards for Brother Martin out of New Orleans. Bradley caught three balls in the spring game for 54 yards, one for 34 yards on a, you guessed it, deep post.
Stevenson had been the talk of the past two summer camps, catching everything thrown to him, before injuries forced him to the sidelines most of the past two seasons, only catching two balls for 36 late in the 2016 season. Stevenson also played in Louisiana and was one of the top receivers out of Shreveport for the 2016 class. He didn't line up as a receiver during the spring game but did fair-catch punts. Singleton was held out of the spring scrimmage for reasons not disclosed to the public.
For now, it appears that Julon Williams (5-10, 185, Fr.) will start his career at receiver as he has the type of play-making ability that Briles will need to get onto the field somehow quickly after a career in which he ran and passed for over 10,000 career yards (nearly 3,400 rushing yards and over 6,700 passing) along with a combined 104 TD's (60 passing and 44 rushing). Much like a Greg Ward Jr. and D'Eriq King before him, uber-athletic high school QB's who started their careers in the slot, look for him to line up in the slot and get the ball via the speed sweep or quick "pitch passes" to get him the ball in space.
With as much talent as the position has with upperclassmen and redshirt freshmen, I don't expect Henry Thomas (5-11, 175), Peyton Sawyer (5-11, 173) or Ja'Kori Morgan (6-2, 204) to see the field much this season as true freshmen. Remember there are new red shirt rules this season as players can see up to four games and still retain their redshirts. Thomas has track speed as he averaged nearly 20 yards per grab the past two seasons for a high-flying Ft. Bend Marshall squad. Sawyer meanwhile may see the field via special teams as he had EIGHT kick and one punt return touchdown over the last two season at Clear Springs. The League City native also averaged 19 ypc just as Thomas did. Morgan has one thing the aforementioned two don't, size. The Clear Lake product averaged 14.9 ypc for his career along with 13.5 yards-per-rush on 17 career carries.
The receivers that will see the majority of the playing time will be determined by the least number of drops and who blocks the best as the receiving core's blocking on outside screens was very underwhelming last season. How much can wide receivers coach Kenny Guiton, himself a youngster as this will be just his second season as an assistant, "coach his position up" in the fundamentals of the game?
Speaking of blocking and receiving, the tight end spot will also be up for grabs with Romello Brooker (6-3, 240, Sr.) returning with the most playing experience. Parker Eichenberger (6-3, 225, RFr.), true freshmen Christian Trahan (6-3, 235, Fr.) and Spencer Wells (6-3, 233), along with the surprise of spring ball, Sid Turnbull-Frazier (6-4, 245, Jr.), will all battle for playing time as well.
Brooker is a better receiver than blocker as he was often flexed out in the slot last season in double tight end sets. A great athlete out of Alief-Taylor, Brooker played basketball and ran track for the Lions and has 9 receptions for 55 yards the past two seasons combined as the top reserve.
Eichenberger, who redshirted last season, is probably the best pure blocking tight end as he came from running powerhouse Katy High. Trahan signed with UH over P5 programs such as Oklahoma State, Arizona State and Mississippi State. A 3-star signee out of Sulphur, Louisiana, Trahan has the physicality to block inline yet the ability to separate and use quick footwork as a receiver as he averaged 14.3 ypc in his final two seasons (759 yards on 53 grabs with 10 TD's). Wells signed with the Coogs over programs such as TCU and Kansas State out of Dawson High in Pearland and is another versatile athlete that can be used in the slot and as an inline blocker. Turnbull-Frazier, a transfer from Northern Arizona out of Katy, had 4 catches in the spring game (though just for 14 yards), but did show off nice hands on a one-handed grab in which the ball was thrown behind him. Brooker had one reception for four yards while Eichenberger had 16 yards on 3 catches.
It should be noted that tight ends generally didn't see a lot of passes come their way with Applewhite as the OC or Brian Johnson last season but that may change this season as Briles has used tight ends extensively at his previous stops. During the spring game, the tight ends were used over the middle after the wide receivers took the secondary deep and were often targeted via play-action boot leg type passes. These boot passes may not go for huge yardage, but they will keep the chains moving while adding one more headache for opposing offensive coordinators.
By my count, 11 wide receivers have the potential to see playing time this season, but we know that's not realistic as maybe 5 to 6 will see a bulk of the action. Which receivers, will be determined on the practice fields come August. Next week we start our in-depth preview of the defensive side of the ball, starting with the defensive line.