2018 Houston Cougars Season Preview: Quarterbacks
By: Jimmy Schofield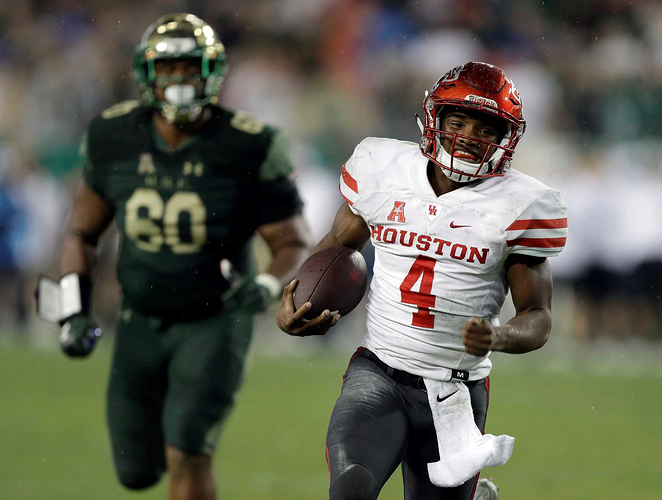 photo courtesy
uhcougars.com
With Fall practices quickly approaching, Coogfans.com takes a look at what's in store for the upcoming season by previewing each position. Today we take a look at the quarterbacks. Under second year head coach Major Applewhite, the Coogs are looking to improve an offense that ranked 65th nationally in scoring average (28.2 points-per-game), 40th in total offense (429.8 yards-per-game), 36th in passing (263 ypg) and 63rd in rushing (166.8 ypg).
Out with the old, in with the new
With an offense that averaged less points-per-game than any UH football team dating all the way back to the 2005 season along with a four-year season low in total offense, Brian Johnson "took his talents" to Florida as Applewhite hired Kendal Briles as his offensive coordinator and quarterbacks coach along with Randy Clements as his offensive line coach to revive an anemic run game.
While Briles brings controversy off the field, on the field it's quite the opposite as he's led three of the top offenses as an offensive coordinator for both Baylor and Florida Atlantic in the past three seasons. In 2015 Baylor led the nation in scoring (48.1 points-per-game), and total offense (616.2 yards-per-game, 326 on the ground to rank 2nd), while "falling off" to 34.6 points-per-game and "just" 522.7 yards of total offense in 2016. Last year at FAU he took a team loaded along the offensive line and backfield and led the Owls to their best offensive season ever, averaging 40.6 points-per-game (8th) behind 285.3 yards-per-game on the ground (6th). Before that the former UH wide receiver coached wide receivers from 2008 through 2015 in Waco.
Clements meanwhile helped pave the way for some prolific Houston and Baylor offenses from 2003 where he coached the OL for our Coogs until 2007, leaving to coach the line at Baylor until 2017. In two of his final four years in Waco the Bears led the nation in total offense behind punishing ground attacks and quick striking aerial assaults.
One thing for sure is both coaches know how to blend the talent on-hand into their system, which looked to be the case over the spring as the offense looked "simple" under Briles, basically taking what the defense gave them. With wider offensive line splits, opposing front 7's will have to declare which gaps are their responsibilities up front. This does two things; it widens the edge off the C (or D) gaps making it more difficult for an outside pass rush, while allowing offensive linemen to see an inside blitz (and/or stunts/twists) more defined. It also allows the quarterback to step into the pocket more for the deep tosses down field.
King's time to shine
After splitting time between slot receiver and quarterback over his first season and a half, D'Eriq King (5-11, 190, Jr.) made the full-time switch to quarterback eight games into the 2017 season, taking over for Kyle Postma one series into the South Florida game. King went on to start the next four games and would finish the season completing 64.9-percent of his passes (89-for-137) for an average of 247.6 yards-per-game (1,238 total) with just two interceptions to six touchdowns.
King is also a dynamic playmaker as a ball carrier, averaging 5.7 yards-per-carry when pulling down the ball (333 yards on 58 carries), crossing the goal line an additional 7 times. With the wide OL splits along with spreading the wide receivers from sideline-to-sideline (literally), King should have huge holes open up for zone read option keepers or called power/draw plays, in theory anyway. Look for elements of the option game to be included in this year's offense as multiple QB's ran the speed option game during the spring contest. Briles also had his QB's rolling out of the pocket plenty during the spring game in the RPO (run-pass option) game, which we'll get into in a bit.
Speaking of the Spring game, King picked up where he left off even with a new offensive coordinator, connecting on 8-of-13 passes for 259 yards with two deep touchdowns (another staple of Briles offenses). And that was after misfiring on his first three passes on a cold, windy spring day.
Chics dig the long ball
One aspect of Briles offense that really excites me is the combination of his philosophy on calling deep posts with King's arm strength. By my unofficial count last season, King completed 18-of-31 passes on deep routes (balls that travel over 20 yards in the air) for 560 total yards. The former 4-star recruit was 16-for-25 on such passes before a mediocre 2-for-6 in their final game of the season in the Hawaii Bowl against Fresno State.
As for who will be King's backup? Things changed drastically in June with the announcement of incoming graduate transfer Quinten Dormady (6-4, 222) from Tennessee. The former 4-star recruit out of Boerne, Texas began the 2017 season as the Vols starting QB but succumbed to shoulder issues that plagued him all year as he opted to have season ending surgery in October. In three seasons in Knoxville, Dormady completed 100-of-176 passes (including 76-for-137 in his five starts in 2017), for 1,282 yards with just seven touchdowns to 6 interceptions.
Though not fleet-of-foot, Dormady is considered a "dual threat" QB, though just rushing for 25 yards on 22 carries after accounting for sacks. His 12.8 yards-per-completion suggests he has the arm strength to stretch the field while his career 57-percent completion percentage says he can make the quick horizontal tosses via the screen game.
Now just because Dormady is a former 4-star and SEC quarterback, the backup spot won't be his without a fight from Bryson Smith (5-11, 185, RFr.) or Clayton Tune (6-3, 200, Fr.). Smith is a King and Greg Ward Jr. clone in that he's a smaller dual threat QB type with fleeting speed and a strong arm. Smith redshirted last season after passing for just over 5,700 yards with 52 TD's to only 16 interceptions while adding 3,100 yards rushing and another 44 TD's for John Tyler high. Tune meanwhile is athletic enough to buy time passing with his legs by scampering out of the pocket (just over 1,000 yards rushing with 20 TD's) but is more the classic "pocket passer" with nearly 6,700 yards passing with 66 TD's for Hebron (Carrolton) High.
In the spring scrimmage Smith completed 9-of-15 passes for 99 yards while Tune connected on 11-of-16 for 85 yards but did stare down a target over the middle as he was intercepted. While Smith is more the true dual threat of the two, Tune showed some nice wheels as he ran for 30 yards on 4 carries, including a 13-yard run on his first play from scrimmage via a read option play. Smith had a 15 yarder, finishing the day with 26 yards on 4 totes.
Adding the run-pass option will make this offense lethal as a lightning quick QB like King will isolate a defender who has both run and pass responsibilities. Reading what that defender decides to do, King will either throw the pass (if said defender attacks the run) or tuck the ball and run if the defender drops into coverage. King demonstrated this a few times during the scrimmage for huge gainers in both the run AND passing games.
For now, it appears that Julon Williams (5-10, 185, Fr.) will start his career as a slot receiver, much like Ward and King before him, but don't count out the Converse Judson product as he has the type of play-making ability that Briles will need to get onto the field somehow quickly after a career in which he ran and passed for over 10,000 career yards (nearly 3,400 rushing yards and over 6,700 passing) along with a combined 104 TD's (60 passing and 44 rushing).
As for who will be protecting them? Stay logged into Coogfans.com as we preview the offensive line next week.