FYI…I'll be updating where everyone's at after May 1st.
Finally got around to how our Coogs are doing in the pros. This is up to date as of this morning.
We've had 3 MLB players this year (Pruitt, Ponce de Leon and Dowdy). Rice got moved up to AAA quickly and a number of guys have started well.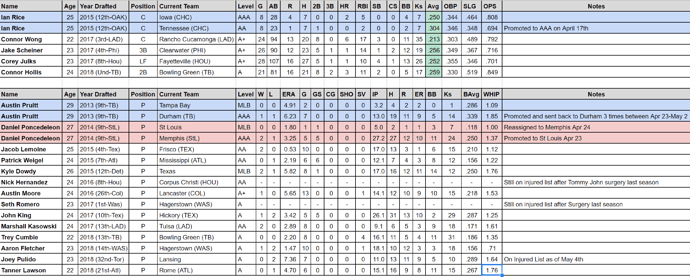 Click the spreadsheet to zoom in.
If you want to follow along during the season, just go over to http://www.milb.com/player/index.jsp?sid=milb&player_id=594965#/career/R/pitching/2019/ALL and use the search box up in the top right to type in their names. I'll keep updating once a month throughout the season.
Soon that spring, however, King wasn't tripping 90. He'd hurt his elbow in a late-April game against Tulane. For a week he couldn't fully straighten his arm. An MRI revealed no tear, according to one doctor, but the senior was prescribed three weeks of rest – with the draft just weeks away.
King had been eligible for the draft four different years but had never been selected. Now he was headed toward his final draft with an arm that wasn't working right.
With their season on the line, the Cougars brought King back on May 20, the final day of the regular season. A win over Cincinnati would give UH a share of the American Athletic Conference title headed into the league's tournament.
King pitched seven strong innings, scattering seven hits and one walk and holding the Bearcats to two runs (one earned). He averaged under 13 pitches (and 10 strikes) per frame and got 10 outs on the ground as Houston won the game. But the most remarkable thing about King's sixth win in seven decisions was that he never broke 80 mph on the radar gun that day. "I'd been up to 93 before I got (injured) in April," King recalls. "But that day I was 78-80 with a get-me-over curve. I didn't have much."
But it was enough.
A week later, on May 28, King got the ball again as the Cougars played East Carolina for the conference tournament title and an automatic berth in the NCAA tournament. Still without his velocity, King managed to strike out one Pirate. But he got 12 others to ground out, and over 6.2 innings kept East Carolina scoreless. The Cougars won the game.
Next up for King was Baylor, having its best season in five years. King battled for 5.2 innings, holding the Bears to three runs on eight hits and no walks. He fanned five and coaxed nine groundouts (with one flyout).
"John always a game plan, and the ability to execute it," says Taylor, who had seen King healthy and otherwise. "He's a very intelligent kid. And his coaches said he was the hardest worker on the team."
The win over Baylor would be King's final appearance of the year. And not just on the college field.
John King, 24 year old lefthanded pitcher, has been promoted from low-A Hickory to high-A Down East, it was announced today.
King, who was the subject of a write-up earlier this week by Jamey Newberg, was a 10th round pick of the Rangers out of the University of Houston in 2017, and had Tommy John surgery before he ever threw a professional pitch. He impressed late last year and in Instructionals, however, and has gotten off to a strong start to the 2019 season, striking out 29 batters in 26.2 IP for the Wood Ducks while walking just two and allowing one home run.