Cougars Win Opener in 83-80 Thriller
Freshman Angela Harris paces Cougars with 22 points
http://www.uhcougars.com/sports/w-baskbl/recaps/111316aaa.html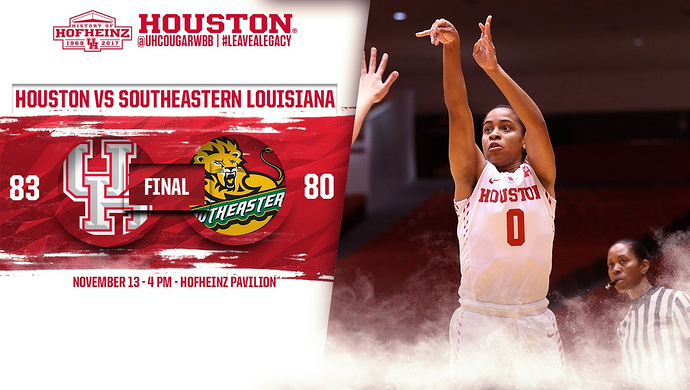 TURNING POINT
With the game tight in the fourth quarter, the Lions were able to hang around, but it was a 7-0 run by the Cougars that put the game out of reach. With the Cougars down 72-71, Chyanne Butler drained a jumper and Jasmyne Harris hit a pair of free throws to give the Coogs the lead for good at 75-72. For good measure, Harris made another 3-pointer on the next possession to bring the score to 78-72.
TOP PERFORMERS
Houston: Freshman guard Angela Harris led the Cougars with 22 points while adding five assists and a rebound. She finished 7-of-11 from the field including a 4-for-7 mark from beyond the arc. Senior Jacqueline Blake added a career-best 15 points, while Butler had 13 of her own. Sophomore Serithia Hawkins collected 11 rebounds for her seventh career double-digit rebounding game.
---
HOUSTON COUGARS EDGE SOUTHEASTERN LOUISIANA, 83-80
http://www.thehrr.com/Game_Articles/Womens_College_hoops/2016/11/13_Coogs_edge_SELA.html#.WCkjywJyRfc.twitter
The Houston Cougars began the 2016-'17 season with a hard fought 83-80 win over Southeastern Louisiana Sunday afternoon in front of an announced crowd of 1,411. The Coogs were led by freshman guard Angela Harris' 22 points in 26 minutes. Senior post player Jacqueline Blake scored 15 points in 16 minutes. Both players came off the bench to produce those points. The Coogs' bench scored 48 of the team's 83 points.
---
---
---