yep. i think he will stay for the long haul then his son will take over as hc.
DiehardCoog713Alfred Matthews16m
". i think he will stay for the long haul then his son will take over as hc."
I think the same. I could see Samp HC for as long as a decade more then Samp Jr takes over.
Sampson's said on multiple occasions that he doesn't want to leave. He's got everything he wants here which to include his family working with him and he loves Khator.
Things would have to drastically sour for him to consider leaving, otherwise, he's stated on a few occasions that he wants to spend 10 more years coaching.
There's plenty of room for more banners in the Lewis Center, conference, regional, final four and NATIONAL CHAMPS. I predict that if he stays here 10 more years, that last one will be hanging there and in the Fertitta Center.
Couldn't be happier than to see a Coog take over the AD spot…I think Chris will have UH's best interest on his mind at all times…tremendous hire…
Hope you are right Stealth, and hope I am alive to see it…
I was shocked when I got off the bus after the game; there was Chris Pezman thanking everyone and shaking their hand. Man, THAT was unexpected! Way to go Chris; you have my vote for best AD since Harry Fouke.
I doubt that he greeted everyone (there were several buses arriving at TDECU at the same time - and Chris cannot be everywhere), but it was not because he was not trying!
I must have just missed him. Have to say we haven't seen that since Dave Maggart. He was very approachable. Can't speak for the last one (already forgot his name) but those guys who are now at Navy and Baylor were **** heads in my opinion. Very impressed with themselves. I met them both and when they realized I wasn't one of the big $ people it was like I'd just crawled out from under a rock.
REINTRODUCING CHRIS PEZMAN
http://development.uh.edu/alumline/reintroducing-chris-pezman/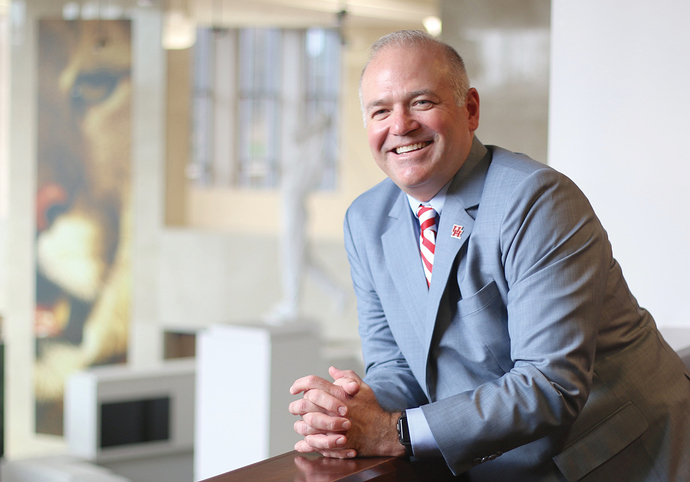 When asked if he feels any added pressure, the former team captain responds, "You bet! There are a lot more expectations because I have 35 years of connections, friends, teammates, colleagues and associates in Houston. Friends have my number. They can call me if I slip up!" Joking aside, Pezman says: "I am honored to achieve this position, and I see it as a great responsibility since I am an alumnus." He is committed to taking UH Athletics to the next level, realizing the rules of the game have changed. "It's a crowded market for entertainment dollars today," he answers. "We are fighting to earn it and remain competitive. Even as the Astros win the World Series and the Rockets have the season they're having, we need to sustain the trajectory of our teams to bring the spectators in."
I had dinner with former coach John Jenkins and former team captain Gary McGuire after the TDECU stadium opening event. John is really a cool and colorful character and I always love seeing his red cowboy boots.
Say what you want about John Jenkins, but you can't question how much he loved our university.
BRING HIM BACK IN!!!. A consultant or any role imaginable would be a major plus.
THANK YOU FOR POSTING.
No Doubt. Love the man. I haven't checked in a while but he was giving at the presidents level for a while. That's $100,000 a year for some who aren't aware.
Again thanks for sharing
What memories! The main reason UH was accused of running up the score was because of the no huddle. If you watch a replay today you will see Ware standing watching the play clock run down. Rarely was the ball snapped with more than 10 seconds left.
and because it was very hard to match up against. I have no doubts that without the ncaa violations we would have won multiple National titles. It is REMARKABLE that we had the records that we had with the outside adversity that our Coaches were facing. Finally the violations/restrictions to recruit caught up to us.
uta and atm did put us in the ditch thus resulting where we are today. Forever football is better off with what Mr. Jenkins and Mouse Davis brought to the game.
Saban and Belichick bring consultants for their offense and defense on a regular basis. Let's do the same with Mr. Jenkins.
I like this hire for the most part.