4* PG from Oklahoma City with offers from Nebraska, Creighton, Oklahoma State, Tulsa, and UNLV
Highlights:
Embry looks legit, but he's going to be hard to get with all these big time schools after him. He'd be an excellent replacement after Davis and Robinson graduate.
We are offering a ton of point guards. Clearly a priority.
He was also visiting Mike Aduwumni
kellenmsampson Running around DFW looking for Future Coogs! Had to come see our incoming Frosh Mike Adewunmi. Going to be STAR for us! #ForTheCity
Unlike football where playing for a championship is almost impossible, and getting into the 4 team playoff is a long shot, in basketball UH can do some serious damage. #forthecity
Embry kind of reminds me a bit of Rob Williams. He appears to be very quick and a great passer & shooter.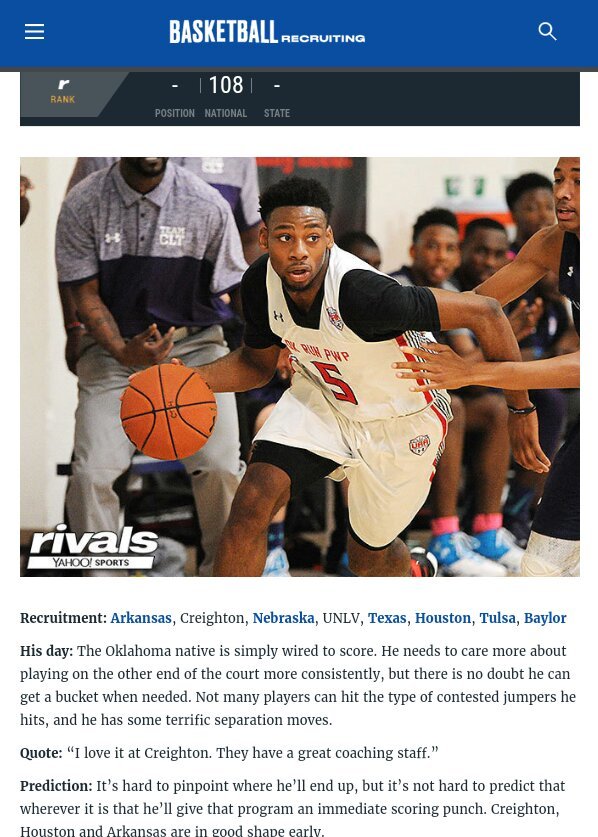 according to Rivals: Creighton, Houston & Arkansas seem to be the early leaders for Keyshawn Embery.
Purdue is going to be tough to beat, but the way this off season is going, I wouldn't put it by Coach Sampson.
Announced his new top 5 of Arizona State, Arkansas, A&M, Butler, and West Virginia.
That means he going to come to Fertitta Center to play UH next year.