Cougars Host Leonard Hilton Invitational
Houston ready for first meet of 2017
http://www.uhcougars.com/sports/c-track/spec-rel/011217aaa.html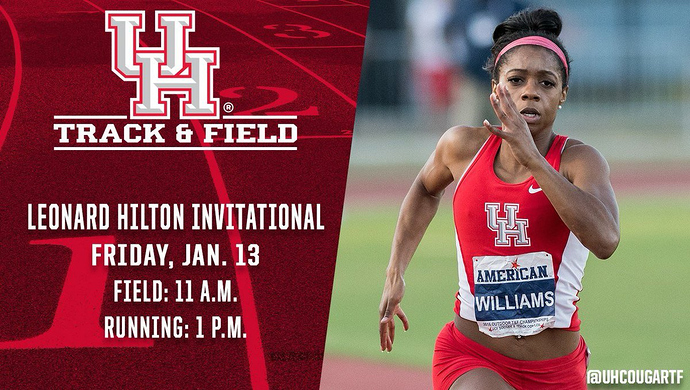 Eight Cougars are scheduled to make their collegiate debuts on Friday, including multi-event athlete Nate Mechler. Mechler qualified for the 2016 IAAF World U20 Championships in the decathlon for team Canada, and is the Canadian junior record holder in the event. The Kitchener, Ontario, native is scheduled to compete in the shot put and the pole vault.
Friday also marks the return to the track for senior Cameron Burrell, who only competed in the long jump at the Reveille Invitational. Burrell is scheduled to run in the 60-meter dash for the first time since finishing runner up by one one-hundredth of a second at the NCAA Indoor Championships in 2016. Burrell recently received votes for the prestigious Bowerman Award Watch List.
Houston will have 12 true-freshmen competing for the women in the track and field events this weekend. Samiyah Samuels makes her debut on the straight-track for Houston after winning the long jump at the Reveille Invitational in December. Samuels was a member of Team USA at the IAAF U20 World Junior Championships last summer and qualified for the United States Olympic Trials as a senior in high school.
Full list of events and competitors can be found here: http://grfx.cstv.com/photos/schools/hou/sports/c-track/auto_pdf/2016-17/misc_non_event/Hilton_HeatSheets.pdf
You can follow along live here: http://www.flashresultstexas.com/2017/uhlhilton17/