2017 Game 1 Preview: Arizona
By: Jimmy Schofield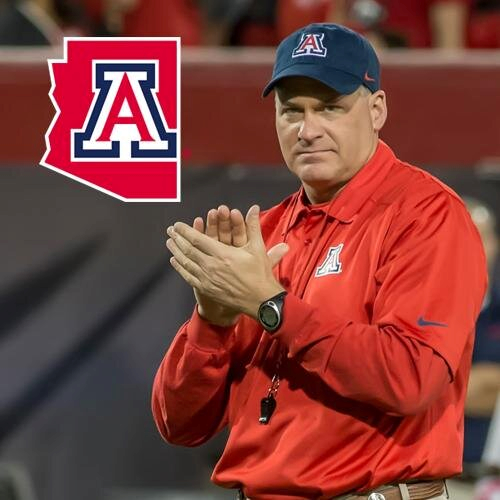 photo via Azcentral.com
Your Houston Cougars make their 2017 debut in Tucson, Arizona to face the Arizona Wildcats this Saturday, Sept. 9. Game time at Arizona Stadium will be 9:30 pm CT and will be shown on ESPNU. Coogfans will break down this game 1 preview into two parts; today we'll look at Arizona's offense versus Houston's defense with tomorrow's article breaking down the Coogs offense against the Wildcats defense.
Coming off a disappointing 2016 season, relative to expectations (going 9-4 and losing the Las Vegas Bowl against San Diego State), a new coaching staff was assembled by Major Applewhite after being named the new head coach on Dec. 9, 2016. Applewhite served as offensive coordinator for the two previous seasons under the previous staff.
What kind of team the Cougars become (their identity) under Applewhite will determine the type of success they have this season and in the future going forward. The former TU quarterback has always preached toughness, which was the hallmark of the team the past two seasons. Some of the hits the team laid on opponents defensively were beautiful to watch.
The Coogs will need to be tough in facing a game Wildcats squad that's rushed for a combined 1,017 yards and 14 touchdowns over the past two games; 506 on 47 carries with 7 touchdowns in a 62-24 win against Northern Arizona this past Saturday and 511 on 48 carries and 7 TD's in their 2016 season finale against Arizona State last year.
The Wildcats are led by Rich Rodriquez. In his sixth season at Arizona in which he's amassed a 37-29 record (but just 10-15 over the past two years), "Rich Rod" is 157-113-2 overall in 23 seasons as a head coach (including stints at West Virginia and Michigan) and is known as the Godfather to the spread offense that we see so prevalent throughout college football today.
The Wildcats, under co-offensive coordinator's Calvin Magee and Rod Smith, though Rodriguez is the play-caller, struggled last year offensively in terms of balance, great rushing offense offset by a mediocre passing attack. They averaged 24.7 points-per-game (97th nationally) and 413 yards of total offense last year (67th). Under Rodriquez's spread option scheme the Cats are a predominately run based offense as they averaged 235 yards on the ground (19th) versus only 178 passing (108th) with only 13 touchdowns to 12 interceptions and a 51-percent completion percentage.
They'll be facing a Cougars defense, led by first year coordinator Mark D'Onofrio, that prides itself on stopping the run. The Coogs were ranked fourth nationally allowing just 100.2 yards-per-game, though many Coogfans had a bad taste in their mouth left by the 127 yards on the ground by the San Diego Aztecs in last year's 34-10 loss in the Las Vegas Bowl to end the season. Overall last season's defense allowed 319.6 total yards-per-game (13th), 220 through the air (51st) and 23.5 points-per-game (30th).
Will D'Onofrio employ the same blitz heavy philosophy with younger cornerbacks that are susceptible to the play-action pass game that burned the secondary so many times last season? Will he go more zone behind simple four or five-man pressure schemes?
In Arizona's win last week versus Northern Arizona, Brandon Dawkins (6-foot-3, 210 pounds, R-Jr.) started after being in a "QB competition" all fall camp with Khalil Tate (6-2, 215, So.) and completed 7-of-13 passes for 89 yards and a TD and ran for 92 yards and an additional 2 scores on just 7 carries.
After starting 9 games last season, the former 3-star recruit out of famed Oaks Christian (Westlake Village, California) is adept at making the decisions in Rodriguez's read-option ground attack (when to "pull" and when to keep the ball in the run game) and when to pass in the RPO (run-pass option) passing game. Last season Dawkins completed just 54-percent of his passes (98-for-182) for 1,348 yards (134.8 per game) with 6 interceptions to just 8 TD's. He averaged 7.2 yards-per-rush last season (944 yards on 131 carries and 10 TD's). For his career, he averages 6.9 yards attempt as he has an explosion off the edge but the physicality to run between the tackles on called keepers.
Tate meanwhile misfired on his only pass against NAU and was sacked once in limited snaps, though he did rush for 62 yards on just 6 carries, including one for 40 yards. He's clearly the future of the program being a consensus 4-star signee out of Inglewood, California's Junipero Serra high school. He was listed as ESPN's 10th best dual threat QB and was the Los Angeles Times player of the year in 2015. Last season Tate started one game as a true freshman in Tucson as a 17-year-old against USC in which he passed for 72 yards and rushed for 58. He ended the season with 243 yards passing and 3 passing TD's but completed just 45-percent of his passes (18-for-45), adding 237 yards on the ground and a score.
Nick Wilson (5-10, 210, Sr.) and Zach Green (5-10, 230, RSr.) are among the plethora of returning running backs that will see action all season long for the Cats as the two combined for 144 yards on just 13 carries and 2 TD's (87 yards for Wilson, 57 for Green) against NAU. Last season Green rushed for 320 yards on 55 carries (5.8 per attempt) but was limited to just five games due to injury, which has been a theme over his career in which he's started multiple games each season. For his career, Wilson has 2,424 yards career rushing yards with 27 TD's (16 his true freshman season of 2014) while averaging 5.7 yards-per-rush.
Green adds 434 career yards with 372 and 3 TD's coming last season. The bruiser averages 4.8 yards-per-carry for his career. Other running backs that could see action are J.J. Taylor (5-6, 180, RFr.), super frosh Nathan Tilford (6-2, 205) and an assorted amount of slot receivers who add to the run game via the speed sweep. Taylor is a "scat-back" who played in four games last year with one start and rushed for 265 yards, and averaged 6.9 yards-per-rush before breaking an ankle which ended his season. Tilford is a 4-star ranked signee who gashed NAU for a 65-yard run Saturday night (totaling 79 yards on 4 carries in his debut.
They'll run behind an offensive line that has a combined 89 career starts (tied for 15th nationally, led by massive Jacob Alsadek (6-7, 325, RSr.) with 34 starts at right guard and Layth Friekh (6-5, 302, Sr.) with 21 starts at left tackle. Nathan Eldridge (6-3, 297, RSo.) returns at center as a second-year starter along with Gerhard De Beer (6-7, 320, RSr.) and his 9 starts at right tackle (13 career) and Christian Boettcher (6-2, 290, RJr.), 7 starts, at left guard. Trevor Wood (6-6, 265, RJr.) is an athletic tight end who can seal the edge in the Wildcats zone blocking run scheme.
For the Cougars, it all starts with "Big" Ed Oliver (6-3, 290, So.). The consensus five-star prospect out of the 2016 class did not disappoint during his true freshman season last year, amassing an amazing 47 SOLO tackles, which ranked him SECOND nationally among defensive linemen, as were his 66 total tackles which were also third and fourth respectively on his own team. He defined the term 'beast mode' no matter where he lined up, whether it was at the nose or end lined up against an offensive tackle as his 22.5 tackles-for-loss were tied for THIRD nationally. If he couldn't get to the quarterback or running back; no problem, as he did his best JJ Watt impersonation, leading all defensive linemen, again, with NINE pass breakups last season. Oliver has the innate ability to be able to read the quarterback's eyes, get his huge paw up in the air and bat down the attempted pass. For good measure, Big Ed concluded his true freshman season as a one-man wrecking crew with five sacks and three forced fumbles.
Look for Oliver to be double teamed leaving one-on-one matchups for the rest of the defensive line which includes, Nick Thurman (6-4, 293, RSr.), Zach Vaughan (6-4, 265, RJr.), Aymiel Fleming (6-2, 290, So.), Reggie Chevis (6-2, 295, G-Sr.), Chauntez Jackson (6-4, 297, RSr.) and Blake Young (5-11, 275, So.). With Jerard Carter (6-3, 297, RJr.), a key contributor along the line, out for an extended amount of time with a foot injury, I look for Thurman and Chevis to flank Oliver with the previously mentioned linemen to form a potential 6 to 7-man rotation, something they'll need in order to stay fresh against a huge, yet athletic Arizona O-Line that will try to pound them early and often Saturday night.
Thurman begins his final season as a starter after having started only 8 of his first 32 games. Improving each season, Thurman has had five TFL over both of the past two seasons with 60 total tackles (31 solo). Though he's more of a run-stuffer, like Ed, he's agile enough to get his hands up in the air to defend three passes while being physical enough to force two fumbles last season as well. Carter, like Thurman, has improved each of the past two seasons after redshirting his true freshman season in 2014.
Vaughan is good at using his length and size in leveraging his way through gaps as he demonstrated at Navy last season as he had a career high 4 tackles including 1 for loss in his only career start (in 22 games playing mainly special teams). Fleming contributed 6 total tackles and a sack in limited playing time last season but was good enough to see the field as a true freshman. He's another "ball smart" player who is always around the ball, meaning he's quick at reading plays, getting off and to the ball as he had 133 career tackles at LaMarque High, outstanding for a down lineman.
Chevis is a graduate transfer from Texas A&M who had 25 tackles, including two for loss, a sack and a forced fumble playing in reserve in 13 games last season after seeing action in only five combined games during his first two seasons after a redshirt. The consensus three-star signee out of Sharpstown High could give D'Onofrio the flexibility to move Big Ed all over the line. Jackson redshirted last year because of injury and hopes to fulfil his potential his final season, that potential being a high three-star prospect that decomitted from Tennessee right before National Signing Day 2013 to sign with the good guys. Out of Inglewood, California, Jackson has had only 7 total tackles in 26 career games.
If the Cougars defensive line can occupy the Wildcats offensive line, it'll be the job of the linebackers to "work through the wash" in making tackles-for-loss or getting to Arizona's fleet of foot running backs and quarterbacks in the run game for minimal gains. The Coogs inside linebackers are led by Matt Adams (6-1, 237, Sr.), who looks to lead the linebacker core after years of serving behind the likes of Steven Taylor, Tyus Bowser, Elandon Roberts and Derrick Mathews. According to Pro Football Focus, Adams had the sixth best run stop percentage (12.7) among inside linebackers in the nation last season (per Joseph Duarte of the Houston Chronicle).
Last season Adams had a team leading 82 tackles (57 solo) with 7.5 for loss, 2 sacks, 2 forced fumbles and a fumble recovery last season. Though he's improved every season as he's been given more responsibility, going from 40 to 49 to the aforementioned 82 total tackles in his first three seasons, D'Onofrio is going to rely on him to make the calls at the line of scrimmage, getting the front and back end aligned properly.
When D'Onofrio goes with two inside linebackers in a true 3-4 look, a player who's impressed during the spring is walk-on Roman Brown (5-11, 222, Jr.), who though has had only six tackles over the previous two regular seasons had a combined 11 tackles during the three spring scrimmages in showing he's ready to step up this coming season.
When talking about the linebacker crew you're going to see a lot of that; student-athletes who have played a few years but haven't put up eye popping stats, such as two players who will probably man the two outside spots; Emeke Egbule (6-3, 245, RJr.) and D'Juan Hines (6-1, 230, RS.).
"He's fast and really big," former strength and conditioning Coach Yancy McKnight told me last spring of Egbule. "He doesn't say a whole lot. He just works really hard and is going to be a big kid and he can really, really run and he competes hard. If he continues doing what he's doing progression wise, I think he'll show up during fall ready to have a great season."
Egbule will probably play Bowser's 'rush backer' spot though he's only had 33 total tackles (23 solo) over 27 total games with just 5 starts over his first two seasons on Cullen Boulevard. He's tough, physical and fast but just needs to put it all together, such as when he had the game winning 24-yard fumble recovery for a touchdown last season versus Tulsa.
Hines also needs to step up his production, and doubling his 44 total tackles (30 solo) would be nice as he started just 7 of the 13 games he played last season as the junior has 61 career tackles in 36 games. He did lead the defense in tackles in two games last season at Navy and versus UCF so he has the ability. He just needs confidence going into his final season.
Others looking to contribute outside are Austin Robinson (6-3, 235, RSr.) and Leroy Godfrey (6-3, 235, So.). Robinson made the switch from safety and has done a nice job playing closer to the line of scrimmage over the spring as he led the defense in tackles with a combined 12 over the 3 spring scrimmages. Most will remember the 220 pounder from the game saving tackle last year versus Tulsa at the goal line against a much bigger Jesse Brubaker, who was a 6-3, 270-pound defensive end turned tight end for the final plays. That game alone probably led to the switch to play linebacker along with his athleticism as he played quarterback at UTSA during the 2014 season, completing nearly 56-percent of his passes for 645 yards and a 53-yard touchdown on the ground. Godfrey meanwhile has potential as an edge rusher as he had 20 QB hurries and 8 sacks as a senior at Missouri City's Elkins High but had just 3 total tackles in 5 total games last season.
Jordan Milburn (6-3, 228, So.) also played sparingly last season as he had just 3 solo tackles in 12 games as he played mainly on special teams a year after redshirting. He did start 35 straight games though at Galveston Ball and had 118 tackles, 11 for loss, 7 sacks and showed plenty of athleticism with 8 pass breakups and two blocked kicks his senior season.
Others mentioned who will get an opportunity to step up include: Nomluis Fruge (6-0, 225, RSr.), Ralph Harvey Jr. (6-2, 245, Sr.), Ja'Von Shelley (6-1, 230, RJr.), Khari Dotson (6-1, 210, RJr.) and Rasheed Tynes (5-11, 220, Sr.).
Fruge has seen action in 18 games over the past three seasons but showed a quick step in getting to the QB in limited action last year with six tackles (of the eight in his career) with a sack and a TFL in the game against UConn at TDECU. He was the number-8 ranked "athlete" in the state by Dave Campbell in 2013. Harvey Jr. is an imposing specimen but has yet to put it all together in the "rush backer" specialist mode, appearing in just six games the past two seasons after transferring from California's El Camino Junior College. He did have five tackles during the spring, including one for loss and a sack. Shelley could also be a member of what ESPN college hoops analyst Dick Vitale named the "All-Airport Team" but has not seen any game action the past two seasons mainly because of injury. He was named a member of the Houston Chronicle Top-100 out of Klein Oak HS. Dotson and Tynes are more athletic "in-space" linebackers who had a combined six tackles over spring ball (four by Dotson). 'Dot' has been an American Athletic Conference Academic All-American the past few seasons while Tynes has had 8 total tackles in 15 career games, contributing mainly on special teams, and like Dotson was also a conference Academic All-American two seasons ago out of Baltimore's Poly Tech High.
A few things that stand out to me is the combination of speed, size and athleticism of the 18 listed members of the linebacker unit on the roster. Hopefully D'Onofrio continues the numerous "kamikaze" looks where almost the entire front seven is standing, making it impossible for the opposing offensive line to know where the pass rush is coming from. But the first-year defensive coordinator also has to make sure the unit is disciplined enough not to over-pursue against a complex offensive scheme that relies on "eye candy" via various pre-snap shifts and motions in order to confuse the opposing defense.
Arizona's pass offense versus Houston's pass defense
When Arizona does go to its passing game, their main receivers will be Tony Ellison (5-11, 188, RJr.), Cedric Peterson (5-11, 188, RSo.) and Shun Brown (5'9, 177, Jr.) in the slot. Though he caught just one pass for 5 yards last week, the diminutive Brown is the Wildcats leading returning receiver as he had 521 yards on just 29 receptions with 3 TD's. With speed to burn corners over the top yet the elusiveness to take it to the house on a simple screen, Brown averaged 17 yards-per-reception last season. Ellison had 79 yards on 5 catches last week with a long of 43 yards on a screen as he's already improved on his total from last year in which he caught just two passes for 19 yards in 9 games. Peterson also had just 1 catch for 5 yards last week as the youngster looks to step up after catching 3 balls for 47 yards in 6 games last year. Tyrell Johnson (5-7, 164, Sr.) is another speedy slot receiver that Rodriguez loves to use on speed sweeps as he gashed NAU for a 55-yard score last week.
The biggest question for D'Onofrio's defense will be the cornerbacks and secondary in general as they employed "nickel" looks a good 70% of their defensive snaps. Again, with their being no depth chart being officially released it's difficult to tell who the starters in the secondary will be, though the cornerback position will include Jeremy Winchester (6-foot, 190, RJr.), Javian Smith (6-1, 165, So.), Isaiah Johnson (6-'4, 205, Jr.), Ka'Darian Smith (6-0, 175, So.), Alexander Myers (5-10, 185, Sr.).
If Winchester follows the paths that former Coogs DB's who are currently in the NFL have taken (DJ Hayden, William Jackson, Howard Wilson and Brandon Wilson), the redshirt junior could become the secondary's next lockdown corner. Over his first two seasons the 3-star rated prospect out of Klein Collins has combined for 62 tackles (46 solo), 11 passes defended and a fumble recovery. He's a sure tackler on the boundary side as he had two tackles-for-loss last season and a sack while being able to play in space on the field (or wide open) side. He hasn't had an interception yet but he did register one in the Red-White scrimmage to close spring practice. He needs to improve his consistency technique wise; one play he'll make a great play on the ball only to get beaten badly on the next. If he's to become the next lock-down corner he'll need to keep his confidence high on a play-by-play basis.
Johnson has something you can't teach; size and speed and with cornerback lacking depth wise moving him from wide receiver to corner makes sense While he still has a way to go technique wise, Johnson has impressed new defensive backs coach Clay Jennings with his effort and tenacity.
Johnson is in a tight battle with Jeremy Winchester, Javian Smith and Ka'Darian Smith. Alex Myers has been another pleasant surprise so far this off-season as he hasn't allowed his walk-on status to affect his play on the field. All five have had their ups and downs with Applewhite and Jennings stressing needing to finish plays (interceptions) while gaining chemistry, which will come by playing together as a unit.
Both Javian and Ka'Darian Smith (no relation) have the length to matchup in man-free coverage if D'Onofrio wishes to do so, but they do need to add more size as they are at only 165 and 175 pounds respectively, but both have had their moments this spring. Javian had limited playing time last season, mostly on special teams. When he did enter the game at corner (in three games), he amassed three tackles and a pass breakup. Ka'Darian played in just five games, registering two solo tackles in the win at Texas State. Myers has made quite a few plays on the ball throughout practice and if he continues to do so could earn a scholarship and an opportunity at extensive playing time.
The Cougars safeties will have to play strong in the run game yet stay disciplined enough not to get burned deep in the play-action passing game. Garrett Davis (6-1, 200, Jr.), Terrell Williams (6-3, 210, Sr.) and are my guesses to start at field and boundary safety with Khalil Williams (6-0, 200, Jr.) at the nickel with Collin Wilder (5-11, 175, So.), Darius Gilbert (6-2, 195, RFr.) and Patrick Rosette (6-1, 195, RFr.) adding depth.
After four seasons of Trevon Stewart and Adrian McDonald patrolling the Coogs backfield, last season was Davis and Williams first season as starters as they had mixed results. Williams had four more total tackles (69 to 65) and seven more solo tackles (52 to 45) but Davis had more tackles-for-loss (7 to 6.5), sacks (3 to 2), passes defended (5 to 3) and recovered a fumble (with both forcing one). Both bit often off play-action and were burned deep as teams played off their aggressiveness too many times for my liking. Terrell Williams played well early on but nagging injuries derailed his season as he had 29 tackles, 23 solo, in 13 games played with five starts.
Part of defense is special teams coverage and the Cougars will have to be aware of Wildcats return units as Shun Brown returned a punt 66 yards for a TD last week and averaged 29 yards on 2 kick returns last year. Tyrell Johnson had 120 yards on 4 kick returns last week with a long of 58. For the Cougars, punter Dane Roy (6-7, 240, So.) and kickers Caden Novikoff (5-10, 190, Jr.) or Dalton Witherspoon (5-8, 175, So.) will have to keep the ball away from the dangerous Arizona return men. Last season Roy had nice hang time on his punts, giving his coverage units time to get down the field for a quick tackle as they ranked 7th nationally in allowing just 7.2 yards-per-return. The Australian punter averaged 40.6 yards-per-punt while pinning opponents inside their own 20 yard line 20 times on 59 punts, with 6 being boomed for more than 50 yards. This will be Novikoff or Witherspoon's first year as the place kicker but the Coogs allowed 23 yards-per-return last year, good for 104th.
Tomorrow we take a look at Houston's offense versus Arizona's defense and the Cougars return games on special teams.