Game 1 preview: Arizona's defense versus Houston's offense
By: Jimmy Schofield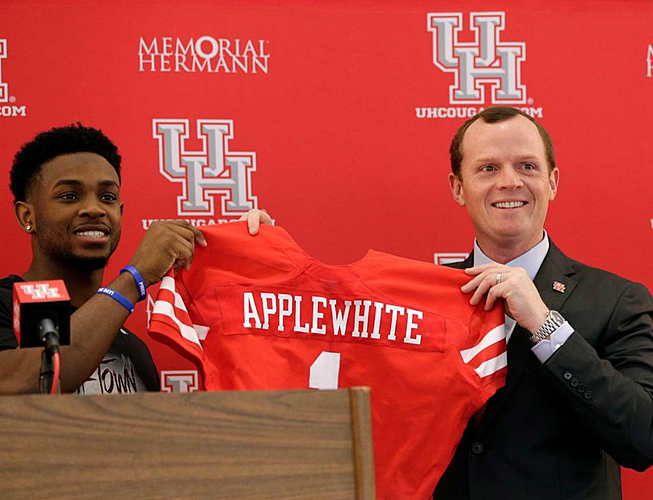 photo courtesy
chron.com
Your 2017 Houston Cougars take to Tucson to face the Arizona Wildcats this Saturday, Sept. 9. Game time at Arizona Stadium will be 9:30 pm CT and will be shown on ESPNU. Yesterday we previewed the Cougars defense versus the Wildcats offense so today we break down Arizona's defense versus the new look Houston offense.
The first few games of a new season are always tough because teams are new as are coaching staffs, but the Coogs will have another advantage in that this will be first year offensive coordinator Brian Johnson's first year as a fulltime play-caller.
The Coogs under first year head coach Major Applewhite want to be able to run between the tackles more as they averaged just 147.1 yards-per-game (99th nationally), a season after averaging 235 per game on the ground (13th). The offense averaged 443.4 yards total (41st), 296.3 passing (17th) and 35.8 points-per-game (26th).
Applewhite emphasized his team being a hard-nosed, physical offense when he was hired as offensive coordinator two seasons ago,
"We're going to be physical. It's a fight, a four-quarter fight. We're going to be physical in the run game and the passing game," the head coach said during his initial press conference, "We're going to run the football. That's something that's stood the test of time. We've seen many teams throw it all the time offensively, and very seldom do they get above 7-5, 8-4 and compete for championships, and that's why we're here."
Desert Swarm this aint
If there's one thing you can say about the Cats defense last year, under second year defensive coordinator Marcel Yates in his 4-2-5 scheme, is that they were consistent. Consistently bad in finishing 117th in the nation in points-per-game allowed (38.3), 117th in total defense (469.3 yards), and 115th in passing yards allowed at 275.1 per-game. Throw in 194.2 rushing (83rd) allowed and you'll see why major improvements are needed on every level of Yates' defense. They didn't get off to a good start in last Saturday's 62-24 win against Northern Arizona as Yates defense allowed 562 total yards of offense (377 passing and 185 rushing), along with a whopping 29 first downs. They did force 3 turnovers however, something they didn't do often enough last season with only 14 (104th).
The Wildcats only return four from last season. They'll be starting three true freshmen, and one redshirt freshman and sophomore apiece. Upfront they aren't the biggest defensive front with Justin Belkap (6-foot-3, 260 pounds, RSo) and Kylan Wilborn (6-2, 245, Fr.) lining up at end, though Wilborn plays what's called the "Stud" position or a DE/OLB hybrid. Inside at tackle are Parker Zellers (6-1, 250, RJr.) and Dereck Boles (6-2, 296, RJr.) and Luca Bruno (6-3, 305, RSr.) listed as co-starters at the nose.
Rated as a 3-star prospect coming out of Notre Dame High School in Northridge, California, Wilborn is a flash off the edge as he forced a fumble in their opener along with adding a tackle-for-loss and a sack. Zellers played mainly on the nose last year (at 250 pounds) and led the defense with just 3.5 sacks as they produced only 22 total (89th nationally). Belkap became a starter last season as a walk-on while Bruno is a two-year returning starter. Boles is a new starter after transferring from Coffeyville Community College where he averaged 6 tackles-per-game last year while adding 5 sacks.
The Cats linebacker unit is built on speed behind Brandon Rutt (6-3, 227, RJr.) at the "Mike," Tony Fields II (6-1, 225, Fr.) at the "Will" and Dane Cruikshank (6-1, 205, RSr.) at the "Spur." Rutt is a first-year starter with just 32 career tackles (including 5 Saturday night) while Fields is a 3-star signee out of Desert Pines in Las Vegas where he helped lead them to a state title with 110 tackles while also lettering in basketball and baseball. Cruikshank played boundary corner last year and had 60 tackles with 9 passes defended. Fields and Cruikshank had a combined 5 tackles Saturday night against FAU.
They'll be facing a Cougar offensive line that allowed 37 sacks last season which ranked 113th nationally. The starting unit of Josh Jones (6-5, 280 pounds, RSo.), Mason Denley (6-4, 305, RJr.), Will Noble (6-4, 290, Jr.), Marcus Oliver (6-3, 295, Sr.), and either Braylon Jones (6-3, 278, So.) or Na'Ty Rodgers (6-5, 295, Sr.) from left to right tackle will have to be more affective in order for Johnson's offense to be efficient this season. Depth wise along the line, it was a tough blow losing Kameron Eloph (6-3, 295, Jr.) who started at both guard spots over his first two seasons, but Alex Fontanta (6-3, 310, Sr.) provides relieve along the interior providing he's improved from last season. Throw in newcomer Deon Mix, a 6-4 300-pound graduate transfer from Auburn and the injury issues that have plagued the line the past two seasons (17 different starting lineups over 27 total games) won't be as much of an issue for new offensive line coach Chris Scelfo. With Applewhite wanting to be a more efficient team running between the tackles, the O-line will have to improve upon its average of just 3.41 yards-per-rushing attempt (117th nationally).
The Coogs have a plethora of running backs led by Duke Catalon (6-0, 210, R-Jr.). The former 4-star Aldine Eisenhower product rushed for 528 yards last season (with 4 touchdowns) but only averaged 3.6 yards-per-carry, due mainly to nagging ankle and concussion issues. He was also a dangerous weapon out of the backfield as a receiver as he caught 44 passes (fourth on the team) for 281 yards (6.4 yards-per-reception), crossing the goal line and additional 3 times.
If the pass rush becomes to fierce for whoever the starting quarterback ends up being, Catalon is a nice safety outlet via simple swing passes while also being more than effective off screens or motioning out to the slot, forcing a linebacker or safety to cover him. With his ankle injuries behind him, Catalon should be able to cut quicker behind the zone blocking scheme in which he needs to diagnose where the hole is and explode through it or cut back off the designated backside gap. Last season he was known to "dance" too much in the backfield, allowing defenders to bring him down at or behind the line, thus his 3.6 ypc. Of course, a lot of this had to do with poor blocking up front as well.
Behind Catalon, Dillon Birden (5-9, 172, Sr.), Mulbah Car (5-11, 194, So.) and Patrick Carr (5-10, 195, RSo.) will battle to see who gets most of the carries as a backup at the position. Dancing behind the line was not something that could be said of Birden, who led the unit in ypc with 4.7 (289 yards on 62 carries) last season. After transferring from Blinn Junior College, the Houston Cy-Fairs product also led the unit with six rushing TD's after transitioning from corner back early in the season. Unlike Catalon, Birden is more a down-hill rusher even at a diminutive 175 pounds as he uses his stocky 5-9 frame well. Birden makes quick, decisive decisions and will plant his plant his foot into the ground and make a quick cut. With more experience, he should be a more confident runner this season, even though his carries were fewer and far between as last season progressed.
Patrick Carr sat out last season after transferring from Colorado where he played as a true freshman in 2015. Mulbah Car rushed for 206 yards last season (4.2 ypc) as a true freshman. CarR was an ESPN top-300 rated player coming out of the Woodlands where he finished his career as the Highlanders all-time leading rusher with 4,932 yards, total yards from scrimmage with 5,202 and TD's with 51. After rushing for 1,276 yards (7.6 per carry) and 18 scores his senior year, he rushed for 272 yards on 66 carries (4.1 per carry) his true freshman season for the Buffs, including a game in which he ran for 100 yards and a score in a game at UCLA, while also catching 5 passes out of the backfield for 52 yards. Carr is also a terrific athlete as he lettered in track-and-field for four years at the Woodlands, owning the school record in the long jump (23-11) and running a 10.56 in the 100-meters (stats per uhcougars.com). That athleticism was on full display during the spring game as Carr rushed for 122 yards on 15 carries during the annual Red-White spring scrimmage, though plenty were against third teamers in the second half, but he no-doubt demonstrated his speed in outrunning defenders around the edge but also excelled between the tackles with his 195-pound frame.
The same could be said of Car and his 194 pounds. Mulbah had his best game last season against Lamar with 109 yards and a TD on 20 carries and finished as the Austin Independent School District's all-time leader rusher with 4,833 yards. The Austin Reagan High product should also gain confidence and be more productive this season as he's a prototypical Applewhite-type player; tough between the tackles with the ability to be a dangerous cutback runner.
A new starter will be directing the Coogs offense for the first time in three seasons. With no starter being named yet the competition all fall camp has been between Kyle Allen (6-3, 210, RJr.) and Kyle Postma (6-2, 200, Sr.) with a special package being thrown in for uber-athlete D'Eriq King (5-11, 190, So.), who may not play tomorrow night due to injury. The clear money is on Allen, who impressed nicely last season as a member of the scout team as he redshirted after transferring from Texas A&M at the end of the 2015 season. In two seasons in College Station Allen passed for 3,522 yards and 33 TD's to 14 interceptions in 20 total games (14 starts which saw him win 9 of them). He completed just 59-percent of his total passes however (278-of-475), but some of that was associated with a sprained AC joint in his throwing shoulder during his final season.
Allen is the presumed starter because of his rocket of an arm, which will challenge Arizona's defense deep, and at 6-3 can see over opposing defensive lines. The former consensus 5-star recruit who was ranked as the best pocket-passer for the 2014 class also has the confidence to fit the ball into tight windows in zone coverage or over outstretched defenders hands in man free.
Postma has started two games over the past two seasons in relief of an injured Ward, winning one but showing nice leadership skills and sneaky athletic ability. Who will ever forget that 29 yard run on 3rd-and-7 late in the 2015 Peach Bowl against Florida State that helped lead them to a 38-24 victory over the heavily favored Seminoles. Earlier in the season he took over for an ailing Ward in a home game against Memphis in which the Coogs were trailing 20-0, just before halftime. In a little more than a half later he led the team to a 35-34 victory in which he completed 21-of-33 passes for 236 yards while adding another 49 yards on the ground on 6 carries, including the game winning 7-yarder with under 2-minutes remaining. Whatever the offense has needed the past two seasons, the Katy Seven Lakes product and Trinity Valley CC transfer has produced. He's completed 63-percent of his 72 total attempts, with a 115-passer efficiency rating, while averaging 7.7 yards-per-rush on 43 total carries. He's also had 145 yards on 6 receptions during the 2015 season, good for a 24.2 average. He showed physicality on a dazzling 33-yard run-and-catch for a TD against Tennessee Tech in the season opener and then went over the top of a defender on a 49-yard grab two games later against Texas State.
King is more of a true dual-threat QB in the mold of a Ward as he showed glimpses of his athletic ability last season as a true freshman as he had a 48-yard TD reception on a speed sweep "push pass" and a 99-yard kickoff return for a score at Texas State. A 4-star recruit via ESPN, King passed for over 10,000 career yards to go with a sick 11:1 TD-interception ratio (93 to 8) over his final two seasons at Manvel High. True to his dual-threat moniker, he added over 3,000 rushing yards while crossing the goal line another 47 times. Applewhite said King will have a package at QB even if he's not the starter so Johnson can take advantage of his athletic ability as the play caller.
Whoever the starting signal caller is, he'll have two proven targets at wide receiver to throw to in slot receiver Linell Bonner (6-0, 205, R-Sr.) and outside receiver Steven Dunbar (6-3, 210, Sr.). At the other outside spot will be a combination of Ellis Jefferson (6-4, 200, G-Sr.), Keith Corbin (6-2, 175, So.), Courtney Lark (6-1, 165, So.), and John Leday (6-foot, 200, R-Sr.) with Terry Mark (6-1, 190, So.) behind Bonner at the slot.
If any student-athlete gets down about being a walk-on, all he/she should do is look at the story of Bonner, who had a combined 25 receptions for 317 yards and 5 TD's through his first three seasons (all from the 2015 year in which he earned a scholarship). Through hard work the Dekaney High product become Ward's most trusted target last season to the tune of an amazing 98 receptions (FIFTH nationally) for 1,118 yards and 3 scores. As sure-handed receiver as there is in college football, Bonner has become a precise route runner and is tough, being able to absorb big hits over the middle while still holding onto the rock. For his efforts Bonner is on the pre-season Biletnnikoff Award watch list, given to the best receiver in the nation.
Dunbar meanwhile, has a quiet 04 receptions for 1,360 yards and 8 TD's combined over his first three seasons on Cullen Boulevard, having started 25 of the past 26 games over the past two years. His 13 career yards-per-catch average demonstrates his big play ability on the outside as he's a huge and reliable target whether it's on a go-route, slant, comeback or my favorite route; the back-shoulder fade. The Rummel High (Metairie, La.) product is a tough blocker in the run game as well which is integral to playing the position for Applewhite.
With Chance Allen graduating as the other outside receiver, Ellis Jefferson will be given the opportunity to step in and contribute in his only season as he's a graduate transfer from Arizona State. The Denton, Texas product was a highly ranked 3-star prospect out of the 2013 class and chose the Sun Devils over programs such as Michigan, Mississippi State, Washington and Colorado. He helped lead Denton-Guyer to the class 4A Division-1 state title in 2012 with 176 yards and two scores in the championship game. His first three seasons in Tempe saw him catch a combined 25 balls for 325 yards and two TD's after redshirting during the 2013 season. Another big target in the Allen and Dunbar mold, Johnson will have to become an adept blocker if he wants to play. Mark, Corbin and Lark, who have contributed little in little playing time, must step up behind Bonner, Dunbar and Jefferson as all three are in their final season.
At tight end, it's Alex Leslie (6-5, 240, Sr.) and Romello Brooker's (6-3, 240, Jr.) position to lose as they have a lot to replace in McCloskey, leadership and blocking wise. Leslie has good hands in the passing game but is big enough to block if he's lined up in-line. Due to ankle injuries, early on he was limited in playing time as he caught just one pass for six yards in seven games last season. The former Iowa St. transfer played at New Braunfels high where he was an All-District 25-5A first team as a wide receiver during his senior season in 2012. Brooker is more of a receiver than blocker as he caught just two passes for 10 yards but had a nice 6-yard TD on an out-route over an outstretched UCF defender. At 6-4 he could become a nice red zone target.
Kobe Idumwonyi (6-1, 240, So.) meanwhile was cleared to re-join the team after having to "retire" due to concussion issues. Ranked as the 26th ranked tight end by ESPN coming out of Cedar Hill High, Idumwonyi is a spectacular athlete who helped the Longhorns win back-to-back state titles while being named all-district first team during the 2013 and 2014 seasons but hasn't seen the field in his first two seasons as a Cougar.
Lining up for the Wildcats in their secondary will be Lorenzo Burns (5-10, 175, RFr.) and Jace Whitaker (5-11, 180, Jr.) at the boundary and field corner spots respectively. Scottie Young Jr. (5-11, 195, Fr.) plays the field safety spot while Demetrius Flannigan-Fowles (6-2, 205, Jr.) is all over the field at the "Bandit" spot, which is a hybrid linebacker/safety role. Flannigan-Fowles was the leading tackler against NAU with 8 but more importantly had 2 interceptions (matching his season total from last year), or a quarter of what the Wildcats had in 2016 with 8.
Whitaker led the defensive backs with 11 pass breakups last year in 7 starts while Burns will be a first-time starter. Both corners should be able to be taken advantage of size wise on the outside. Young is one of many true freshmen on the 2-deep as the defense could use his versatility as he started at several positions at Helix High School out of San Diego, California. Flannigan-Fowles is the defensive leader and led the team last year with 59 solo stops and was second with 78 tackles overall. Whoever the starting QB is for the Coogs will have to keep an eye on Flannigan-Fowles as he loves to roam the field, keying in on the QB's eyes in making his breaks on balls.
Special teams wise, the Cougars will need to improve on their return games, especially on punt return where they only averaged 4.1 per return ranking them 113th. Kick returns were much better, averaging 21.2 per return (56th). The Wildcats allowed opponents to average 11.5 yards on punt returns (110th) and 19.2 on kick returns (34th), though they allowed just 2 punt returns for a yard and a kick return for 25 against NAU Saturday night.
Jake Glatting (6-3, 218, RJr.) earned the starting punting job late last season, averaging 39 per while downing 4 inside the opponents 20-yard line. He averaged 41 yards on 5 punts Saturday night, with a long of 48 and downing 2 inside the 20. Look for Collin Wilder to be the punt returner against the Cats. Though he didn't average many yards last season (4.4 on 9 total returns), he's the "safe" returning meaning he has sure hands and won't fumble.
Lucas Havrisik (6-2, 173, Fr.) had 9 touchbacks on 10 kicks against NAU but did not attempt a field goal. Josh Pollack (5-10, 184, RJr.) is listed as co-starter at kicker but did not play against NAU. He connected on 9-of-14 field goals last year, hitting on all 8 inside the 40, and was successful on all 36 of his PAT's. The Coogs will have a new place kicker this season in either Caden Novikoff (5-10, 190, Jr.) or Dalton Witherspoon (5-8, 175, So.), both with just junior college experience to lean on. If the game comes down to a late field goal attempt, the edge would probably go to the Wildcats.
Another factor in the game could be the Cougars psyche. How will they perform after everything that's happened to our city regarding Hurricane Harvey? Applewhite stated during his weekly AAC media conference call that the "normalcy" this week in terms of going to school and a practice schedule will help, but not playing a game and being displaced to UT-Austin could be a distraction, not to mention any property damage done to the homes of any players. Applewhite and his staff nor the players will use that as an excuse come game time, however. I look for the Coogs to struggle early but impose their will on the smaller Wildcats defensive front, winning going away.
Final prediction:
Houston 31 Arizona 17