Game 11 Preview: Navy
By: Jimmy Schofield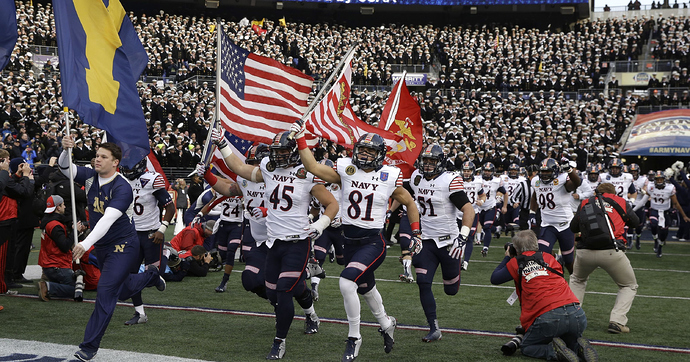 photo courtesy
usatoday.com
Your Houston Cougars take to TDECU Stadium for the final time this season as they host the Navy Midshipmen, Friday November 24. Game time for this 'Black Friday' event is set for 11AM CST and will be televised on ESPN.
Coming off that disappointing loss 20-17 to Tulane, the Coogs don't have much to play for besides a decent bowl game, and of course pride. They'll need that and anything else they can muster against a Navy squad that always plays both mentally and physically tough football. Both teams stand at 6-4 and are in second place in the American's Athletic Conference's western division at 4-3. Navy has 24 athletes from Texas so they'll also be motivated to be playing in their home state, so the Coogs better bring it or they could get embarrassed on national TV.
A lot has changed since the last time these two teams faced one another last October in Annapolis; the Cougars had a different head coach and were ranked fifth in the nation (in the AP poll). One thing that hasn't changed is Navy's head coach, and their offensive scheme. The Middies are led by Ken Niumatalolo, who's the winningest coach in Naval Academy football history at 83-46 in this, his tenth season.
And as always, the Midshipmen run the vaunted triple option as they once again are one of the top teams nationally in rushing, averaging 360.5 yards-per-game, ranking them second only behind Army. They average 32 points-per-game (40th) and 453.4 yards of total offense (30th), just 92.9 yards passing (128th).
The Cougars defense, led by first year coordinator Mark D'Onofrio, continues to play "hit or miss" football as they allow 23.9 points-per-game (43rd) and 430.2 yards of total offense (99th), 142.7 rushing (39th), 287.5 passing (127th). If they continue playing the same type of undisciplined football as they have to this point, the "Third Ward Defense" will be gashed in the run game and the deep passing game big time.
In the basic triple option, there are many key terms to remember; the dive, the keeper, the pitch, the counter, power, toss sweep and the mid-line option. Each play begins with the quarterback taking the snap from under center with a full back behind him and two slot backs lined up between the guard and tackle on each side. The QB has the option to hand the ball off to his fullback up the middle or keeps the ball depending on what his read is from the edge of the defensive line. If the ends (or outside linebacker) engage up the field the QB will allow his FB to rush the ball through the A or B gaps in what's known as the "dive play." This is the most basic play run out of the triple option.
For Navy, this handoff would to either Anthony Gargiulo (6-foot-2 inches, 239 pounds, Jr.) or Chris High (6-0, 224, Sr.). Gargiulo has seen more action the past two weeks, rushing for 232 yards on 35 carries for an injured High. For the season Gargiulo has rushed for 312 yards on 55 carries with 2 TD's while High has 478 yards on 111 carries and 2 TD's. In averaging a combined 4.8 yards-per-carry average, this keeps the run in play on all three downs, key to constantly moving the chains which controls the clock and wears opposing defenses down. The thing that strikes me is that Gargiulo doesn't have any lost yards on the season, meaning he's always moving forward as a typical, tough fullback should. High is more of an athlete as he has the speed to outrace linebackers for extra yardage to go along with the toughness needed to constantly run between the tackles. Joshua Walker (5-11, 222, Sr.) is the third fullback and averages 7.6 yards-per-carry (91 yards on 12 carries), but has played in only 3 games due to injury.
If the defensive end crashes down on the dive, the QB usually keeps the ball at this "mesh point" (the point where the QB shoves the ball into the fullback's gut before deciding what to do) and runs horizontally towards the edge of the line where he'll read his next key, which is usually an outside linebacker or safety. If this defender goes for the tackle, the QB will pitch it to one of his slot backs who will usually able to outflank the defense for huge chunks of yards on the perimeter.
The Navy slot backs are Darryl Bonner (5-7, 178, Jr.) and Josh Brown (5-9, 189, Sr.). These two are also effective via the toss sweep and offensive coordinator Ivin Jasper will have his backs carry behind unbalanced lines to give his offense a numbers advantage to one side of the field. Bonner is an offensive captain and has the nickname of "Big Play Bonner" as he averages 5.5 yards-per-rush (160 yards on 29 carries and a TD) and 26 yards on 7 receptions (for 182 yards and a TD) as he's used in the passing game on wheel routes out of the backfield. Brown leads the rushing brigade at 10.6 yards-per-carry (148 yards on 14 carries and 2 TD's) while Keoni-Kordell Makekau (5-11, 170, Fr.) and John Brown III (5-9, 204, Sr.) are the backup slotbacks with 13 and 12 carries for 96 and 74 yards respectively (a combined 6.8 yards-per-carry average). All are good blockers as well, something they must do or they won't see the field.
The most important player in this offense, as any offense, is the quarterback himself. And like the Coogs, Navy has had to use three QB's so far, this season. They began the year with Zach Abbey (6-2, 212, Jr.) under center as they won their first five games. The offensive coaches began to notice Abbey making the wrong reads on option pitches, trying to do too much himself as he started taking too many unnecessary hits, putting the ball on the ground (5 fumbles lost) and throwing too many interceptions (7). After starting the first 8 games of the season, in which he rushed for a team leading 1,289 yards on 262 carries and 14 TD's (13th nationally) and passed for 758 yards on 28-for-66 passing, he was replaced by the dynamic Malcolm Perry (5-9, 185, So.), who began the season as a slot back but had been a quarterback last year and in the spring. In his first start under center, Perry "only" rushed for 282 yards and 4 TD's in a 43-40 win over SMU a few weeks ago. Unfortunately, he hurt his ankle late in the game which led to Garrett Lewis (6-1, 200, Jr.) starting last week in a 24-17 loss at Notre Dame last week. While Abbey is the toughest between the tackles runner and Perry is the best pure athlete (736 yards on 77 carries and 7 TD's rushing and 267 yards receiving on 10 receptions with an additional 2 TD's), Lewis is the best pure passer, though he's just attempted 19 passes (completing 9 for 166 yards and 2 TD's). Abbey led the comeback win against SMU and split reps with Lewis last week as Perry sat. As of this writing all three are in play as to who starts and takes the majority of the snaps under center during the game.
A major key in stopping the triple option, after stopping the dive, is to run the play out to the sideline so you can get as many defenders flying to the ball as possible while also using the sideline itself as a defender. This can also be used against a defense as in over aggressive defenders can over run the ball. The key for the Coogs defense is to play assignment football, or for each defender to do his job. For example, if you're a middle linebacker and you try to stop the QB (who you think has the ball), then the fullback gets by you for 10 yards. If you're an outside linebacker and you try to stop the pitch, The QB gets by you for a 40-yard gain. If you're a safety and you commit to the QB too soon, he pitches and one of the slot backs get by you for a 70-yard TD run. If you're one of the cornerbacks and you try to come up in run support too soon, you get beat deep via the play action pass. This is why Navy wide receivers Tyler Carmona (6-4, 227, Sr.) and Brandon Colon (6-4, 223, Sr.) average 26 yards-per-reception. Carmona leads with 13 receptions for 241 yards and 4 TD's with a huge drop off with Colon catching just 3 passes for 78 yards and a TD. Craig Scott (6-2, 189, Sr.) is their third receiver with 2 grabs for 26 yards and a score. And as in with their slot backs, all the receivers excel in blocking on the perimeter, which is huge in gaining huge chunks of yards down field in the run game.
Navy's offensive line consists of Jake Hawk (6-6, 295, Jr.), Robert Lindsey (6-4, 275, Sr.), Parker Wade (6-2, 280, Sr.), Evan Martin (6-3, 294, Jr.) and Andrew Wood (6-4, 290, Jr.) from left to right tackle. While Hawk and Lindsey are first year starters, Wade, Martin and Wood are multiple year starters with Wood having received offers from multiple SEC schools, but Martin is probably their best lineman overall as he plays with a toughness unopposed on the line.
In order to overcome their size limitations, they'll "cut block" opposing defensive linemen in order to get them on the ground or not thinking about tackling. This could be a problem for Houston's Ed Oliver (6-3, 290, So.) as he's had to miss multiple plays of games this year because of low illegal chop blocks. He only had two tackles last week because of constant double and even sometimes triple teams but he still leads the D with 11 tackles-for-loss and 3.5 sacks, is third in both total and solo tackles with 55 and 35 respectively while adding 3 passes defended and 2 forced fumbles.
The front seven of down linemen Nick Thurman (6-4, 293, Sr.), Reggie Chevis (6-2, 290, Sr.) and Jerard Carter (6-2, 285, Jr.), along with linebackers Mathew Adams (6-1, 237, Jr.), D'Juan Hines (6-1, 230, Sr.) and Emeke Egbule (6-3, 245, Jr.) must have good eye discipline, penetrate and rally to the ball. Carter has already tied Thurman's 4 TFL in just 3 games while adding a sack (Thurman has 1.5). Chevis adds 3 and half a sack and leads the three with 34 total and 17 solo tackles (Thurman adds 26 total and 15 solo stops while Carter has 9 solo stops in his 3 games.
While Hines and Adams lead in total tackles with 93 and 70 respectively ( with 50 and 41 solo stops), both have seemed to react to the ball slowly as they have a combined 9 TFL, each with 4.5, tying Egbule's as the "designated rush backer" is used more in coverage than as an actual edge rusher. As stated earlier, all three will have to play their assignments and not try to make a play that's not there or they'll leave huge holes which leads to big plays as was established last week when Tulane's QB converted third downs on runs of 7 or more yards.
Youngsters Leroy Godfrey (6-2, 235, RSo.), Austin Robinson (6-3, 235, RSr.) and David Anenih (6-2, 228, Fr.) should see the field plenty against Navy's heavy run scheme Godfrey has played better in getting to the quarterback and causing havoc in the opponent's backfield with 7.5 of his 23 total tackles being for loss. Robinson has 4 TFL, 19 solo and 33 total tackles while Anenih has added 2 TFL and 2 sacks in limited playing time as well as Coogfans get a glimpse of the future. It'll be interesting to see how disciplined they play against the triple option.
Houston's secondary of Isaiah Johnson (6-3, 195, Jr.), Jeremy Winchester (5-11, 203, Jr.) and Alexander Myres (5-10, 192, Jr.) rotating at cornerback and Terrell Williams (6-4, 212, Sr.) Garrett Davis (6-0, 205, Jr.) at safety MUST play with eye discipline or they could be beat deep off of play-action. If nickel back Khalil Williams (5-11, 210, Sr.), and his 8 TFL is still limited by his ankle, then D'Onofrio will use four linebackers on the field in a more traditional 3-4 scheme. Johnson is probably the best cover corner as he ties T Williams with 9 passes defended while adding 2 interceptions to go along with his 39 total tackles (29 solo). Winchester is just behind him with 35 total and 24 solo stops while adding 5 passes defended, an interception and forced fumble. Myres has 25 total, 15 solo, 6 passes defended and a fumble recovery.
Look for D'Onofrio to employ the same soft coverage in the secondary as Navy doesn't throw too many intermediate routes. Their wide receivers either go deep on posts or stay in to block on the perimeter. If they line up inline next to the tackles, it's almost assuredly a run play. The back 7 will also have to be on the lookout for running backs leaking out of the backfield on wheel routes, which are huge gainers in their big play offense.
Offensively for the Coogs, under first year coordinator Brian Johnson and his spread scheme, they are playing as inconsistent as the defense but mainly due to injuries, youth and rotating quarterbacks. They average just 28.8 points-per-game (65th) and 443.7 yards of total offense (34th), 182.7 rushing (52nd), 261 passing (41st).
Navy's defense, led by fourth year coordinator Dale Pehrson and his aggressive 3-4 scheme, allows 29.7 points-per-game (86th) and 401.8 yards of total offense (77th); 165.5 on the ground (65th) and 236.3 passing (84th).
Pehrson believes in pressuring the quarterback, mainly via A and B gap blitzes by their inside linebackers where they'll play combo man/zone coverage behind it. The down linemen also move a lot up front via slants and stunts, but this can cause massive holes up front that can be exploited.
Navy is bigger, especially defensively up front, than they've ever been. Jackson Pitman (6-3, 304, So.) mans the middle at the nose with Jarvis Polu (6-3, 292, Jr.) and Tyler Sayles (6-2, 257, Sr.) flanking him at both end spots. Dave Tolentino (6-2, 294, So.), Nizaire Cromartie (6-2, 243, So.), Anthony Villaloboa (6-2, 261, Jr.) and Josh Webb (6-5, 250, Jr.) seeing plenty of snaps in a deep and talented defensive line. Sayles and Polu are ultra-athletic for their size as Sayles is fourth on the D with 38 total tackles (15 solo) while adding 4 TFL. Polu is always causing havoc in the backfield adding 2.5 TFL while Pitman is the run stopper in the middle with 3 TFL. Cromartie and Webb are great at using their leverage to get into the backfield as they each have 3 TFL as well. Webb leads the defense with 3 sacks as they have just 13 as a team (118th).
Navy's linebackers line up as Raider and Striker on the outside with their inside backers being the prototypical Sam and Mike positions. The Raider is a rush specialist who usually lines up as a down lineman in an even front. This would be defensive captain D.J. Palmore (6-3, 236, Sr.), who leads the D with 10 TFL and is second in total and solo tackles with 56 and 37 respectively. The Bartlett, Tennessee native is the most active defender as he adds 3 fumble recoveries, 2.5 sacks, 2 passes defended and a forced fumble. The Striker position is a hybrid outside linebacker/nickel back position that Jerry Thompson (6-0, 196, Sr.) plays very well. Another Tennessee native, Thompson is second on the defense with 4.5 TFL and 2 sacks while adding 31 total and 19 solo tackles in 9 games.
Micah Thomas (6-1, 241, Sr.) plays the Sam inside linebacker spot while Winn Howard (6-2, 215, Sr.) and Brandon Jones (6-4, 225, Sr.) shares the Mike spot. While Howard and Jones have a combined 41 total tackles and an interception (by Howard), Thomas is just as great in coverage as he is in the box as he leads the D with 3 interceptions and is second in total and third in solo tackles with 65 and 36 tackles respectively.
Navy's secondary is led by Sean Williams (6-1, 190, Jr.) at free safety and Jarid Ryan (5-11, 198, Jr.) at strong safety. Williams leads the D in both total and solo tackles with 65 and 51 respectively, and that was with missing the first half of last week's game at Notre Dame because of a bad targeting call in the second half of the SMU game the previous week. The Memphis, Tennessee native also adds 4 pass breakups, 2.5 TFL and a forced and recovered fumble each as he's as much all over the field as Palmore and Thomas are. Ryan adds 35 total tackles, 18 solo, and 3 pass breakups. The two corners are Tyris Wooten (6-1, 185, Sr.) and Elijah Merchant (5-10, 196, Sr.). With Wooten leading the D with 10 pass breakups, Merchant has been picked on a lot but still has the confidence to get up and make a play as he's fourth in total tackles with 38 (30 solo) and adds 4 pass breakups. Micah Farrar (6-0, 170, Fr.) and Noruwa Obanor (6-1, 188, So.) have an interception each as reserve corners.
The Coogs' offense can't play inconsistent on Friday with what is sure to be limited possessions due to Navy's ball control offense. It all starts with D'Eriq King (5-11, 190, So.) at quarterback. While he's completing nearly 67-percent of his passes (46-for-69) for 714 yards, averaging 230 yards as a starter, he's been even better at the deep ball, completing 13-of-19 deep balls (passes that traveled 20 or more yards in the air) for 377 yards over the past two games.
The key will be can his offensive line give him enough time to throw deep? Josh Jones (6-5, 303, RSo.) has missed the past two games at left tackle with Jarrid Williams (6-6, 295, RSo.) filling in decently. Na'Ty Rogers (6'5, 302, Sr.) lines up at right tackle and must play physically sound against an aggressive front-7 that will blitz from different angles. Marcus Oliver (6-3, 300, Sr.) and Braylon Jones (6-3, 311, So.) need to play more physically on the interior from their respective guard spots as does center Will Noble (6-4, 297, Jr.). The tight end duo of Alex Leslie (6-5, 240, Sr.) and Romello Brooker (6-3, 240, Jr.) have helped both tackles with chip blocks on edge rushers, something that will be needed against an aggressive Navy front-7.
With running back Duke Catalon (6-0, 215, Jr.) questionable after leaving with a nasty looking ankle injury after only two carries last week, and Dillon Birden (5-10, 200, Sr.) already on the shelf due to a dislocated elbow, the onus of running on the interior will be on Mulbah Car (6-0, 210, So.) and maybe Davion Mitchel (5-11, 185, Fr.). Car averages 5.5 yards-per-carry (365 yards on 66 carries and 3 TD's) while Catalon leads with 8 TD's and 594 rushing yards (on 131 carries. Car just needs more carries to establish a rhythm in the game but that'll be on the offensive line to open up holes for him and on Johnson to call his number enough times.
The wildcard is King himself as a runner, whether it be on called 'power' plays with Car as his lead blocker, draws or just running on his own to get out of trouble when pressured. The zone read option element of the offense will improve with repeated repetitions, something King and Car don't have combined yet. So far in his three games as a starter (I'm counting the South Florida game even though technically he didn't start but came in on the third possession), the Manvel product has run 32 times for 238 yards (7.4 yards-per-carry) and FIVE TD's. By my unofficial count, King has 145 yards on 17 called draws (3 for TD's), rushed for 29 yards on 6 pull downs, or pressures (with 1 TD), 32 yards on 3 zone read option keeper and gained 35 yards on 6 split zone read power plays with Car as the lead blocker. I didn't include the 5 times he was sacked at USF in which he lost 22 yards.
Houston's wide receiver trio of Linell Bonner (6-0, 200, Sr.) from the slot and Steven Dunbar (6-3, 202, Sr) and Courtney Lark (6-2, 195, So.) on the outside will have to continue playing great ball to help their young quarterback out. Bonner still leads the unit in receptions, yards and TD's with 65, 752 and 4 respectively. Dunbar has 58 catches for 731 yards and 2 TD's while Lark is the deep threat with 205 yards on just 9 grabs (22.8 ypc) and 2 TD's. Keith Corbin (6-3, 193, So.) is another deep threat, averaging 16.4 yards per grab (164 yards on 10 catches) but continues to play inconsistently, dropping too many balls and in the blocking game. John Leday (6-0, 200, Sr.) has 25 catches but for just 161 yards as his 6.1 ypc average is basically an extension of the horizontal run game via the "push pass" or what some would consider the same as a jet sweep.
Special Teams
Navy averages just 20.8 yards-per-kick return and 6.2 per punt ranking them 71st and 85th nationally while Houston averages 25.2 (12th) and 3.6 (122nd). The Midshipmen's coverage units allow 17.9 (17th) and 5.9 (48th) in the kick and punt return games while the Coogs allow 22 (82nd) and 4.7 (31st).
Navy doesn't rely on their field goal kicker, Owen White (5-10, 190, So.) as he recently replaced Bennett Moehring (5-9, 180, Jr.) due to injury. White has connected on 1-of-2 field goals while Moehring had connected on 6-of-10. Jasper leaves his offense on the field on fourth down most times anyway as they have 27 attempts, sixth most nationally, converting 17. White is also their punter and averages 41.8 yards on 30 punts, pinning opponents inside their 20-yard line 11 times while forcing another 6.
For the Coogs, Dane Roy (6-7, 240, So.) averages 42.1 yards-per-punt, pinning opponents inside their 20-yard line 23 times while Caden Novikoff (5-10, 190, Jr.) has is becoming Mr. Reliable, connecting on 9-of-11 field goals while booting 21 of his 55 kickoffs into the end zone.
Keys to the game
One major key in stopping Navy's offense will simply be to keep them off the field. The Coogs can do this with an efficient run game and/or the short passing game, and of course converting third down, which the Coogs are 11th nationally at 47-percent. Navy's defense allows third down conversions at a 44-percent clip (109th). An efficient offense is important because your offensive possessions are usually limited as Navy is FIRST in time of possession, averaging 36-minutes, 29-seconds per game.
Scoring touchdowns is always a must as the Coogs have crossed the goal line on 28-of-41 red zone possessions, good for 30th nationally at 68-percent. The Middies defense has allowed 26 touchdowns on 39 red zone opportunities with their 67-percent average ranked 69th.
Navy meanwhile has scored on 27-of-39 possessions inside the 20, ranking them 28th at 69-percent. D'Onofrio's defense is allowing opponents to score at just a 49-percent clip, allowing only 19 TDs in 39 total red zone possessions, ranking them 17th.
Houston cannot hurt itself with penalties as they rank 76th with 6.2 penalties-per-game for 55.9 yards because Navy doesn't, as they average just 4.2 for 44.6 yards (ninth and 35th respectively).
Finally, turnovers will also play a key role as they always do as Houston ranks 76th in turnover margin losing one more than they've gained (19 given up to 18 forced), while Navy is worse at 112th as they've given up 7 more than they've recovered (18 to 11).
The Coogs are hard to predict (for me anyway). Every time I think they should easily win they lose (see Tulsa and Tulane). Every time I think they should lose they win (hello SMU and South Florida). Unfortunately, my heart doesn't override my head as I think the triple option combined with Houston's uninspired, undisciplined play leads to Navy pulling away in the fourth.
Final Prediction
Navy – 34
Houston – 17