2017 Game 3 preview: Texas Tech
By: Jimmy Schofield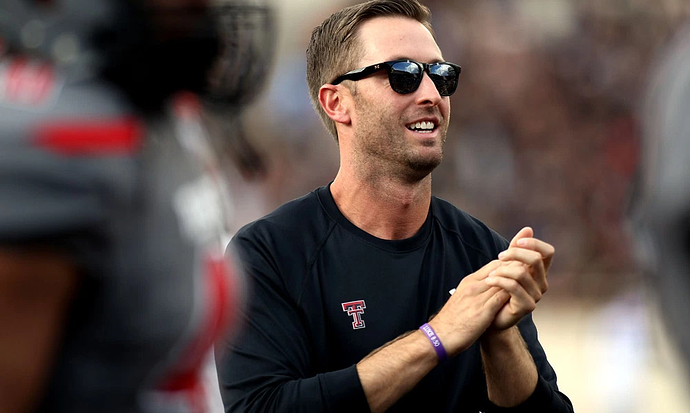 photo via USA Today
The Texas Tech Red Raiders come calling to TDECU Stadium for a Saturday affair with your Houston Cougars. Toe meets leather at 11AM (CST) and will be televised nationally by either ABC or ESPN2 in this battle between legendary Texas quarterbacks turned head coaches in Major Applewhite (in his first year at Houston) and Kliff Kingsbury (in his fifth season at Tech).
Kliff and the Air Raid
When one thinks of the Red Raiders they always think offense. Going back to their days of battling it out with the Coogs in the old SWC, to recent shootouts, the Red Raiders are going to throw the ball, and throw it a lot. Kingsbury was their first in a long line of record-setting quarterbacks under then head coach Mike Leach passing for nearly 12,000 career yards (11,867) while completing 65.5-percent of his 1,805 total passes. That's 1,184 completions to go along with 91 touchdowns to 37 interceptions from the 1999 through the 2002 seasons.
After backing up Tom Brady for the New England Patriots and playing for the Canadian Football League, Kingsbury decided to get into coaching. Most Coogfans remember Houston's exploits offensively when he was named co-offensive coordinator in 2011 and helped Case Keenum finish out his legendary career along Cullen Boulevard. After a stop at Texas A&M where he helped "Johnny Football" to the Heisman in 2012, he returned home and became Tech's head coach for the 2013 season.
Though the Red Raiders are just 26-26 in his five seasons in Lubbock (including 2-0 this year), Tech's offense has led the nation in passing yards-per-game (399) during his tenure, are second in total yards (542) and sixth in scoring (39.2). This season they rank first in passing, surprise, with 496 per game, total offense (620.5) and are second in scoring (54).
This is going to be a tough defensive effort for the "Third Ward Defense" led by defensive coordinator Mark D'Onofrio. The defense has surrendered just 9.5 points-per-game (7th) and 306.5 yards of total offense (38th); 166 passing (31st) and 140.5 rushing (67th).
What makes Tech's offense so difficult to defend is their diversity. They'll throw it from sideline to sideline via the screen game. They'll throw it over the intermediate areas of the field via crossers and comebacks. They'll also take shots deep after spreading you wide. They also have a number of speedy receivers who are great at making defenders miss in space who get the ball exactly where it needs to be from first year starting quarterback Nic Shimonek (6-foot-3, 225 pounds, R-Sr.). The former Iowa transfer has sat behind NFL 2017 first round pick Pat Mahomes for the past two seasons to learn the "Air Raid" and is shining as he's completed 78.9-percent of his passes (63-for-80), third nationally, while averaging a nation's best 463.5 yards-per-game while tossing 9 touchdowns to ZERO interceptions.
His leading receiver is Keke Coutee (5-11, 180, Jr.), pronounces Kee kee Cute-E, from the Y, or slot position, with 285 yards on 17 receptions and three TD's. After leading the team last season in receiving, the Lufkin native's 142.5 yards-per-game average ranks him first nationally. Great at making defensive backs miss in space, Coutee is great in the screen game or going deep as he's averaging 16.8 yards per grab.
As good as Coutee is he's not even a captain on offense. That honor would go to receivers Dylan Cantrell (6-3, 220, Sr.) and Derrek Willies (6-4, 210, Sr.) at the X and Z spots, or outside receiver (though they are all interchangeable). Cantrell probably has the best hands on the team as he has 195 yards on 12 receptions (16.2 ypr) with two TD's. Willies is the burner of the group with his 22.8 yards-per reception (182 on 8 catches with 2 TD's). If those three aren't bad enough, Cameron Baston (5-9, 175, Sr.) adds 112 yards on 12 catches and a TD from his H, or slot, position and is the smartest and nastiest player on the team, according to Kingsbury. Offensive coordinator Eric Morris will use different formations to get their receivers open along with trying to confuse defenses by adding speed sweeps and RPO's (run pass options). Tech's receivers are all great route runners and can also block in the screen game or to help out in the run game.
This will no doubt be the "Jack Boys" biggest test to date this season. Houston cornerbacks Jeremy Winchester (5-11, 203, Jr.), Alexander Myres (5-10, 192, Jr.) and Isaiah Johnson (6-3, 195, Jr.) haven't faced a pass offense like this as they've faced run based offenses in Arizona and Rice. Does D'Onofrio employ more man-to-man coverage this week? He hasn't had to really in the first two games as he's had his corners playing off opposing receivers in zone for the most part. The three have a combined 12 tackles so far this season (7 by Winchester, 3 by Johnson and 2 by Myres. Winchester has 5 solo stops with all 3 of Johnson's being solo, something I can't emphasize enough; how important tackling in space will be.
Terrell Williams (6-4, 212, Sr.) leads the defense with 3 pass breakups from his strong safety spot while free safety Garrett Davis (6-0, 205, Jr.) is one behind inside linebacker Mathew Adams (6-1, 237, Jr.) in total tackles with 18. Khalil Williams (5-11, 210, Sr.) leads with 4 tackles-for-loss from his nickel/outside linebacker spot and will probably start out on Coutee. D'Juan Hines (6-1, 230, Sr.) and Emeke Egbule (6-3, 245, Jr.) are going to have to step up from their inside and outside linebacker spots as they have 11 and 7 tackles respectively with Egbule adding just one tackle-for-loss and a sack as an edge rusher.
With Adams and Davis leading in solo tackles with 15 and 13 respectively, both will be responsible for the intermediate area of the field in coverage, including Tech's running back Justin Stockton (5-10, 205, Sr.), who's probably their speediest player when in the open field. Stockton has 94 yards on 20 carries (4.7 yards-per-carry) with 2 TD's rushing the ball while adding 57 yards on 6 catches.
In short yardage, Tech leans on bruiser Desmond Nisby (6-1, 235, Jr.) who has 102 yards on 15 carries for a 6.8 ypc. After working full time upon graduating from high school in San Francisco, California to help support his family, Nisby decided to go to college and rushed for over 2,500 yards at Santa Rosa JC in 2015 and Diablo Valley in 2016 before transferring to Tech as a 25 year old. While he can bounce off tackles in the interior, he has a second gear you wouldn't expect from a 235 pounder and rarely goes down on first contact.
The best way to impact Tech's passing game is to get pressure on Shimonek early and often against a very young offensive line with numerous first year starters including true freshman Jack Anderson (6-5, 320) and Jacob Hines (6-5, 320, Jr.) at guard, Travis Bruffy (6-6, 320, So.) at left tackle, and z Paul Stawar (6-6, 295, Jr.) at center. Only right tackle Terrence Steele (6-6, 320, So.) is a returning starter, and that was at left tackle last season.
In defeating Eastern Washington and Arizona State, Tech's young O-line hasn't seen the kind of defensive front they're about to face, led by nose guard Ed Oliver (6-3, 290, So.). Big Ed has started the 2017 season like he ended 2016; dominating. Through two games, the Westfield High product "only" has 17 solo tackles (14 solo), 2.5 for loss, while forcing 2 fumbles in which he's tracked down opposing quarterbacks at least 10 yards up field. And this while facing constant double and sometimes triple teams. Simply amazing for any defensive player, much less a 290-pound defensive lineman.
While the Coogs defensive line play starts with Big Ed, it certainly doesn't end there as defensive ends Nick Thurman (6-4, 293, Sr.) and Reggie Chevis (6-2, 290, Sr.) have been stout up front alongside Oliver as opponents have averaged just 3.8 yards-per-rush. True freshman Payton Turner (6-5, 240) flashed unseen athleticism with a batted ball that he turned into an interception last week against Rice. More of those "quick-twitch" like reflexes will certainly be needed against an offense that wants to get the ball out of the QB's hands as quickly as possible.
Shimonek isn't the only first year starter who's shining for his team after sitting out after transferring. Houston's Kyle Allen (6-3, 211, Jr.) flashed the kind of efficiency that offensive coordinator Brian Johnson needs to see from his signal caller as the ball barely hit the ground in completing 31-of-33 passes last week for 309 yards and 2 TD's. For the season, he's completing 86-percent of his passes (56-of-65) to lead the nation while averaging 267 yards-per-game (3 TD's and 2 interceptions) for an offense averaging 28.5 points-per-game. So far under the new regime the offense is trying to find its identity. They average 144 yards on the ground (91st) and 299.5 through the air (27th).
As prolific as Tech's offense has been under Kingsbury, their defense may be his undoing. After last year's D gave up an FBS worst 43 points and 554 yards of total offense, coordinator David Gibbs gutted the defense by bringing in four junior college transfers who are now starting. Many Coogfans will remember Gibbs as the architect of the "Third Ward Defense" (as he was Houston's DC during the 2013 and 14 seasons), with his aggressive style of coaching, especially forcing turnovers by blitzing from anywhere on the field. Though he's been in Lubbock for three seasons, the results still haven't shown on the field as the Red Raiders have been dead last in turnover margin since 2011 at minus-41.
This season Tech is allowing 27.5 points-per-game (82nd), but just 397.5 yards of total offense (74th); 273.5 passing (101st) and 124 rushing (49th) in Gibbs 4-2-5 scheme. Their leading tackler is middle linebacker Jordyn Brooks (6-1, 240, So.). As a true freshman last season, Brooks led the Red Raiders with 86 tackles. Will linebacker Dakota Allen (6-1, 235, Jr.) adds 15 tackles and was the team's second leading tackler two seasons ago but sat out last year due to injury.
They'll be responsible for keeping the Houston duo of Duke Catalon (6-0, 215, Jr.) and Dillon Birden (5-10, 200, Sr.) from establishing the run game early. Catalon has 109 yards on 25 carries, slightly more than Birden's 95 on 18. Catalon is doing a better job on the young season of picking a hole, putting a foot in the ground and making his cuts between the holes quicker as he's averaging 4.4 yards-per-carry with a touchdown. Birden is continuing on last year's pace as he averages 5.3 ypc while crossing the goal line twice. As for the third running back, who will be depended to give Catalon and Birden rest throughout the year, so far Mulbah Car (6-0, 210, So.) has taken the lead so far over Patrick Carr (5-11, 197, RSo.) and true freshman Davion Mitchell (5-11, 185) as Car had 59 carries and a score last week on 11 carries.
It'll be up to the Coogs offensive line of (from left to right); Josh Jones (6-5, 303, So.), Braylon Jones (6-3, 311, So.), Will Noble (6-4, 297, Jr.), Marcus Oliver (6-3, 300, Sr.) and Na'Ty Rogers (6-5, 307, Sr.) to continue with their strong interior blocking via their man and zone blocking schemes. Defensively for Tech, which goes a legit six to nine deep up front, it all starts with nose guard Mychealon Thomas (6-2, 320, Sr.) with Broderick Washington Jr. (6-3, 295, So.) lined up next to him at defensive tackle. Big Mike has a big motor and can roam sideline to sideline as he has 7 total tackles, a sack and a fumble recovery while Washington has two QB pressures. Behind Thomas and Washington, Nick McCann (6-2, 310, RFr.) has a lot of potential and Quentin Yontz, who has a sack, is another JC transfer who attacks gaps quickly at 6-2, 260.
Zach Barnes (6-3, 260, Sr.), who lines up at the run stopping strong side defensive end spot, and his backup Eli Howard (6-4, 265, So.), are very active up front but have just a sack and tackle-for-loss combined to show for it. The "rush defensive end" spot features Lonzell Gilmore (6-3, 260, So.) and Kolin Hill (6-2, 245, Jr.) with a combined 3 tackles-for-loss. Tony Jones is another JC transfer who played Butler Community College in El Dorado, Kansas. At 6-2, 225 Gibbs lines him up all over the field including rush end as he has 7 total tackles, including one for loss, a sack, two QB hurries, a pass defended and an interception.
Gibbs uses a lot of movement with his four and five-man fronts via twists and stunts to confuse offensive linemen, so the Coogs O-line will have to be able to communicate well together pre and post-snap. He'll also have all front-7 of his defenders sometimes standing before the snap in an "amoeba look" so the line can't tell where the blitz is potentially coming from.
Behind his aggressive play calling with his front-7, Gibbs will have the back end of Tech's defense playing in a variety of man and zone combo coverages. Right safety Jah'Shawn Johnson (5-10, 185, Jr.), who's the only returning starter in the secondary, is a hard hitter having forced fumbles in four of his past six starts spanning back to last season. JC transfers Octavious Morgan (6-0, 205, Jr.) and Jaylon Lane (6-2, 190, Jr.) at left corner along with Vaughnte Dorsey (5-11, 200, Jr.) at left safety give Gibbs length and size. Youngsters Desmon Smith (6-2, 190, So.) and Douglass Coleman III (6-1, 185, So.) round out the secondary at left corner and nickel back respectively. Johnson leads the unit with 15 solo tackles while Morgan has 10 total. Tech is so talented in the secondary that Arkansas transfer, and Spring, Texas native Willie Sykes (6-0, 185, RSo.) isn't even listed on the two-deep yet leads the unit with two pass breakups and has an interception returned for 33 yards.
Houston's wide receivers will have their hands full against this long an physical Tech defensive back field. Slot receiver Linell Bonner (6-0, 200, Sr.) once again leads the wide receiver core with 191 yards on 19 receptions and a TD this season. Outside receiver Steven Dunbar (6-3, 202, Sr.) adds 12 catches for 129 yards. Both have blocked well in the screen and run game as well but aren't great at gaining separation as they average just 10.1 and 10.8 yards-per-reception respectively so they'll have to run fluid routes and make hard cuts against Tech's DB's. After sitting on the bench for years (some because of injury, some because of lack of production), John Leday (6-0, 200, Sr.) is producing this year with 11 receptions for 86 yards and a score. Youngster Keith Corbin (6-3, 193, So.) needs to continue improving to add depth to the position adding 61 yards on 3 catches. After sitting out the first two games because of a knee issue, D'Eriq King (5-11, 190, So.) may return and could be a big boost at the slot to a unit whose been lacking in big plays so far this season.
Special teams
Houston's special teams have allowed just 17 and 2 yards on kick and punt returns respectively while averaging 46.3 yards on kick returns (thanks to Leday's 80 against Arizona), and just three on punt returns (12 yards on 4 returns) as Texas State transfer Brandon McDowell (5-9, 183, Sr.) has the entire 12 on 3 returns while reserve safety Collin Wilder (5-10, 195, So.) has one return for zero yards. McDowell has one kick return for 35 yards while Leday has two for 105.
Tech meanwhile allows 21.7 yards on 11 kickoffs and just one punt return for 11 yards. On returns, they haven't returned a kickoff this season and average just 5.8 yards on four punt returns (12 yards on 3 returns by Baston).
Both punters could play linebacker as Houston's Dane Roy (6-7, 240, So.) averages 42.3 yards on 9 punts while pinning opponents inside their 20-yard line five times. Fellow Aussie Dominic Panazzolo (6-5, 210, Jr.) averages 38 yards on his six punts while pinning opponents inside their 20 twice. While Roy has abandoned his rugby style punting, Panazzolo still uses it depending on the situation.
Tech may have the advantage in the kicking game if Clayton Hatfield (5-10, 185, Jr.) can play. After missing the first two games he's listed as Tech's starting place kicker and has connected on 27-of-30 for his career. Michael Barden (5-11, 180, RSo.) has their only make, from 39 yards and has connected on 3-of-4 for his career. Barden has 9 touchbacks on 18 kickoffs this year as Tech's opponents start at their own 22-yard line on average.
Houston's place kicker Caden Novikoff (5-10, 190, Jr.) meanwhile has missed his two field goal attempts of 30 or more yards while connecting on both inside the 30. The Trinity Valley CC transfer has just four touchbacks on 11 kickoffs but the coverage units have excelled as the average start for Coogs opponents has been their own 20-yard line.
Keys to the game
Tackling is fundamental, turnovers, penalties, red zone efficiency
The team that tackles better will win this game. Tech's defense rallies to the ball. They strike hard, but they don't always wrap up and will bite on "eye candy" such as motions. Some have complained about the Cougars not "going deep" enough for them. Why risk low percentage passes when you can throw horizontally via the quick game and make the opposition miss? This applies to both teams. I'd look for a shot deep or two for each team, but this game will be won by the team that tackles better in space, forcing punts.
As mentioned earlier, Tech hasn't been known as a team that's known for their turnover margin under Kingsbury, but this year they're at a plus-3 as are the Coogs. In what could be a high scoring game the team that gives away offensive possessions will really be hurting themselves.
Speaking of mental errors, penalties such as late hits or false starts can kill drives and be a real morale booster to the other team. With the talent level so equal for both teams, the one that hurts itself via penalties is really putting them behind the 8-ball.
In a close game, the team that scores touchdowns instead of field goals will really be helping itself. For the season, the Coogs have scored 7 touchdowns on 12 opportunities inside the red zone. Defensively they've held opponents to just one TD in four possessions.
For Tech, they've crossed the goal line 9 times in 12 opportunities while opponents have scored on four of five in the red area.
Finally, the team that blinks first will probably be the one that ends up losing. As Applewhite said in his weekly media press conference earlier this week via uhcougars.com, "You have to play 60 minutes. Probably the biggest thing that pops into your mind as a coach on how to prepare your team mentally for this game is that there are a lot of ebbs and flows, because there's so many points scored. That's if were doing our job offensively. You have to stay in it, you can't pay attention to the scoreboard. We talk to our team all the time that scoreboards are imposters. Early on, you can't pay attention to it. Whether you're up 14 or down 14. Same thing we said in the locker room in Tucson, same thing we said in the locker room last weekend, that's a general theme. Sometimes you can start evaluating the game before the game's even been played. Settle down, settle into your pads, pay attention to your assignment, play with great effort, and don't pay attention to the scoreboard. Each and every play and each and every series."
Final prediction:
Houston 34
Tech 27