2017 Game 4 Preview: Temple
By: Jimmy Schofield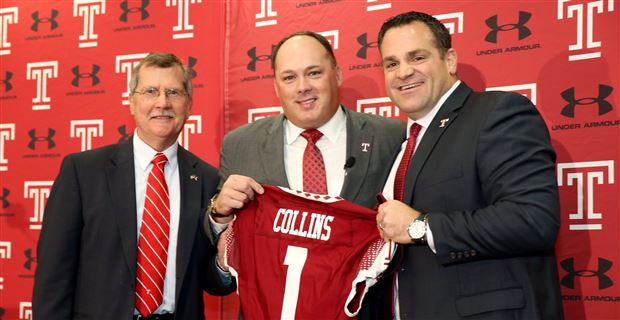 photo courtesly temple247sports.com
Your Houston Cougars travel to "the City of Brotherly Love" for their first American Athletic Conference game of the season against the Temple Owls. Game time on Saturday Sept. 30 at Lincoln Financial Field is set for 11AM CST and will be televised nationally on ESPNU.
The Owls (2-2, 0-1) are led by first year head coach Geoff Collins. The former Florida and Mississippi State defensive coordinator inherited a young team as only 10 starters return from last season's AAC championship team and are the 111th ranked team in the nation as far as experience, per Phil Steele.
After losing four year starting quarterback Phillip Walker, the Owls are still trying to find their identity under offensive coordinator Dave Patenaude. Under the former regime, the Owls were always known as a physically tough, downhill run offense. Much like the Cougars (2-1), they mixed spread elements with that as the offense was known as the "smash mouth spread." One play Patenaude will have his unit line up in an old-school "I-formation" (using 22 personnel; two running backs and two tight ends) while the next they'll go into a spread look using 10 or 11 personnel, 3 or 4 wide receiver sets.
Quarterback controversies abound
Replacing Walker, just as Houston is trying to replace Greg Ward Jr., is no easy task as he graduated as the program's all-time leader in total offense (11,100) passing yards (10,273), and touchdown passes (72). Logan Marchi (6-feet, 205 pounds, RSo.) has been the starter for all four of Temple's games, but was pulled in their 43-7 loss at USF a week and a half ago. Frank Nutile (6-4, 225, RJr.) and Todd Centeio (6-0, 212, Fr.) have also seen game action.
Marchi has a cannon for an arm and a lot of confidence, maybe too much so. He hadn't thrown an interception until last week when he threw three against the Bulls, prompting Patenaude rotating him in the second half with Nutile and Centeio. Marchi can make all the throws needed on the field to be successful, but sometimes will try to squeeze a ball into tight coverage. For the season, he's completed just 53-percent of his passes (64-for-119) for 790 yards (199 yard average-per-game) and thrown five TD's. Patenaude has given him full control of the offense, even allowing changing of plays at the line of scrimmage if he sees fit. Marchi's problem has been his decision making (sound familiar Coogfans) and needing players to step up around him (we'll get more to that in a bit). He's also a decent enough athlete that Patenaude will move him out of the pocket via bootlegs and rolls.
Nutile has battled Marchi the past few seasons for the backup spot but doesn't have a strong arm as Marchi, though he's just as intelligent in deciphering coverages. Out of famed Don Bosco Prep in Ramsey, NJ, Nutile has completed just 4-of-12 passes last week with an interception.
The QB with the most upside is probably Centeio as he's a true dual-threat. Out of Palm Beach Gardens (Fla) William T Dwyer, the true freshman completed both of his passes for 20 yards against USF and rushed for 10 yards on two carries.
Houston's Kyle Allen (6-3, 211, RJr.) meanwhile was pulled for Kyle Postma (6-2, 200, RSr.) after completing 24-of-39 passes for 217 yards and a touchdown, but also had four costly turnovers (two interceptions and two fumbles). For the season, the former 5-star prospect has completed 76.9-percent of his passes (80-for-104) while averaging just 257 yards-per-game but more importantly has six total turnovers including four interceptions. If he doesn't improve his decision making, head coach Major Applewhite and offensive coordinator Brian Johnson will have their own decision to make; go with the QB with the strong arm or the QB who can move the ball down the field with either his arm or legs? Postma came in with the team down 27-10 late in the fourth to Texas Tech and led them to two touchdowns by completing 8-of-13 passes for 100 yards and a TD while leading the team in rushing with 52 yards on four carries and a TD.
Let's not forget about D'Eriq King (5-11, 190, So.), who saw his first game action Saturday and caught five passes for 50 yards (and a 21-yard TD) and rushed for six yards on four carries. I mention him because Applewhite mentioned him getting some playing time at QB this season. Many close to practice said he had been pushing Allen hard for the starting spot until he injured his knee in Fall camp.
The Owls are averaging just 17 points-per-game (ranking them 84th nationally) and 288.8 yards total offense (123rd); 219 passing (77th), 69.8 rushing (128th). They'll be facing a Cougars defense led by defensive coordinator Mark D'Onofrio that was gashed by Tech last week to the tune of 521 total yards but 234 of them came on three plays (runs of 84 and 73 and a 77 pass). Overall the "Third Ward Defense" allows just 15.3 points-per-game (17th) and 378 yards of total offense (65th); 217.7 passing (56th), 160.3 rushing (82nd).
The Owls go with plenty of spread looks because of the talent at wide receiver. Keith Kirkwood (6-3, 220, RSr.), Adonis Jennings (6-3, 205, Sr.), Isaiah Wright (6-2, 212, So.) and Ventell Bryant (6-3, 200, RJr.) are all matchup problems due to their combination of size and ability. Patenaude loves to get them the rock in "jump ball" situations to the outside against smaller corners or one-on-one in the slot against bigger linebackers or safeties.
The Cougars secondary will be in the same quandary they were last week against Tech, as Marchi will throw to the receiver who has the best matchup that game. Kirkwood leads the unit with 12 catches (for 185 yards) and two scores. Bryant has 11 receptions (for 120 yards) while both Wright and Jennings have 10 grabs and a touchdown apiece, for 194 and 179 yards respectively. Jennings has a long of 43 yards and averages 17.9 yards-per-reception while Wright goes for 19.7 per catch.
Jeremy Winchester (5-11, 203, Jr.), and Isaiah Johnson (6-3, 195, Jr.) played well for the most part at corner last week against Tech with Alexander Myres (5-10, 192, Jr.) out with an undisclosed injury. Johnson had 8 tackles, 4 solo, against Tech while Winchester had 6 and 1. Winchester has 13 total tackles through 3 games, 6 solo, while Johnson has 11 and 7 respectively for the season as he continues to learn the position. They each had a pass breakup against Tech, with Winchester's leading to strong safety Terrell Williams (6-4, 212, Sr.) interception. Williams (12 tackles, 5 solo) leads the secondary with 4 passes defended and 3 broken up with no other member having more than 1. Free safety Garrett Davis (6-0, 205, Jr.) had an unusually subpar game with only 2 tackles against Tech and a breakdown on his part helped allow a 77-yard TD pass, many of which were YAC yards. For the season the defensive captain in fourth on the defense with 20 total and 16 solo tackles. Nickel back/outside linebacker Khalil Williams (5-11, 210, Sr.) seems to be at his best when playing in the box as he leads the D in both tackles-for-loss (6) and sacks (2) and seems to be the best tackler in space as all 15 of his stops are solo. While not as aggressive a play caller as Todd Orlando has been the past two seasons, D'Onofrio likes to blitz using Williams coming off the edge late.
Temple's offensive line has allowed 11 sacks while Houston's defense has just 6 through 3 games. Left tackle Leon Johnson (6-5, 325, RSr.) leads the unit with 25 starts and is a three-year starter but is protecting the QB's blind side for the first-time full time this year as most of his starts came at RT. The lineman with the most NFL talent may be right guard Brian Carter (6-1, 300, RSr.) who has a nasty mean streak after converting from the defensive line a few seasons ago. The two-year starter also has the athleticism to match his toughness when pulling to the second level. Adrian Sullivan (6-3, 295, RSr.) plays at left guard after starting all 14 games last season at right guard. Cole Boozer (6-5, 295, RSr.) is a first-year starter at right tackle after playing tight end the past few seasons at around 260 pounds. Matt Hennessy (6-4, 295, RFr.) is also a first-year starter but has more than held his own at center this season. Depth is not great as the Owls go with mainly a six to seven-man rotation depending on injury. Aaron Ruff (6-3, 300, RJr.) is the main sub. Jovahn Fair (6-2, 300, RSo.) has started 16 games over the past two seasons at left guard but was injured against USF and his status for this game is unknown.
You'll probably see the interior of Temple's O-line double or even sometimes triple teaming Houston's nose guard Ed Oliver (6-3, 290, So.) but it won't matter. Big Ed is up to his usual tricks as he's second on the defense with 16 solo tackles (22 total), while adding 3.5 TFL and forcing two fumbles. Oliver being stout at the point of attack up the A and B gaps allows defensive ends Nick Thurman (6-4, 293, Sr.) and Reggie Chevis (6-2, 290, Sr.) to receive mainly one-on-one blocks in which they've held up allowing the linebackers penetration at the line of scrimmage. True freshman Payton Turner (6-5, 240) and Aymiel Fleming (6-3, 290, So.) have done a nice job as the two youngsters have given D'Onofrio a nice 5-man rotation up front.
Temple likes to use a lot of six and seven-man protection schemes, blocking wise, by keeping their tight ends inline and using a fullback. Chris Myarick (6-4, 255, RJr.) and Kenny Yuboah (6-5, 238, RFr.) are fierce blocking tight ends with Nick Sharga (6-2, 240, RSr.) an old school tough, hard-nosed fullback. While Myarick and Yuboah aren't receiving threats as they have a combined 21 yards on 3 receptions, Sharga will run on third-and-short as he has 12 carries on the season, for 38 yards, and a TD plus a catch for 4 yards sneaking out of the backfield.
Houston's linebacking core of Mathew Adams (6-1, 237, Jr.) and D'Juan Hines (6-1, 230, Sr.) inside along with Emeke Egbule (6-3, 245, Jr.) at outside linebacker will have to pay attention to Myarick, Yuboah and Sharga so they don't get burned down the seam via play-action. Adams leads the D in total and solo stops with 34 and 17, while adding 4 TFL and a fumble recovery. Hines is second with 24 total stops but fifth with 12 solo, meaning he's in the swarm but needs to diagnose and get to the scene quicker. Egbule has 15 total and 10 solo stops while adding 1.5 TFL and just a sack as the fourth down lineman most of the time. While adding some 30 pounds in muscle over the past few years, Egbule still isn't generating the kind of pass rush D'Onofrio needs from the edge.
Temple wants to be a run first offense to set up the pass, but shifty running back Ryquell Armstead (5-11, 205, Jr.) is only averaging 45 yards-per-game (180 yards on 59 carries) for a meager 3.1 yards-per-carry average after rushing for 919 yards and a 5.9 per carry average last year as a backup. David Hood (5-9, 190, Jr.) is a nice change of pace back, with 55 yards on 18 carries with 5 receptions. Jager Gardner (6-2, 219, Jr.) is a combination of both and has 37 yards on 12 carries and the offense's only TD on the ground.
Flipping the script, the Cougars offense averages 27 points-per-game (116th) and 438 yards total offense (56th); 305.3 passing (24th), 132.7 rushing (94th). The Owls defense, led by 23-year coaching veteran Tabor Johnson at defensive coordinator, allow 31.5 points-per-game (98th) and 468.5 total offense (111th); 259.8 passing (99th), 208.8 rushing (111th).
Johnson, who has stops at Arkansas, Ohio State and Notre Dame, uses a 4-2-5 scheme based off a 4-man rush up by an active front that uses stems, twists and stunts to generate a solid pass rush. The linebackers are lightning fast and plug gaps quickly while the back end plays a combination of man and zone on the outside and a cover-2 shell by their safeties.
Up front the Owls have two fast defensive ends in Sharif Finch (6-4, 250, RSr.) and Jacob Martin (6-2, 250, Sr.) that will give Houston tackles Josh Jones (6-5, 303, So.) and Na'Ty Rogers (6-5, 307, Sr.) immense problems at left and right tackle respectively as the two ends have a combined 8 TFL (5 for Finch), 5 sacks (3 for Martin), 3 fumble recoveries (2 for Martin) and a forced fumble each. Martin had a 44-yard touchdown on a strip-sack against USF to show off his athleticism. Quincy Roche (6-4, 230, RFr.) has a nice speed rush that's given him a team-leading 6.5 TFL and 4 sacks on the young season. Dana Levine (6-4, 225, RSo.) is another smaller but fast lineman off the edge who has a sack, TFL and a forced fumble as the fourth DE on a deep D-line.
Manning the middle for the Owls are Dan Archibong (6-6, 285, RFr.) and Michael Dogbe (6-3, 280, RJr.) with Julian Taylor (6-5, 280, RSr.), Karamo Dioubate (6-3, 295, So.) and Freddie Booth-Lloyd (6-1, 325, RFr.) combining for 2.5 TFL. Archibong has used his massive 6-foot-6-inch frame to bat down two passes as well.
The Coogs O-line interior of Braylon Jones (6-3, 311, So.), Will Noble (6-4, 297, Jr.), Marcus Oliver (6-3, 300, Sr.) will have to communicate as well as they have all season to keep the Owls front-7 off their starting QB. Temple is fourth nationally with 15 sacks (with 8 coming against UMass) while the Cougars offensive line has allowed just four through three games. Applewhite emphasized better blocking up front, no missed assignments, and better snapping to give his offense a chance to be successful.
The running back duo of Duke Catalon (6-0, 215, Jr.) and Dillon Birden (5-10, 200, Sr.) need to hit the holes hard and fast against the Owls speedy defense as the stems and stunts up front, along with called run blitzes by Tabor will leave massive gaps if said blitzes are picked up at the right time. For the season Catalon has 150 rushing yards on 38 carries with a TD while Birden has 111 on just 22 carries. Birden continues to be a better north south runner as he's averaging 5 yards a pop while Catalon continues to "dance" along the line, averaging just 3.9 ypc.
Temple linebackers Chapelle Russel (6-1, 225, RSo.) and Shaun Bradley (6-1, 225, So.) are also young but extremely fast and read and recognize plays quickly. Sam Franklin (6-3, 210, So.) is an aggressive hitter who flies all over the field as a hybrid outside linebacker safety. He was moved there this offseason from running back because of his aggressive nature. Russell is second with 34 total and 21 solo tackles, including 2.5 FL while Bradley adds 23 and 12 with 4 FL, a sack and forced fumble. Franklin has 18 total, 13 solo, 2 FL, 2 sacks while adding 3 pass breakups in coverage.
The reason Johnson's defense is so mediocre, besides facing explosive offenses in Notre Dame and USF, is they aren't fundamentally sound. Part of that has to do with them being so young. The other part is Johnson's aggressive play calls. Playing as much zone as he does while stunting up front and blitzing his linebackers can leave huge holes if the offense hits one at just the right time. This is why strong safety Delvon Randall (5-11, 210 Jr.) leads the D with 35 total and 26 solo tackles while free safety Sean Chandler (6-0, 195, Sr.) is third with 24 and 18. Randall also adds three TFL.
Slot receiver Linell Bonner (6-0, 200, Sr.) and outside receiver Steven Dunbar (6-3, 202, Sr.) both have blocked well in the screen and run game and are the two leading receivers with 26 and 18 receptions for 257 and 212 yards respectively. John Leday (6-0, 200, Sr.) is producing this year with 17 receptions for 111 yards and a score as the third receiver. Youngster Keith Corbin (6-3, 193, So.) needs to continue improving to add depth to the position as his 20.4 ypr leads the unit (82 yards on 4 catches) After sitting out the first two games because of a knee issue, the previously mentioned King returned as a receiver (50 yards on 5 receptions and a TD) and a running back and needs to be used creatively by Johnson, even at QB if a spark is needed offensively.
Tasked with stopping Houston's receiving core will be Mike Jones (5-11, 187, RSr.) and Artel Foster (5-11, 197, RSr.) at corner back with Derrek Thomas (6-3, 193, RJr.) and Linwood Crump (6-0, 180, So.) adding depth. Both Jones and Thomas lead with three pass breakups while Jones has the only interception, returning it for 43 yards. If the blitz doesn't affect the QB Temple's corners are often left hung out to dry as they're 99th nationally allowing 8 yards-per-attempt and 13.9 per reception on the season.
Special teams
The Owls average 21 yards per kick return (64th) and 5.9 per punt (73rd) return while the Coogs coverage units allow just 17.3 (23rd) and one (13th) respectively. Mike Jones averages 21 yards on 18 kick returns while Adonis Jennings has just two returns for 41 combined yards. Jones also has 32 punt yards on 5 returns with Chandler adding 9 yards on 2 returns.
Houston place kicker Caden Novikoff (5-10, 190, Jr.) has 5 touchbacks on 15 kickoffs so maybe their coverage units would be better off just letting Temple return them as touchbacks put the opposing starting offense at the 25-yard line while Temple barely averages 20 yards per return, a difference of five yards.
Punter Dane Roy (6-7, 240, So.) is also doing his part in helping Houston to win the field position battle as the Aussie has pinned opponents inside their own 20 on 9 of his 16 punts (41.5-yard average).
Houston's return games net them 38.6 yards via kick returns, FIRST nationally but just 2.5 on punt returns (112th). Meanwhile, the Owls allow 18.6 yards on kickoffs (44th) and 5.8 on punts (56th). John Leday would lead the nation if he qualified with a 50.7 kick return average, but has just 3 returns. Texas State transfer Brandon McDowell (5-9, 183, Sr.) has one kick return for 35 yards but also fumbled a punt last week and has just 15 yards on 5 total punt returns. Reserve safety Collin Wilder (5-10, 195, So.) has the one return for zero yards but did not play last week with a knee injury. Temple's Aaron Boumerhi (6-0, 195, So.) has just 3 touchbacks on 15 kickoffs which bodes well for Leday and McDowell.
Temple punter Alex Starzyk (6-2, 226, Sr.) averages 41.5 yards per punt, placing 8 of his 25 inside the opponent's 20-yard line while booming four of them for 50 + yards.
If the game comes down to a field goal, it's anyone's guess as to which team has the advantage. Temple uses two kickers. Boumerhi is their long kicker and has connected on 3-of-5 with a long of 52 while Austin Jones (5-10, 205, Sr.) has hit on 4-of-5 from inside the 40. For Houston, Novikoff hit on a career high of 45 yards last week and is 3-of-5 on the season. The Owls have had a field goal and extra point blocked while the Coogs have blocked a field goal attempt this season.
Keys to the game
1.) The Coogs need to get in front early so they can rely on their run game and try to overpower the smaller Owls defensive front. If it's a close game throughout Houston's offense may have problems against the aggressive Temple front-7 as there still seems to be communication issues from the Coogs O-line.
2.) Stop Temple's run game. Collins wants his offense to establish the run early. If D'Onofrio's defense can put the Owls into third-and-long down and distances the defense will be able to get off the field.
3.) The Cougars defense must tackle better. The linebackers and secondary must wrap up better instead of just striking offensive players and bouncing off them. If a 5-yard crossing screen becomes a 15-yarder it doesn't matter how much pressure is applied up front.
4.) Score touchdowns in the red zone. The Cougars have crossed the goal line 10 times in 16 opportunities inside the opponent's 20-yard line, ranking them 57th nationally. Temple's defense has allowed touchdowns on only 12-of-22 such opportunities (60th). Temple's offense has scored on 5-of-10 (102nd) while the Coogs D has allowed only 3 TD's in 7 attempts, ranking them eighth nationally.
5.) The team that wins the turnover battle gives themselves the best chance to win. For the season the Cougars have a minus-1 turnover ratio, placing them tied at 75th nationally with a myriad of teams. The Owls are worse at minus-2 (tied for 91st).
Prediction
While I won't believe the offense fixes their struggles until I see it, I don't see Temple's offense putting up much of a fight against the "Third Ward Defense."
Houston – 28
Temple – 10