Post-game analysis: South Florida
By: Jimmy Schofield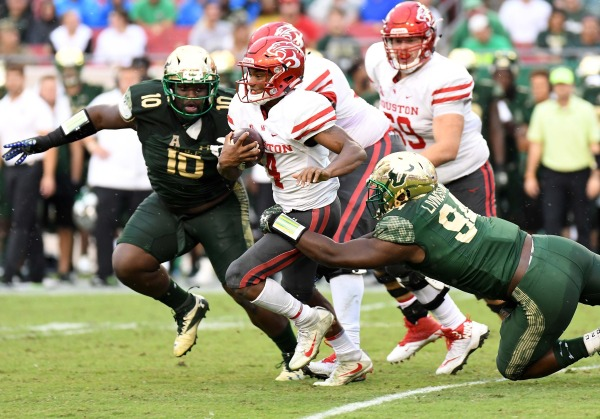 photo courtesy uhcougars.com
Your Houston Cougars rolled into Tampa Saturday and upset a South Florida squad, 28-24, that had been undefeated and won 12 straight going back to last year. Coogfans.com looks at all three phases of the game.
Offense
After the first two offensive series, that went 3 & out, in which starting quarterback Kyle Postma was ineffective, completing 2-of-4 passes for 6 yards, offensive coordinator Brian Johnson went with the future, aka D'Eriq King for the rest of the game. If King's first option wasn't open, he tucked the ball and ran. Along with blank called quarterback runs via draws or read power plays he rushed for 83 yards on 20 carries and two touchdowns, including 30 yards lost on 5 sacks. By my unofficial count King had 40 yards on 8 called draws, including a 4-yard fourth quarter TD (or at least they look liked called draws), rushed for 22 yards on 3 pull downs, or pressures, including the game winning 20-yard run in which he scanned the left side of the field, pulled it down quickly, cut back and ran to the right 20 yards for the score. He lost 2 yards on the only zone read option keeper and gained 43 yards on the second to last series on what looked like a split zone read power play with running back Mulbah Car blocking for him.
Speaking of Car, the big back rushed for 137 yards on 18 carries and a TD. In one series in the third quarter he carried all four times, for 74 yards including a 44 yard run in which he was brought down at the Bulls 4-yard line. The true sophomore is the closest back the Coogs have to Kenneth Farrow, who he reminds me of when blocking or exploding through the hole and not being brought down by one tackler as he always keeps his legs moving. In the two games in which he's received more than a cursory look, he's rushed for 7.6 yards-per carry (205 yards on 27 carries, rushing for 67 yards on 9 carries against SMU in which he subbed for an ailing Dillon Birden). With Duke Catalon playing with both an injured ankle and shoulder issues, he only carried the rock 8 times for 25 yards as both Car and King will probably be relied on in the run game more and more in the final five games of the season. Postma added 12 yards on 2 carries including a rare zone read option keeper for 12 yards. In all the Coogs rushed for 255 yards on 48 carries, against a USF defense that had been ranked NINTH nationally, allowing just 94 per game on the ground.
The offensive line of Josh Jones, Braylon Jones, Will Noble, Marcus Oliver and Na'Ty Rogers did a nice job run blocking, but their pass blocking left something to be desired in allowing the five sacks. Josh Jones left early in the game with a strained knee as Jarrid Williams saw his first extensive game action of the season and held up surprisingly well. It helped that Johnson had tight ends Alex Leslie and Romello Brooker lined up over him as well as having Car help out in pass protection.
As head coach Major Applewhite said after the game that King will be much more involved in the offense, it's looking more and more like Postma's days are numbered. While the senior has a high completion percentage (66.5), he lacks the consistency needed to move the offense down the field without a "playmaker" on offense, or someone that can bust a huge play. Postma was living on borrowed time before he forced a pass that was almost intercepted on his first series then threw behind Linell Bonner on a simple crossing pattern.
With King no longer at wide receiver, it looks like it'll be the Bonner and Steven Dunbar show for the rest of the season as the two combined for 59 yards on 9 receptions as King will be given simple reads to connect with the two veteran receivers simply to move the chains. The blocking by the wide receiver core needs to improve as many of the passes are simple quick or bubble screens. It doesn't help that the line didn't give King enough time to take many deep shots. Speaking of deep, King did hit Courtney Lark on a deep post for a 39-yard TD on the first possession of the third quarter. The sophomore from Bellaire had 69 yards total on 2 receptions. John Leday had two receptions for 14 yards and Davion Mitchell had a catch that was stopped for no yards on a swing pass out of the backfield. In all King completed 12-of-20 passes for just 137 yards and a TD but won't be asked to win the game with his arm, at least until he starts to become more comfortable in the offense.
Defense
The "Third Ward Defense" held the Bulls to just 137 yards rushing on 55 carries. The meager 2.5 yards-per-carry average was in part thanks to four sacks and 12 tackles-for-loss accounting for 49 yards in lost yards. Defensive coordinator Mark D'Onofrio sent run blitzes from every direction while bottling in Bulls star QB Quinton Flowers. The four-year starter had averaged 87 yards on the ground entering game action Saturday but was held to just 7 yards on 14 carries (losing 28 yards on the 4 sacks). The only time the Bulls were successful in the run game was to the outside as the back-7 lost contain too many times for my liking.
Ed Oliver had his usual spectacular game with 7 tackles (5 solo), including 2 for loss, a sack and a pass breakup doing his usual J.J. Watt in knocking down a pass at the line of scrimmage. Nick Thurman and Reggie Chevis combined for just 5 tackles but held up well against a Bulls offensive line full of maulers that helped the Bulls to average 305 yards-per-game on the ground, good for SEVENTH nationally. Jerard Carter saw his first game action of the season and had a tackle-for-loss (2 total tackles) as a reserve defensive end. The veteran's return can't be understated as he adds depth, giving Oliver, Thurman and Chevis breathers up front as he can play all three spots along the defensive line. Payton Turner added 2 stops up front while Zach Vaughan didn't register a tackle but pressured Flowers once early in the game.
D'Juan Hines led the D in tackles for the third straight game, registering 13 total (10 solo) and 2 TFL. He still needs to read and diagnose plays faster for my liking as too many of his tackles are down field after positive gains. He also needs to play with better fundamentals as he's responsible for outside contain when the defense is in a 4-man front. Matt Adams played despite ankle issues but had just 4 solo stops in limited snaps. Austin Robinson took Adams inside linebacker spot and was mentioned several times early in the game, finishing second in tackles with 7 for the game (6 solo), 2 for loss and a sack. Emeke Egbule added 7 tackles as well from his designated outside rush linebacker spot, including one for loss. In playing a true 4-3 scheme Leroy Godfrey made his first start at the strong side linebacker spot and played well with 6 tackles, 4 solo, including 2 for loss and 2 sacks. All youngster David Anenih does is seem to make plays every time he see's game action. Saturday, he had 3 solo stops, including one for loss and a sack, his second of the season in six games.
D'Onofrio's game plan was to stop the run on early downs by stacking the box, forcing third and longs in which he would send delayed blitzes via 3-man fronts. While this strategy worked for the most part as the Bulls were just 7-for-23 for the game, Flowers did complete 23-of-38 passes for a career high 325 yards. Bulls star receiver Marquez Valdes-Scantling had 10 of those receptions for 186 yards as whoever played opposite of him played well off, giving him easy pitch-and-catches with Flowers. It didn't matter if it was Isaiah Johnson, Alexander Myres, Jeremy Winchester or Joeal Williams, they all played off and missed tackles giving Valdes-Scantling too many yards via YAC (yards after the catch). They did bottle up the Bulls other receivers decently as Myres led the unit with 6 tackles (4 solo) with Johnson and Winchester adding just 3 combined tackles with no pass breakups.
With free safety Garret Davis ineffective due to lingering shoulder issues (registering just one tackle), Khalil Williams was moved from his nickel back spot to strong safety with Terrell Williams moving up high as the single free safety in their cover-1 looks. Khalil Williams had 6 tackles, 4 solo, showing his versatility on consecutive plays in the first half when he tackled Bulls running back Darius Tice for a loss on one play then broke a pass up in coverage on the next. Terrell Williams meanwhile added 6 tackles, 4 solo, of his own roaming the middle.
Special Teams
Punter Dane Roy had a career day, averaging 48 yards on 8 punts while pinning the Bulls inside their own 20-yard line on 4 of them. Kicker Caden Novikoff had 3 touchbacks on 5 kickoffs as the Bulls starting field position was their own 27-yard line.
A shout out to Joshua Burrell needs to be mentioned as he recovered two fumbles in the kick and return games after a ball bounced off a Cougars upback on a kickoff and after Brandon McDowell fumbled a punt return early in the game. Turnovers in either instance could have been killer in such a back and forth game. McDowell did have a 50-yard kick return that helped give great field position on the final drive after Leday (70 yards on 2 returns) was knocked out of the game with a concussion in the third quarter. McDowell added 12 yards on 4 punt returns as well.
Coaching
The team won in spite of the coaching in my opinion. While this staff may, and hopefully will improve over time as there are a lot of young coaches on the staff, the team plays with a lack of simple fundamentals eight games into the season. While the team committed just 5 penalties for 45 yards for the game, a few were unacceptable, including an offsides on a fourth-and-4 in which the Bulls were punting. They didn't score on the subsequent series but mistakes like that, giving good teams extra possessions, isn't something a young team needs to be doing.
Another instance it appeared Isaiah Johnson could have downed a punt inside the 5-yard line but let the ball roll into the end zone for a touchback. Another example of yards lost that could have been the difference in allowing points or not, and ultimately the game. The defense continues to miss too many tackles as well, of course there's a fine line between coaching and player execution, which Applewhite mentioned earlier this week, as in players not doing what they're coached to do. Purely coaching wise, the offensive play calling leaves something to be desired in my opinion. For example, the series after Car rushed for 74 yards on the four carries and a TD, Johnson had King dropping back three consecutive times for a 3 & out. Hasn't he ever heard of calling a play until the opponent stops it? Why call passing plays after just gashing the opponent along the interior via the run game? Also, why go for it on fourth-and-1 from your own 40-yard line early in the game when your running game to that point hadn't been successful? Giving the Bulls a short field allowed them to score the game's first touchdown. Applewhite should have punted, forcing the Bulls to drive the length of the field, though he did say after the game that he wanted to show his team, or more importantly his offense, he believed in them, which I can understand.
When it comes down to it though, coaching is about putting players in position to make plays, which is exactly what Applewhite and staff did Saturday by putting King on the field in the first place. While the final game winning drive featured a lucky 30-yard heave down the field and mesmerizing 20-yard run, that doesn't happen unless the sophomore is on the field. The Manvel product has the "It factor," so the staff must be given credit for putting him on the field at QB full time. The coaching staff also has to be given credit for getting the team to continue to fight.
Stay logged into Coogfans as we preview the East Carolina game later in the week.