Game 9 preview: East Carolina
By: Jimmy Schofield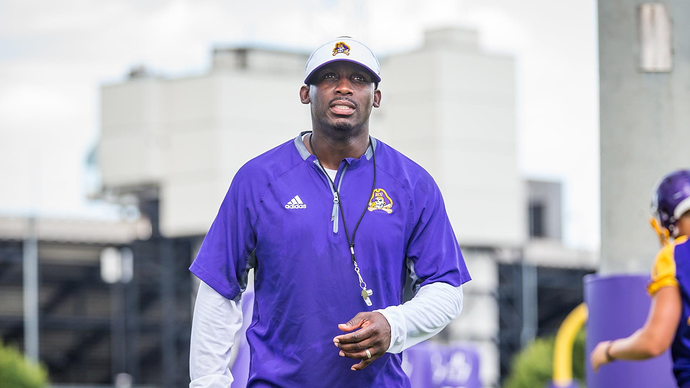 photo courtesy
ecupirates.com
Coming off an improbable 28-24 win at 17th ranked South Florida that took a miraculous final minute game winning drive, your Houston Cougars return to TDECU Stadium this Saturday November 4 for homecoming as they host the East Carolina Pirates. Game time is set for 11AM CST and will be broadcast on the CBS Sports Network.
The Pirates are struggling under second year head coach Scottie Montgomery (5-15) as he tries to rebuild a proud program that was regularly at the top of the CUSA standings year in and year out. They bafflingly fired Ruffin McNeil at the end of the 2015 season after winning just five games despite a 42-34 overall record in six seasons. The Pirates went 3-9 last year as Montgomery hired a new staff, had to deal with first time head coaching issues such as game management, recruiting, injuries as well as trying to instill his culture.
This season they've started out just 2-6, 1-3 in the AAC East but they've faced three top-20 ranked teams in UCF, USF and Virginia Tech. In all their opponents have gone 42-22 so far this season. Montgomery, a former offensive coordinator at Duke under David Cutcliffe, is trying to implement a fast-paced spread offense but with mixed results thus far due to inconsistent play by young players and injury issues. The Pirates averaged just 27 points-per-game last season to rank 75th nationally. This year they aren't doing any better, averaging just 23.4 points-per-game to rank 101st and 396.2 yards of total offense (65th); 288 passing (44th), 108.2 rushing (121st).
They'll be facing a "Third Ward Defense" under defensive coordinator Mark D'Onofrio that held USF to just 137 yards on the ground after averaging 304 (tenth nationally) entering the game. Overall the Coogs D allows 24 points-per-game (46th) and 422.6 yards of total offense (91st); 269.5 passing (117th), 153.1 rushing (54th).
Talent isn't the problem in Greenville as the Pirates have transfers from schools such as Duke, Clemson, Minnesota and Tennessee, programs where they just don't give out scholarships. The man leading their offense is Duke transfer Thomas Sirk (6-foot-4, 220 pounds, G-Sr.). Sirk is a typical dual threat QB who's a tough between the tackles runner but also has a strong arm as offensive coordinator Tony Peterson likes to stress every part of the field via short (quick passing screens), intermediate (comebacks) and deep (posts) routes. While nobody can question Sirk's toughness in the run game as he leads the offense with 60 carries (for 162 yards when accounting for lost yardage due to 11 sacks) and 3 touchdowns, his accuracy suffers for some of the hard hits he takes as he's completing just 56-percent of his passes (130-for-231) to average 235.7 yards-per-game. He can also force passes as he has just 9 TD passes to 8 interceptions.
Sirk will literally hunt for contact in the run game instead of trying to avoid tackles which has led to him exiting numerous games over his career, including their last game two weeks ago in a 33-17 win over BYU, which leads us to his backup, Gardner Minshew (6-2, 216, Jr.). A "gunslinger" in every sense of the word, the Northwest Mississippi JC transfer has an even stronger arm than Sirk which also causes accuracy issues (44.7-completion percentage via 38-for-85 passing) due to the number of low-percentage deep shots the Pirates offense will take downfield. Minshew averages just 109 yards per contest through the air while tossing 6 TD's to 2 interceptions. In his two starts against one of the FCS's top teams, James Madison, and 13th ranked Virginia Tech, Minshew is a combined 18-of-48 for 323 yards with 2 picks and 2 TD's in blowout losses.
The Pirates have three racehorses at wide receiver in Davon Grayson (6-2, 187, G-Sr.) and Trevon Brown (6-2, 211, Jr.) at outside receiver with Quay Johnson (5-10, 184, Sr.) in the slot. Jimmy Williams (5-11, 198, Sr.) is another burner on the outside who was starting until injuries have sidelined him the past two games. He may return giving the Pirates a "fearsome foursome" at wideout.
If D'Onofrio has his cornerbacks, Isaiah Johnson (6-3, 195, Jr.), Jeremy Winchester (5-11, 203, Jr.), Alexander Myres (5-10, 192, Jr.) and Joeal Williams (5-10, 190, RJr.), playing in off-coverage like he's been doing most of the season, these ECU thoroughbreds will gain major yardage as Grayson is NINTH nationally in yards-per-game averaging 99.4 (795 yards on 47 receptions with 6 TD's). He has the speed to stress corners deep as he's averaging 16.9 yards-per-reception, has great body control and the hands to grasp anything thrown his way.
Brown missed last year due to academics and gives Sirk a huge target on the outside he can high-point the ball to yet also has elite speed, averaging 17.6 yards-per-reception (458 yards on 26 catches and 3 TD's). While they like to have both Grayson and Brown run intermediate to deep routes, they'll get the ball to Johnson via the quick passing screen game or end arounds as he's second on the team with 30 catches for 330 yards and 2 TD's. Williams has 18 receptions through 6 games and averages 16.3 yards-per-reception (294 yards) and a TD. ECU's receivers will also be used in the run game as they have a combined 10 carries for 75 yards on end arounds and jet sweep pitches.
We'll probably see a combination of Johnson, Winchester and Myres on Grayson as he likes to move around a lot, looking for the best mismatch. Safeties Terrell Williams (6-4, 212, Sr.) and Garrett Davis (6-0, 205, Jr.) will probably be somewhere near Grayson if he wonders over the middle. Johnson is slowly becoming the Coogs best cover corner as he leads the unit with 23 solo tackles (33 total), 6 passes defended and an interception. Winchester adds 20 solo stops (29 total), 5 passes defended and a pick and could be used in the blitz game as he adds a sack and tackle-for-loss on blitzes from the boundary. Myres adds 12 solo tackles (20 total) including 1.5 for loss, a "QB hurry," 5 passes defended and a fumble recovery. Joeal Williams also has a sack and a TFL among his 7 total stops in limited time. All four corners are still missing too many tackles and playing too inconsistent, breaking up a pass one play while getting burned deep the next. If Sirk has the time look for him to test UH's corners deep a few times as he can stand tall in the pocket despite liking to run.
Peterson also likes to use his running backs and tight ends in the passing game as he'll motion them in and out of the backfield. Four running backs see regular action for the Pirates led by Hussein Howe (5-9, 183, So.) who has 214 yards on 51 carries with a TD. The diminutive back also has 11 receptions for 89 yards coming out of the backfield. Darius Pinnix (6-0, 225, Fr.) is the bruiser and is third in carries and yards with 43 for 167 and a TD as he's a surprisingly patient between the tackles rusher considering he's a true freshman. Devin Anderson (5-9, 208, Jr.) is a combination of the two and has 20 carries for 63 yards in just two games as he's also recovering from injuries. Pinnix also has 3 receptions for 16 yards coming out of the backfield. Tight end Steven Baggett (6-5, 247, Sr.) is mainly used as a blocking "H" back who will also motion to the slot as he has 5 receptions for 57 yards and a TD. The Pirates have a talented backfield but haven't been able to feature them because they've been down so big they've been forced to abandon the run game for the most part this season.
As you can see with all the "moving parts" on offense (motions and shifts), Williams, Davis and nickel back Khalil Williams (5-11, 210, Sr.) will have to communicate with the defensive front in pass coverage as well as not get caught looking with their eyes in the back field or they could get burned deep. Last week Khalil played a more typical strong safety role, roaming the middle of the field as D'Onofrio had four linebackers on the field more than he usually does as the Bulls were a predominate run team. This week he'll be back in his usual nickel back spot where he can drop in coverage in their various zone looks or pressure Sirk via the delayed blitz. For the season Williams has 36 solo tackles, 7 for loss, and 6 passes broken up.
The most efficient way to deter a deep passing game is to pressure the quarterback and cause commotion in the backfield via penetration. This is exactly what Houston did last week at USF with 12 TFL and 4 sacks via zone and delayed blitzes as D'Onofrio rushed with just three to four or even sometimes two down linemen, then blitzed from different angles using different linebackers or safeties.
As always, the Coogs pressure begins with Ed Oliver (6-3, 290, So.) at the nose. Big Ed continues to handle one-on-one blocks with such ease, often pushing opposing centers and guards deep into the backfield disrupting the timing most offenses need to execute. For the season, Big Ed has 49 total tackles (31 solo and 9 for loss), 7 "hurries," 2 sacks, 2 forced and recovered fumbles and 3 pass breakups.
With Oliver stout up the middle, defensive ends Nick Thurman (6-4, 293, Sr.) and Reggie Chevis (6-2, 290, Sr.) have been able to fend off single blocks to maintain leverage up front as they combine for blank tackles. After sitting out the entire year due to a foot injury, Jerard Carter (6-2, 285, Jr.) saw his first game action of the season and had a tackle-for-loss (2 total tackles) as a reserve defensive end. The veteran's return can't be understated as he adds depth, giving Oliver, Thurman and Chevis breathers up front as he can play all three spots along the defensive line. Payton Turner (6-5, 240, Fr.), Aymiel Fleming (6-3, 290, So.) and Zach Vaughan (6-4, 265, RJr.) add a combined 3 TFL giving D'Onofrio a seven-man rotation up front.
The problem in the Cougars run defense comes from the second level where the linebackers either over run their assigned gaps or lose leverage along the edge allowing huge plays. While the Pirates don't run particularly well, look for them to at least attempt to run the ball early on as balance can only help their offense, as well as set up their play-action game. Mathew Adams (6-1, 237, Jr.) played sparingly last week at one inside linebacker spot due to an ankle injury, finishing the game with just 4 solo tackles but still has 35 (61 total) for the season. Austin Robinson (6-3, 235, RSr.) took his spot in the lineup, playing his best game of the season at USF with 7 total tackles (6 solo and 2 for loss) and a sack. D'Juan Hines (6-1, 230, Sr.) led the D in tackles for the third straight game from the other inside linebacker spot, registering 13 total (10 solo) and 2 TFL. He still needs to read and diagnose plays faster for my liking as too many of his tackles are down field after positive gains. He also needs to play with better fundamentals as he's responsible for outside contain when the defense is in a 4-man front. For the season Hines now has 76 total tackles (43 solo) and two forced fumbles.
Emeke Egbule (6-3, 245, Jr.) still hasn't generated the pass rush needed at outside linebacker as he has just 2.5 TFL and 2 sacks on the season. He's being used more as an underneath defender in zone blitz schemes lately as he undercut intermediate receiver routes against USF almost intercepting two passes as he shows off his pure athleticism. Look for youngsters Leroy Godfrey (6-2, 235, RSo.) and David Anenih (6-2, 228, Fr.) to continue to see more playing time at outside linebacker as the two made plays against the Bulls, with Godfrey adding 6 total tackles (4 solo, 2 for loss) and 2 sacks. Anenih had 3 solo stops, including one for loss and a sack, his second of the season in six games.
Defensively for the Pirates, there's no sugar coating their play this season under coordinator Robert Prunty 4-2-5 base scheme that can't get to the QB no matter if they blitz or stunt and stem up front (just 10 sacks which ranks 114th and 27 TFL which ranks 129th). East Carolina is dead last nationally in points allowed, 45.9 per-game, total offense, 577.6 yards-per-game, and are next to last in pass defense, 326.8 yards allowed and 124th in rushing at 250.9 yards per game. Prunty, also the defensive line coach, was named the DC after Kenwick Thompson was reassigned after their second game.
The Cougars offense, under first year coordinator Brian Johnson is averaging 27.4 points-per-game (71st) and 440 yards of total offense (42nd); 256.9 passing (25th), 183.1 rushing (46th). There is hope for the future however as the reigns were finally unleased on D'Eriq King (5-11, 190, So.) playing full time at quarterback. While giving the true sophomore simple reads in the passing game, completing 12-of-20 for 137 yards and a touchdown, it's King's ability in the run game that should scare opponents as the Manvel product ran for 83 yards on 20 carries against USF last week, including a game winning 20-yarder in which he looked left initially, pulled the ball down, started to run, cut back then ran 20 yards unimpeded to his left for the game winner. That shiftiness and unpredictability is what will worry the Pirates defense as they play a lot of freshmen and have played inconsistent due to shuffling players in and out of the lineup due to injuries.
The Pirates line up front with Jalen Price (6-2, 299, So.) and Kendall Futrell (6-2, 230, So.) at the two defensive end spots with Shaun James (6-4, 274, Jr.) and Chandon Hickerson (6-3, 230, RFr.) seeing plenty of snaps in reserve. With Price the only player on the 2-deep at the two end spots having played all five games, they combine for only one sack and two TFL. James is athletic for his size as he'll drop back in coverage when the Pirates use one of their zone blitzes.
At defensive tackle, Tyree Owens (6-4, 285, Jr.) and Alex Turner (6-2, 287, So.) start with Raequan Pervis (6-2, 278, Fr.) and Mike Myers (6-0, 283, So.) in reserve. With youth and you guessed it, injury issues leading to inconsistent play, the interior of the line combines for only 5 TFL (with 3.5 going to Owens who's played all 8 games) and 2 sacks. Gaelin Elmore (6-6, 275) is a graduate transfer from Minnesota who can play inside and out and would have better stats, no TFL or sacks, if not for injury issues with his ankles.
Speaking of injury issues, the Coogs offensive line suffered their first injury of the season last week as left tackle Josh Jones (6-5, 303, RSo.) left the game early with a knee strain. He's out this week but Jarrid Williams (6-6, 295, RSo.) played well in his place with the help of the tight end duo of Alex Leslie (6-5, 240, Sr.) and Romello Brooker (6-3, 240, Jr.) lined up over him to help chip on edge rushers. Braylon Jones (6-3, 311, So.), Will Noble (6-4, 297, Jr.), Marcus Oliver (6-3, 300, Sr.) and Na'Ty Rogers (6'5, 302, Sr.), from left guard to right tackle, did a nice job against a strong Bulls rush defense as the Coogs ran for 255 yards on 48 carries, against a USF defense that had been ranked NINTH nationally, allowing just 94 per game on the ground.
With both Dillon Birden (5-10, 200, Sr.) and his 5.6 yards-per-carry average (333 yards on 60 carries) and Duke Catalon (6-0, 215, Jr.) either out (Birden) or ailing (Catalon), it was Mulbah Car (6-0, 210, So.) who became the workhorse for the Coogs as he rushed for 137 yards on 18 carries and a TD. In one series in the third quarter he carried all four times, for 74 yards including a 44-yard run in which he was brought down at the Bulls 4-yard line. The true sophomore is the closest back the Coogs have to Kenneth Farrow, who he reminds me of when blocking or exploding through the hole and not being brought down by one tackler as he always keeps his legs moving. In the two games in which he's received more than a cursory look, he's rushed for 7.6 yards-per carry, combining for 205 yards on 27 carries including 67 yards on 9 carries against SMU.
When the Coogs do run chances are they'll be met by inside linebacker Jordan Williams (6-0, 230, Sr.), the Pirates leading tackler with 63, 28 solo, and 2.5 for loss. Joining Williams inside is true freshman Aaron Ramseur (6-1, 213) who has 38 tackles, 17 solo, and an interception. In reserve is a player with a perfect name for a linebacker, Cannon Gibbs (6-2, 230, Jr.) who adds 47 tackles, 19 solo, and two passes defended including an interception.
As you can see the Pirates are not big up front, so the Coogs O should be able to establish a run game quite easily, setting up play-action. King's main two targets will obviously be Linell Bonner (6-0, 200, Sr.) in the slot and Steven Dunbar (6-3, 202, Sr) at one outside receiver spot. Bonner is a superb route runner who has a knack for finding space in the opposing defense's zone scheme, giving his quarterbacks a dependable target, especially on third down, catching 51 passes for 505 yards and 3 TD's while Dunbar adds 50 for 524 with a TD as a physical consistent presence outside. The other outside receiver spot has been inconsistent all year long but a new star may have emerged in the form of Courtney Lark (6-2, 195, So.) who had two spectacular receptions for 69 yards including a 39-yard post from King to begin the third quarter and a spectacular 30-yard reception in traffic on fourth-and-24 on the game winning drive. It's catches like that that will keep Keith Corbin (6-3, 193, So.) benched as the Bellaire product didn't even make the trip to Tampa as head coach Major Applewhite stated he needed "to clear his mind and reset," regarding his inconsistency in blocking during quick screen passes and dropping balls that comes his way. That keeping his head screwed on straight sounds more like an attitude issue to me though. John Leday (6-0, 200, Sr.) and his 25 catches for 161 yards and a TD are on the shelf due to a concussion while Ellis Jefferson (6-4, 220, Sr.) and his 3 catches for 32 yards and a TD is also probably sidelined due to lingering knee issues that have kept him to only playing 4 games this season. A team usually needs more than three receivers stepping up throughout the season. Will a younger receiver such as Terry Mark (6-1, 195, So.) or veteran Derek McLemore (5-10, 187, Sr.) step up to help Bonner, Dunbar and Lark?
East Carolina's secondary has the usual issues one would associate with a bad pass defense; mainly communication issues, bad fundamentals and missed tackles. The Pirates have five walk-on's and quite a few freshmen and first year starters making contributions defensively, which will always lead to inconsistent play. Marcus Holton Jr. (6-0, 165, Jr.) and Colby Gore (5-11, 172, So.) are the Pirates two starting cornerbacks with Chris Love (5-10, 180, Sr.) and Travis Phillips (5-11, 178, Sr.) backing them up. Gore leads the defensive backfield with 4 pass breakups while Love adds 3. Roaming the middle are Bobby Fulp (6-4, 204, Sr.) at strong safety who's third on the D with 41 tackles, 26 solo, and an interception while true freshman Davondre Robinson (6-0, 190) plays free safety, adding 22 tackles, 10 solo, a pass breakup and a fumble recovery. Korrin Wiggins (6-0, 200, Sr.) rotates at both spots and leads the team with 31 solo tackles, 58 total, and adds an interception. Devon Sutton (5-11, 198, So.) and Tim Irvin (5-9, 192, So.) rotate at the nickel spot, adding a combined 44 solo tackles, 24 by Sutton as his 4.5 TFL is second on the team.
Special Teams
Brandon McDowell (5-9, 183, Sr.) will be both the kickoff and punt returner with Leday's concussion as the Texas State grad transfer averages 40 yards on two kick returns and just 3.4 yards on 11 punt returns. The sledding isn't any easier for the Pirates as Quay Johnson and Tim Irvin combine for minus-1 yards on two punt returns and they average just 19.5 yards on kick returns.
Dane Roy (6-7, 240, So.) had a career game last week, averaging 48 yards on his 8 punts and averages blank yards-per-punt but this season and has pinned opponents inside their 20 on blank of his 42 total punts while forcing another 21 fair catches. East Carolina punter Austin Barnes (5-11, 217, Sr.) averages 43.6 yards on his 41 punts with 13 of 50 plus yards while pinning opponent's inside their own 20 an additional 12.
Houston place kicker Caden Novikoff (5-10, 190, Jr.) has connected on 7-of-9 field goals while ECU's Jake Verity (6-1, 170, So.) is 11-for-16 with 4 of his misses coming from beyond 40 yards while he's had one blocked from closer range.
Keys to the game
East Carolina is statistically bad in just about every category but may be getting a lot of injured players back. The main key, besides the usual of turnover margin (the Coogs are at minus-3 while the Pirates are at minus-7), penalties (both average in the bottom 40) and red zone scoring (ECU scores TD's just 57-percent while the Coogs convert on 71-percent) will be for the Cougars just to play their game. Shut down the Pirates run game early to put them in predictable passing situations where they can tee off on Sirk or Minshew. Offensively the Coogs need to establish their own run game so they can pass when they want, not when they have too. In the end the Coogs dominate both lines of scrimmage and thus the game.
Final Prediction
Houston 49
East Carolina 21