http://www.uhcougars.com/sports/m-baskbl/spec-rel/011618aag.html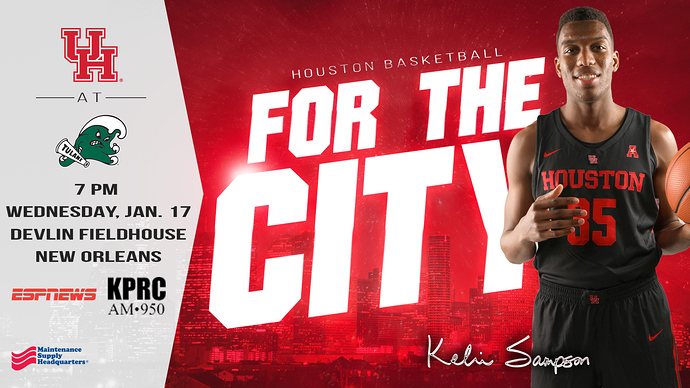 ABOUT TULANE
• Tulane brings an 11-6 overall record and 2-3 mark in The American into Wednesday's game.
• Green Wave has lost its last two and three of its last four games.
• In its most recent action, Tulane dropped a 67-57 decision to UConn in New Orleans on Saturday.
• Against UConn, junior guard Melvin Frazier totaled 16 points on 8-of-14 shooting and grabbed three rebounds with three assists and three steals… Senior forward Cameron Reynolds added 13 points with a game-high seven rebounds and two blocks, while sophomore guard Ray Ona Embo added 12 points with a team-high six rebounds and two assists.
_• This season, Frazier leads Tulane with 17.5 points per game… Reynolds ranks second on the team with 16.1 points per game but leads the Green Wave with 6.5 rebounds per contest… Junior guard Jordan Cornish is tops with 3.8 assists per game. _
• Head Coach Mike Dunleavy is in his second season at Tulane and as an NCAA Division I collegiate head coach.
• Has compiled a 17-31 record at and Tulane and during his collegiate career.
• Posted a 613-716 record in 17 years with four teams as an NBA head coach. • Previously served as head coach of the NBA's Los Angeles Clippers (215- 326 record, 2003-10); Portland Trail Blazers (190-106 record, 1997-01); Milwaukee Bucks (107-221 record, 1992-96) and Los Angeles Lakers (101-63 record, 1990-92).
• Dunleavy is 0-2 against Houston during his career… Is 0-2 against Houston Head Coach Kelvin Sampson during their careers.
• 1976 graduate of South Carolina.