Post game analysis: Navy
By: Jimmy Schofield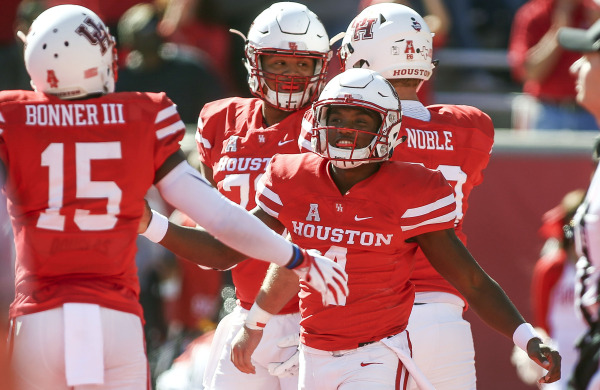 photo courtesy uhcougars.com
Behind a fantastic second half effort in all three phases of the game, your Houston Cougars finished out their regular season with a victory on senior day, scoring the final 17 points to defeat Navy 24-14 at TDECU Stadium on 'Black Friday.' Coogfans.com breaks down the game.
Defense
Navy entered the game averaging 360 yards-per-game, ranking them SECOND nationally. Houston's rush defense allowed 143 yards (39th). The Midshipmen rushed for 163 yards on 35 carries in the first half led by their full backs who had 76 yards on 15 carries, good for a 5 yards-per-carry average. While partly due to game circumstances (falling behind by two scores in the fourth quarter), I'm not quite sure why Navy went away from the dive as they attempted it only FIVE times in the second half, for just 7 yards. With this basic staple of the triple option not available, the Middies rushed for just 43 second half yards on 25 carries (including 21 lost yards via three sacks and a reverse that was run out of bounds) as the defensive line did a better job of getting off blocks in the second half. For the game they ran for just 217 yards on 60 attempts.
It's easy to see why Navy abandoned the dive, with Ed Oliver and Jerard Carter destroying Navy's offensive line at the point of attack as Big Ed amassed a game high 14 tackles (9 solo), including 3.5 for loss and 2 sacks. The only time Navy's offensive line had success against Oliver is when they attempted to illegally chop block him. Carter and Nick Thurman combined for the other sack while Carter added 7 tackles (6 solo) as he's been a beast since his return.
With the down linemen controlling the line of scrimmage, it was up to the back-7 to string the option game to the sidelines which they did for the most part Friday afternoon. Middle linebackers Matt Adams and D'Juan Hines had a combined 19 tackles (11 for Hines including 2.5 for loss). Outside linebackers Emeke Egbule and Leroy Godfrey combined for 11 tackles and another 2 for loss in also stringing out plays horizontally so teammates could gang tackle.
In all, three Navy quarterbacks ran for 53 yards on 16 keepers while four slot backs rushed for 91 yards on 20 carries via the pitch, counter or toss plays. The secondary also had a lot to do with the more than effective rush defense as cornerback Alexander Myres had 8 tackles (5 solo) and an interception on a deep pass on Navy's final drive of the game. Jeremy Winchester added 5 tackles while Isaiah Johnson added a solo stop. Safeties Terrell Williams and Garrett Davis added a combined 10 tackles (6 for Williams) while nickel back Khalil Williams was still limited by a knee injury as he had 3 tackles in limited snaps. Against an offense that can burn any defense deep via play-action, the "Jack Boys" did fairly well, allowing 3-for-8 passing for 74 yards, getting burned deep just once on a 45-yard pass when Adams got caught looking in the backfield with T. Williams not able to make a play as the deep safety.
Offense
While Josh Jones returned at left tackle, the offensive line is still struggling blocking for the inside run game as Houston rushed for just 103 yards on 32 carries for a 3.2 yards-per-carry average. With Duke Catalon (7 rushes, 27 yards) and Mulbah Car (7 yards, 7 carries) still seeming a bit slow due to a season's accumulation of injuries, the run game was on the shoulders of quarterback D'Eriq King as their favorite play was the 'QB power' run, with either Car or Catalon serving as lead blocker. King rushed for a team high 57 yards on 16 carries with 2 TD runs of 9 and 2 yards.
With the offensive line of Jones, Braylon Jones, Will Noble, Marcus Oliver and Na'Ty Rogers unable to get the run game on track, the quick short passing game had to substitute for it instead. In just his third start, King completed 21-of-27 passes for 277 yards and a TD. For the season in three starts (plus the USF game in which he basically played the entire game at QB minus the first two possessions), the Manvel product is completing 70-percent of his passes (66-for-94) while averaging 243 yards through the air and is responsible for 12 touchdowns (5 passing, 7 rushing) while turning it over three times (2 fumbles and an interception).
While the wide receivers as a whole left something to be desired blocking in the quick, short screen game, the usual suspects stepped up in catching the ball, namely Linell Bonner and Steven Dunbar. Leaving late in the third quarter (and seen on the sideline with his arm in a sling), Bonner still had a fantastic game with 98 yards on 8 receptions. Dunbar had an even better game with 142 yards on 8 catches himself including a 61-yard touchdown on a stop-and-go that was beautifully thrown by King. After a quick cut back, Dunbar ran 40 yards for the score giving the Coogs a 21-14 lead they wouldn't relinquish. The play was set up beautifully by King as he held the deep safety with his eyes and a pump fake left before throwing right down field to Dunbar. By my unofficial count, for the season King has completed 16-of-25 deep balls (passes that traveled 20 or more yards in the air) for 492 yards (30 yards-per-completion). Derek McLemore also stepped up after Bonner left, catching a pass for 22 yards and rushing for 13 on a reverse.
Special Teams
Coordinator James Casey couldn't have been happy with his units' performance Saturday afternoon with multiple mistakes. Brandon McDowell fumbled a kick return. Punter Dane Roy averaged just 36 yards on 4 punts, though he recovered with 2 good punts after his first 2 didn't clear the 40-yard mark. The punt coverage unit also allowed a 15-yard return. On the plus side, McDowell did have his best game returning punts, with 25 yards on 3 returns and Caden Novikoff added a 35-yard field goal and is now 10-for-12 on the season.
Overall, the coaching of Major Applewhite and coordinators Mark D'Onofrio and Brian Johnson made nice second half adjustments. D'Onofrio moved Oliver around on the defensive line so the super-sophomore wouldn't face as many double teams, also freeing him up for a sack via a twist. Give Johnson credit as play-caller in staying patient with the inside run game and short passing game as it set up King's deep touchdown to Dunbar. With just a bowl game remaining, the coaching staff must continue working on the mental errors that lead to two turnovers and penalties (4 for 43 yards), one of which wiped a touchdown off the board when a Dunbar hold called back a Catalon 13-yard reception.
Stay logged into Coogfans as we preview the bowl game the week of the game.