2017 Game 2 Post game analysis: Rice
By: Jimmy Schofield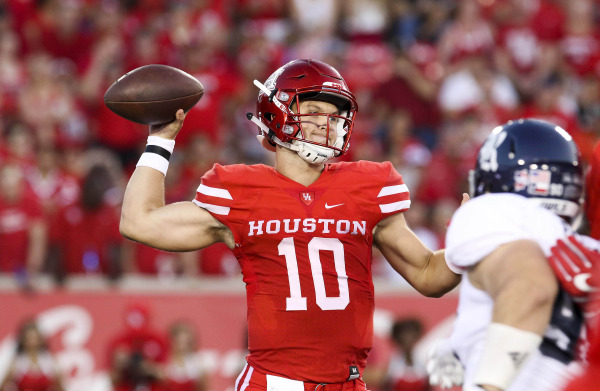 photo courtesy uhcougars.com
Your Houston Cougars returned to the friendly confines of TDECU Stadium before a crowd of 38,900 Saturday night, retaining the "Bayou Bucket" by a final of 38-3 over the Rice Owls for their second win of the season.
Coogfans breaks down the offense, defense and special teams:
Offense
After punting on their first series, the Coogs would score on their next six behind a flurry of offense to take a 38-0 lead to the locker room. Quarterback Kyle Allen completed an amazing 31-of-33 attempts for 309 yards with 2 touchdown passes. And that was just in two-and-a-half quarters as he was pulled midway through the third for Kyle Postma who completed 3-of-5 passes for 45 yards himself.
If there's one thing first year head coach and offensive coordinator Major Applewhite and Brian Johnson are going to do this year, it's establish the run. Against a small Rice defensive front, the Coogs rushed for 130 yards on 37 attempts, but don't let that stat fool you as they took their foot off the petal in the second half.
After that first drive in which they rushed just three times for minus-9 yards (thanks to a sack), running backs Dillon Birden and Duke Catalon went to work combining for 42 yards on 7 carries and a touchdown (by Birden) over the next few series as the Coogs would go up 17-0 in the blink of an eye thanks to defense and turnovers, which we'll get to in a second. With the score getting out of hand so early, and the offense showing so much depth, Catalon and Birden combined for just 12 carries for 43 yards for two touchdowns with Catalon carrying 7 times for 31 yards and a score with Birden 4 for 12 and a score. Mulbah Car led the rushing attack with 11 carries for 59 yards and a TD. Patrick Carr had his first carries as a Cougar adding 10 yards on four carries with true freshman Davion Mitchell surprising with 23 yards on 6 totes.
As opposed to last week, Johnson opened up the offense with a plethora of wide receiver screens, crossers over the middle, comebacks, and the ever present "push passes" which to me serve as a run. When the offense got into a rhythm, which was basically the first half minus that first possession, Johnson had the offense go tempo, which started wearing down Rice up front.
Slot receiver Linell Bonner had 10 receptions for 132 yards with John Leday (taking over for Ellis Jefferson) adding 7 catches for 60 yards (and a TD via a push pass) and Steven Dunbar 6 for 57 from the other outside receiver spot. Keith Corbin and Courtney Lark each caught two passes, for 14 and 31 yards respectively, while the running backs combined for 26 yards on 4 grabs with Catalon adding a touchdown on a 10-yard swing pass. Tight end Alex Leslie made his 2017 debut with a catch for 12 yards and Romello Brooker had one for 11.
The offensive line of Josh Jones, Braylon Jones, Will Noble, Marcus Oliver and Na'Ty Rogers had a nice game once again getting good push up front, though they did allow some early pressure from Rice and surrendered two sacks and 6 TFL in the game. Jarrid Williams, Deon Mix, Ryan Deshotel, Keenan Murphy and true freshman Dennis Bardwell would sub in the second half showing the two-deep along the line.
Defense
As in my game preview, while I wasn't worried about Rice hurting the Cougars running the ball along the interior, I was along the edge, and the few times the Owls did have in running the ball, it was outside the box. But honestly it was too few and far times in between to really worry as the Owls had just 48 yards on their first 24 plays from scrimmage over their first 8 possessions. And that was including a 20-yard pass from quarterback Sam Glaesmann to Samuel Stewart via a wheel route. Both would be knocked out of the game from the hard hitting "Third Ward Defense" as the Owls would total just 129 yards rushing on 30 attempts while adding 113 through the air on 11-of-25 passing.
Ed Oliver had 6 tackles from his nose guard spot including one for loss but forced a fumble after chasing a quarterback down the field 10 yards for the second week in a row. With down lineman teammates Nick Thurman and Reggie Chevis stout up front once again, middle linebacker Matt Adams was free to terrorize the Owls offensive line at the line of scrimmage as he had a game high 11 tackles, 2 for loss, a fumble recovery and a pass breakup. I'd like to see more from fellow starting linebackers Emeke Egbule and D'Juan Hines as they combined for just 5 tackles but Leroy Godfrey added a fumble recovery and a TFL.
The surprise of the defense was true freshman Payton Turner, who at 240 pounds (but was listed at 217 after signing day) lined up at rush linebacker spot and added an interception early in the game as he tipped the ball to himself in a very athletic play. Austin Robinson and Roman Brown also made their debuts at linebacker with 6 combined tackles.
The "Jack Boys" played well with nickel back Khalil Williams adding 2 TFL and a sack as defensive coordinator Mark D'Onofrio had his secondary playing up close to the line of scrimmage as he knew the Owls couldn't withstand the pressure from the front-7. Jeremy Winchester had a TFL and sack on a few corner blitzes with Alexander Myres and strong safety Terrell Williams adding a pass breakup each. Free safety Garrett Davis had 7 tackles including one for loss as he continues making plays all over the field.
Special Teams
Kicker Caden Novikoff is now 2-for-4 on the young season, missing both of his field goals from more than 30 yards out. That's something that needs to alert Applewhite and have Dalton Weatherspoon ready in the bullpen. The Owls returned six of his kickoffs but only started outside of their own 20-yard line once in the first half. Punter Dane Roy placed all three of his punts inside the 20 with the coverage teams now allowing any returns. Brandon McDowell and Collin Wilder combined for just 6 punt return yards on 3 returns with McDowell returning his lone kickoff 35 yards.
In all it was a solid victory and nice game in all three phases as the Coogs put the Owls away early, allowing a lot of young players to see the field. The team forced three turnovers (scoring 17 point off of them), crossed the goal line five times in seven red zone opportunities, and committed just 2 penalties for 10 yards.
Stay logged into Coogfans as we preview next Saturday's game as old friend Kliff Kingsbury and the Texas Tech Red Raiders invade TDECU Stadium.