Game 5 post game analysis: SMU
By: Jimmy Schofield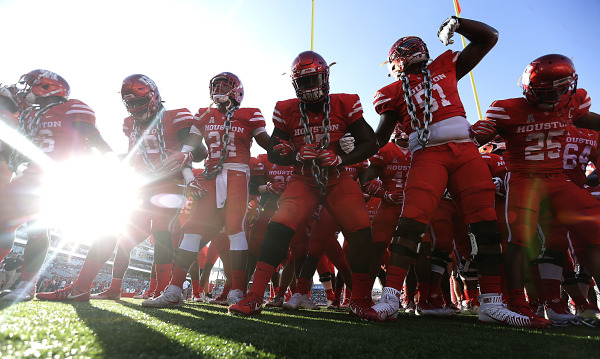 photo courtesy uhcougars.com
Behind a breakout rushing performance and solid tackling on defense, your Houston Cougars defeated the SMU Mustangs before an audience of 31,153 Saturday night at TDECU Stadium to move to 4-1 on the season and 2-0 in American Athletic Conference action. Coogfans.com takes a look at all three phases of the game.
Offense
The offensive line of Josh Jones, Braylon Jones, Will Noble, Marcus Oliver and Na'Ty Rogers had their best game of the season as the team rushed for a season high of 265 yards on 40 carries for an impressive 6.6 yards-per-carry average. The line worked well together whether in their zone or man blocking schemes. Braylon Jones and Marcus Oliver did a nice job on pulls of getting to the second level to clear room for the running backs.
Duke Catalon had a career game with 177 yards on 22 carries (8 ypc) and two touchdowns of 52 and 16 yards. He also added a 38-yard run and was consistently churning out positive yards as he avoided "dancing" behind the line of scrimmage. He hit the holes without hesitation and wasn't touched until at least five yards past the line of scrimmage on many of his runs in a breakout performance awaiting many a "Coogfans."
With Dillon Birden out due to an undisclosed injury, sophomore Mulbah Car stepped up with 67 yards on 9 carries (7.4 ypc) as he also was a physical runner, gaining many of his yards after contact and provided Catalon a breather after a career high 22 carries.
One surprising aspect of the game was the lack of the quarterback run game. Kyle Postma only ran 7 times, for just 26 yards with 14 yards on 4 carries via the zone read option and losing five on a draw. He was flushed out of the pocket twice, gaining 13 yards in those instances. He also lost five yards on a bad snap by Noble (which has been an unforeseen pattern this year).
With the Coogs controlling the game up front, offensive coordinator Brian Johnson was able to call a game that Postma could manage easily as he completed 19-of-27 passes for 176 yards. In order to help his offensive line (the Ponies entered the game leading the nation with 21 sacks but had a big fat goose egg on Saturday), Johnson had Postma get the ball out of his hands via quick screens on 8 occasions, completing all 8 of those passes for 56 yards. That 8-yard average per quick screen acts as an extended hand-off in the run game and needs the wide receiver unit to block well, which they did.
Johnson also had Postma rolling out of the pocket, in which the senior hit 3-of-4 of those passes for 37 yards. He was a perfect 3-for-3 for 37 yards when standing in the pocket to deliver crossing patterns that were on strike. Postma completed 2-of-3 passes for 15 yards on called inside screens. He was only pressured out of the pocket once, completing that pass for 4 yards to Catalon early in the game. He hit wide receiver Steven Dunbar twice on back shoulder fades for 27 yards. With the running game working as efficiently as it was, Postma took five deep shots, not completing any of them, though slot receiver D'Eriq King could have caught one of them and Catalon dropped an easy pass over the middle that could have been a 30 plus yard touchdown. There were also three called pass interference calls on SMU's secondary not included in that, two to Dunbar and one to King.
With slot receiver Linell Bonner out due to a concussion, Postma spread the ball around nicely with both Dunbar and King catching 6 passes, for 65 and 47 yards respectively. Five of King's catches were via quick throws to the slot, including one for 18 yards in which he made a Mustang defender miss and took to the house for the first touchdown of the game for Houston. John Leday, Keith Corbin and Ellis Jefferson each caught two passes for a combined 55 yards. Jefferson had his first touchdown on a 3-yard catch via a nice "rub" from King. Johnson had SMU off balance all night, even calling a trick play in which Leday took a hand-off via a jet sweep, handed it off to King who threw to a wide open Postma for an easy pitch-and-catch for a 22-yard touchdown reception. Postma now has 167 career receiving yards on just 7 catches (23.9 yards-per-reception) and two TD's.
The one negative of the evening was turnovers. Postma, like Kyle Allen before him, continues to force passes, especially down field. Instead of attempting to read coverages post snap, he goes with a pre-snap read and throws the ball regardless of how the coverage has changed post-snap. This happened twice on his two interceptions, forcing the ball into double coverage on deep attempts.
Defense
The game plan appeared to be to make SMU dink-and-dunk its way down the field and not giving up the big play, which worked for the most part. It's a sound plan considering the front-7 hasn't been able to get pressure on opposing quarterbacks via 4-man fronts or the blitz.
Ed Oliver surprisingly played and was his normal dominating self at the nose with 4 solo stops, 3 pressures and a pass breakup. The Ponies still rushed for 147 yards and averaged 5.7 yards-per-carry but had to abandon the run game in the fourth quarter since they were down by two scores.
The double teams on Oliver once again allowed Reggie Chevis and Nick Thurman to work one-on-one for the most part. Chevis had his best game, stats wise, with 4 tackles including 1.5 for loss and half a sack. Thurman had 4 tackles, 3 solo, on the interior as well. Payton Turner also added 3 tackles, 2 solo, and a hurry in reserve along the D-line.
Matt Adams, who entered the game averaging over 10 tackles-per-game, had just 5, with just half a TFL and a sack. D'Juan Hines had 4 tackles and a hurry (that led to an interception late) and Emeke Egbule contributed just two tackles and no pressures.
The stars of the game defensively for defensive coordinator Mark D'Onofrio had to be the secondary, which sounds weird to say as SMU QB Ben Hicks completed 41-of-58 passes for 397 yards with a touchdown, but did throw two interceptions.
The defensive backs gave a lot of cushion, allowing star receivers Courtland Sutton and Trey Quinn a combined 28 catches for 316 yards and a TD, but the "Jack Boys" tackled well in space, led by cornerback Isaiah Johnson who had 11 solo stops. Jeremy Winchester had 5 solo tackles and a pass breakup as the two both covered Sutton and Quinn on the outside with mixed success. The thing that impressed me the most is after allowing big plays, they stepped right up and made a positive play soon thereafter. Alexander Myres added 5 solo tackles and 2 pass breakups in what's becoming a solid three-man rotation at corner, though Joeal Williams has been seeing more snaps and contributed Saturday with a sack via a zone pressure with linebacker David Anenih bringing the heat.
Outside linebacker/nickel Khalil Williams had 6 solo stops (9 total) as he was all over the field and provided some big hits over the middle, though he still strikes too high for my liking, allowing opponents to bounce off him at times. He needs to go lower and wrap up in my opinion, but 25 of his 28 tackles this season are solo so one can't complain too much.
One week after free safety Garrett Davis picked off two Temple passes, strong safety Terrell Williams took his turn with two interceptions this week, also adding 3 solo stops (5 total tackles) and a pass breakup. Davis injured his shoulder early in the game but played anyway and would have had an interception late if he could have raised both arms up, finishing the game with 5 total tackles.
Special Teams
Special teams play was solid, despite allowing two kick returns for a 31-yard average. Kicker Caden Novikoff had 4 touchbacks on 6 total kickoffs. Punter Dane Roy averaged just 36 yards on his 4 punts, pinning the Ponies inside their 20-yard line once. The Ponies didn't return a punt.
Leday returned 4 kicks for 100 yards, including one for 35 late in the game. The Coogs didn't return a punt. SMU really hurt themselves with a missed extra point and a 30 yard field goal.
Overall the game played out opposite of what I predicted in my game preview article; though SMU was able to run on the "Third Ward Defense," the Cougars controlled the tempo with their run game, allowing Johnson to call pass plays when he wanted instead of being dictated to like the Ponies offense was for most of the second half. The Coogs also crossed the goal line all three times they got inside the 20-yard line while SMU had just four scores in six opportunities, but only two touchdowns. Giving away all those scoring chances along with nearly 100 yards in penalties (to only 48 for Houston), really put them behind the 8-ball in a game they controlled through the first quarter. I give the game planning a solid "A" and the execution an A-minus. Head coach Major Applewhite did a nice job getting his guys motivated to play a tough opponent.
Stay logged into Coogfans throughout the week for news on our Cougars and my Tulsa game preview later in the week.