Game 4 post game analysis: Temple
By: Jimmy Schofield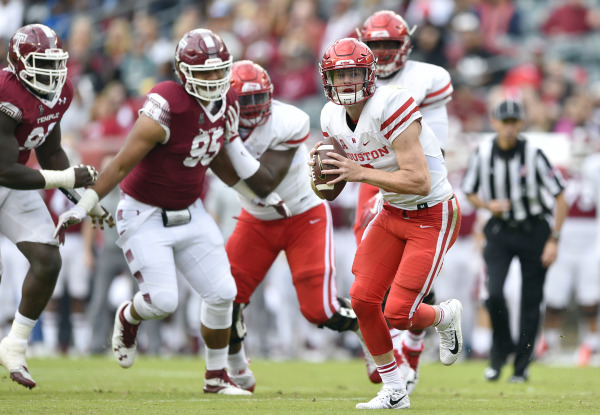 photo courtesy uhcougars.com
In a game that felt like it shouldn't have been as close as the score indicated, your Houston Cougars (3-1, 1-0) took the Temple Owls best punch and came home with a hard fought 20-13 victory in their first American Athletic Conference game of the season. Coogfans.com looks at each phase of the game.
Offense
In a surprising move Kyle Postma was named the starting quarterback despite media reports that Kyle Allen would start for the fourth consecutive game. Postma completed 25-of-36 passes for 236 yards with a touchdown and an interception. He also rushed for 81 yards on 15 carries, giving the offense an element it had been missing over the first three games; the zone read option. With 162 rushing yards, on 31 carries (for a season best 5.2 yards-per-carry average), the offense totaled 388 yards and averaged 6.2 yards-per-play.
Although the offense was efficient, the lack of big play ability was the main reason the Coogs scored on just four of 11 possessions. Under offensive coordinator Brian Johnson, they came out using 4 WR sets to spread Temple's speedy defense, taking away their aggressiveness by making them defend the field sideline to sideline.
I'd like to see more deep shots like late in first half when Postma pumped to the sideline then hit Keith Corbin deep for 39 yards (his only catch of the game). Postma played pitch-and-catch with Linell Bonner for most of the game as the former walk-on did a nice job in finding holes in Temple's zone as he had 6 receptions for 43 yards from his slot position. He also added a touchdown on a nice throw from Postma on a 9-yard fade to the back corner of the end zone for the Coogs final points of the game. Postma also had some nice connections with outside receiver Steven Dunbar, who had 6 catches for 78 yards, including a nice 14-yard grab on a back-shoulder fade in the first half on a third down play in which he had to high-point the ball over his defender. Dunbar also made a few defenders miss and had some nice yards after the catch on inside screens.
D'Eriq King also continued being a jack of all trades type weapon as he led the receivers with 7 catches for 51 yards, while adding 15 yards on the ground on 4 carries and the team's only rushing TD (on a 13-yard end around early in the game). As a receiver King had 5 receptions for 25 yards on swing passes coming out of the backfield and 2 catches for 26 yards lined up in the slot. Though head coach Major Applewhite says he has a quarterback package in place for King, he only lined up behind center twice running predictable draws for no yards.
Postma was the most effective runner in the first half with 59 yards on 9 carries. For the game he had 81 yards on 15 carries. He's able to add the zone read option element back into the offense as well as giving the Coogs the advantage in the numbers game on called QB runs as the running back is used as an extra blocker. For the game Postma had 33 yards on 7 zone read option keepers. This play was particularly effective on the stretch zone when King would motion into the backfield for a two-back set look. On called draws he had 45 yards on 5 carries, with a high of 35, and just 3 yards on 3 carries when he was forced out of the pocket via pressures. But unlike Allen, even on those pressures he can make a positive play out of a negative one.
One play Postma kept alive was a third-and-goal from the 18-yard line. He escaped pressure and avoided the sack. He ended up throwing an incompletion in the end zone but the offense got three points out of it via a field goal for a 13-0 lead late in the first half. With Allen that's probably a sack and pushing the offense out of goal range.
Dillon Birden only carried the rock 4 times in the first half for 27 yards, with a long of 14. He carried twice in the second, for 7 yards, before leaving with an injury. Duke Catalon dropped a swing pass for his only touch in the first half. In the second he had 32 yards on 6 carries with a few first downs on draws up the middle.
No matter the offense Johnson and Applewhite want to call, the offensive line of Josh Jones, Braylon Jones, Will Noble, Marcus Oliver and Na'Ty Rogers need to get a better push up front on both pass and run blocking if the offense is to be successful.
Defense
Speaking of no push up front, that pretty much explains what happened to defensive coordinator Mark D'Onofrio's unit in the second half. Temple rushed for minus-8 yards in the first half, 150 in the second. Not only were they gashed up the middle but also lost contain on the edges on more than a few runs for my liking.
That's going to happen when J.J. Watt, excuse me, Ed Oliver leaves at the 3:30 mark of the first quarter with a knee injury. He was seen dancing on the sideline to start the second half so apparently he was taken out just as a precaution.
Aymiel Fleming replaced Oliver and held up well in the first half. In the second he, along with the rest of the front-7 were blown off the ball too many times to count. Nick Thurman, Reggie Chevis and Payton Turner need more help along the defensive front as they've appeared to tire out in three of four games that were close so far this season. The down linemen had a combined 11 tackles, 8 solo with Oliver registering just one in not a full quarter of play.
It's also apparent D'Onofrio isn't going to help them with as little blitzing as he's called this year as the base defense lines up in 3 and 4-man fronts. When a blitz is called it's usually nickel back Khalil Williams (4 tackles, 1 for loss and a pass breakup) off the edge. Middle linebacker Matt Adams led the D with 9 tackles and forced a fumble despite leaving the game near the 7-minute mark of the second quarter. The very next play resulted in a 22-yard completion over the middle on a third-and-4 with D'Juan Hines (9 tackles including one for loss) in coverage. Adams would later return to the game but Oliver would not. Outside linebacker Emeke Egbule had 4 solo stops, a tackle-for-loss and the defense's only sack before also leaving right before the half with an apparent hand injury. He would also not return for the rest of the game.
I'm assuming the reason why so many blitzes aren't called is because D'Onofrio doesn't have the confidence to leave his corner backs on islands as he had them playing way off in coverage. Of course, that strategy helped when Isaiah Johnson (4 tackles, 2 solo) intercepted a pass via his zone drop off a tipped pass by safety Terrell Williams (4 tackles). Johnson also had a pass breakup and almost intercepted another pass via jumping the route. Jeremy Winchester, also injured late in the game, had 4 tackles and a forced fumble but was burned a few times deep.
There continues to be communication issues in the back end, but again that's to be expected playing such a loose zone in passing defenders off from one level to the next. The secondary also continues missing too many one-on-one tackles. Multiple drops by Temple receivers and an inaccurate quarterback didn't help their cause. Free safety Garrett Davis had two interceptions and 5 total tackles but must help shore up those communication issues as the leader of the defensive back field.
Special teams
The game didn't start out well as kicker Caden Novikoff kicked the ball out of bounds and receiver Terry Mark added a personal foul giving Temple the ball at midfield. A hold on Terrell Williams negated a 35-yard kick return by John Leday, who had 30 yards on 2 returns. Derek McLemore also had a kick return for 25 yards. Brandon McDowell had a few fair catches on punts.
Novikoff didn't kick the ball as deep as he had the previous games as he had no touchbacks on his five kickoffs with Temple returning four of them for 96 yards. The first-year kicker also connected on his two field goal attempts, from 25 and 35 yards out.
Punter Dane Roy continues to give the defense nice starting field position as he pinned Temple inside their own 20-yard line on three of his six punts, while averaging 38 yards-per-punt.
Overall, the team is still making too many mistakes, especially penalties (12 for 108), red zone efficiency and drops. Two red zone possessions penalties really hurt. One offensive pass interference call on receiver Ellis Jefferson led to a field goal. On the first possession of second half a flag was thrown for an illegal formation as five men were in the backfield via a bunch formation to the right and a receiver was lined up off the line of scrimmage. That play, caused by the team pushing tempo, cost a four-yard run by Catalon to the 1-yard line and an additional five yards for the penalty itself. It ended up not mattering on that drive as Postma hit Bonner for a TD but it could be costly later in the season. There were also too many drops by my unofficial count; 5. The wide receivers need to step up and help their quarterback out by playing fundamentally sound, which includes better blocking on the outside on run plays.
Stay logged into Coogfans.com as we preview SMU, who comes to TDECU Stadium next Saturday (Oct 7) for a 7pm game to be televised by the CBS Sports Network.