Post Game analysis: Tulane
By: Jimmy Schofield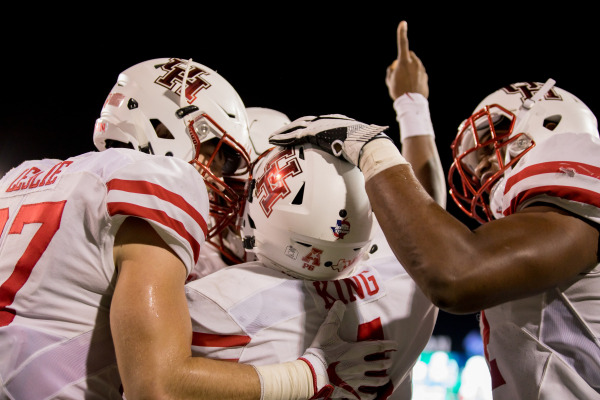 photo courtesy uhcougars.com
The Houston Cougars lost a tough, hard fought game to the Tulane Green Wave Saturday afternoon in New Orleans by the score of 20-17. Coogfans.com breaks down the game and what went wrong.
This game reminded me of the Tulsa game. The Coogs couldn't put the Green Wave away early. Houston had three red zone possessions in the first half and came away with only a field goal on the way to trailing 13-3 at intermission. When playing a team that's less talented, giving them any hope is a sure way to lose the game as they have nothing to lose. That's exactly what happened Saturday afternoon. Tulane took advantage of too many Houston mistakes; penalties, turnovers, missed tackles, lack of communication in the secondary leading to huge plays (which has been a season long problem), and inept play calling offensively. Basically, this was a poorly coached team and coming off an off-week makes it even worse for Coogfans.
Good coaching staffs put their players in position to succeed. Defensive coordinator Mark D'Onofrio puts his players in positions to be laid out to dry by continually having his secondary playing too soft coverage. With under 2-minutes remaining the Coogs led 17-13 and needed one defensive stop to win the game. Tulane's best receiver, Terren Encalade (8 catches, 186 yards) lined up in the slot at the Green Wave's 34-yard line with NOBODY covering him. With an easy release off the line, the 6-foot-1-inch, 190 pounder easily caught a quick slant 10 yards over the middle and took it to the house for a 64-yard TD as middle linebacker Mathew Adams was late picking him up in his zone over the middle. There was no other secondary help. Ball game.
This has been the case too many times this season. Missed tackles, lack of communication and undisciplined play led to Tulane totaling up 417 total yards (166 rushing and 251 passing). Tulane quarterback Jonathan Banks had a career day, completing 17-of-25 passes for 251 yards and said TD to Encalade. Banks entered the game completing just 56-percent of his passes but completed nearly 70-percent Saturday because of the soft coverage by the secondary. Banks threw six "quick passes," basically getting the ball out of his hands upon the snap. The secondary only broke up two passes, by Garrett Davis, whom had 6 tackles including 1 for loss, (in which he probably should have had an interception), and an actual interception by corner Isaiah Johnson. Both Jeremy Winchester and Alexander Myres left the game due to injuries but their lack of communication with the safeties and linebackers has been a problem all season. Tulane was allowed to convert third-and-longs on a 22-yard pass to Encalade in which there was a miscommunication between Winchester and free safety Terrell Williams (7 tackles), 16 yards to outside receiver Darnell Mooney on third-and-10, and the 64-yard TD to Encalade that sealed Houston's fate. Three passes, for 120 yards, were completed to Encalade via the quick slant because he so easily roamed the middle of the field. When staying in the pocket, Banks completed four passes over the middle for 69 yards to various receivers. Four of Banks 8 incompletions were "throw aways" due to pressure.
With it being easy "pitch-and-catch" due to the off-coverage, Banks completed six quick passes for an easy 36 yards. He also completed two passes for 15 yards via "swing passes. Those basically served as outside runs which loosened up the interior for Banks who was able to rush for 68 yards on 16 carries, which leads us to our next point; the coaching staff schemes up bad game plans.
The edge rushers, whether it be a defensive ends or linebacker rushed too far wide to keep Banks in the pocket. The only problem is that strategy doesn't work when there's no help coming for the huge holes on the interior left by said edge rushers. Banks was able to exploit these holes to convert FOUR third downs of 7 or more yards. When he was pressured he ran for 30 yards on 4 carries as the defense always seemed to be a step behind him. Tulane's running backs were limited inside for the most part (Dontrell Hilliard had 52 yards on 18 carries for a 2.9 yards-per-carry average), but patience in the run game allowed a few huge runs by Banks, and Sherman Badie on a 16-yard TD run in which he kept his feet moving once he was bottled up inside, broke free from a tackle (shocker) and bounced outside for the score. Of course it's difficult to play press man coverage when your defense can't generate a pass rush, even when they do blitz. Scheming up pressure hasn't worked either, especially via the delayed blitz for the most part this season as the D has just 19 sacks in 10 games, ranking them 86th nationally.
Jerard Carter played the best up front as he had 7 total tackles (5 solo, 3 TFL and a sack). Nick Thurman and Reggie Chevis added a combined 7 tackles (6 by Thurman). I didn't see Payton Turner or Aymiel Fleming in the game and Zach Vaughan didn't contribute a stat in his limited playing time as the fifth down lineman. Surprisingly, Ed Oliver had only 2 tackles, including 1 for loss and a sack. He continues to be double and sometimes triple teamed and opponents continue to use some questionable tactics in order to slow him down, which appears to be working as refs aren't calling the low chop blocks.
The linebacker play continues to be lacking as well as the "Third Ward Defense" is far removed from the days of having leaders like Marcus McGraw, Derrick Mathews, Elandon Roberts and Steven Taylor manning the middle. Whether it be due to injuries (ankle) or what not, Adams continues to play average as he had 6 tackles. D'Juan Hines has stepped up by default, leading the team in total tackles this season, contributing 7 on Saturday. Leroy Godfrey had a solid game leading the way with 8 tackles including 3 TFL from an outside spot. Emeke Egbule continues to add little to no pressure as he had just 4 solo stops as he's mainly used in coverage via zone drops while D'Onofrio brings the blitz from different players, namely nickel back Khalil Williams, who didn't register a stat in limited playing time due to knee/ankle issues.
The missed tackles by the defense also haven't helped as two time consuming drives in the second quarter (Tulane had 21 minutes of time-of-possession in first half and 36 for the game) almost forced the offense to be perfect, which is unrealistic due to injuries and youth.
Offensively, Brian Johnson is no better as he lacks imagination as a play caller. Going with a quick slant over the middle when trailing and needing a first down to extend a would-be game winning drive with under 3-minutes at the opponent's 32-yard line is unacceptable. Instead of giving the ball to Mulbah Car (72 yards on 19 rushes) or going with a draw for D'Eriq King (141 yards on 10 carries and 2 TD's), Johnson in his infinite wisdom goes with a 4-wide spread look and a quick slant. The OC outsmarted himself as Tulane's defense knew what was coming as a middle linebacker almost intercepted the pass on a simple zone drop designed to take away any quick passes.
To argue why a pass instead of a run at that critical moment begs the question; is it the coaching or the lack of execution? The lack of trust in certain players also factors into each play call, as it's not always on the coaching. Sometimes players just have to make plays. Early in the game at the Tulane 5-yard line Applewhite decided to go for it on fourth-and-1. Reserve left tackle Jarrid Williams (subbing for injured Josh Jones) was pushed aside as Car was stopped for a loss. The same thing happened in the Memphis game; going for the first on fourth-and-short early in the game but not having the confidence to do it late. The offensive line of Williams, Braylon Jones, Will Noble, Marcus Oliver and Na'Ty Rogers continue to struggle on the interior. Car could only muster 10 yards on 9 inside zone runs. Nine rushes amassed 68 yards via the outside zone, led by Jones on pulls. Honestly some of those outside runs could have started as inside runs only for Car to break outside as the holes were simply not there. Duke Catalon carried two times, for zero yards, before leaving due to a nasty looking ankle injury. Davion Mitchel will probably have to shoulder more of a heavier load against Navy on Friday. The true freshman added 9 yards on 2 carries after entering for an injured Car late in the game (Car later returned).
Speaking of players making plays, it's amazing how good a player can make a coach look as King completed 18-for-26 passes for 225 yards. Greg Ward Jr. had been doing that for the past three seasons so a "transition season" had to be expected as Johnson has used three quarterbacks this season to less than stellar results. King will make mistakes, such as tossing a short pass for two yards to Romello Brooker on third-and-long, or an interception in the endzone when he didn't throw the ball deep enough on a fade to his top target in Linell Bonner (7 receptions for 100 yards). But the true sophomore will also make miss-reads in the run game like not following lead blocks of his running backs on called sweeps. Though I could stand to watch QB power runs or simple draws called all day. The Manvel product rushed for 115 yards and 2 TD's on 8 of those plays. He also carried once for 25 yards on a zone read option keeper. As he continues to play the position at this level he'll learn on when to pull the ball and when to give it to his running back on zone read option plays as they could, and will, result in huge plays.
Steven Dunbar had perhaps the catch of the year late in the game in which he dove and extended himself fully, bringing in a 23-yarder. But he was bottled up nicely for the most part by future NFL corner Parry Nickerson. Dunbar had one other reception for 15 yards. Courtney Lark had caught a nice deep ball for 38 yards, totaling two for 62 yards. In all, King completed 8-of-12 deep passes (balls that travel 15-plus yards down field) for 168 yards and was also 3-for-3 for 48 yards on roll outs as he continues to show a nice arm deep.
While sports can be defined as players making plays, calling an inside zone run on third-and-long, resulting in an early field goal is just conservative play calling. This non aggressive mindset on both sides of the ball doesn't allow the players to be put into positions to succeed. This is something head coach Major Applewhite is going to have to re-examine in the off-season. But now it's back to work as the Coogs face a short week as they host the Navy Midshipmen on 'Black Friday.' Stay logged into Coogfans as we preview the game later in the week.