Game 6 postgame analysis: Tulsa
By: Jimmy Schofield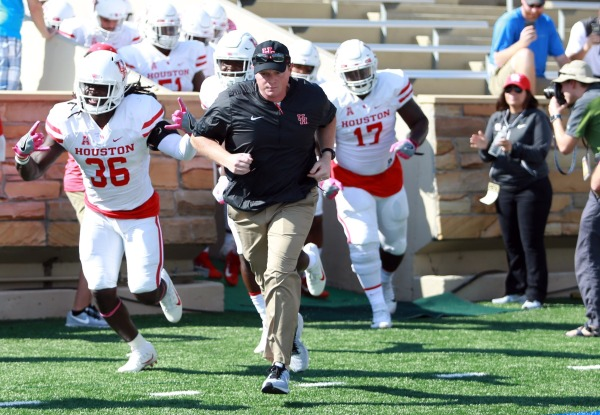 photo courtesy uhcougars.com
Your Houston Cougars couldn't overcome their mistakes, lackluster play on offense and a hot Hurricanes ground attack in losing 45-17 Saturday at Tulsa. Coogfans.com looks at how the game unraveled.
Offense
This offense isn't talented enough, and play caller Brian Johnson isn't creative enough, to overcome the myriad of mistakes made Saturday afternoon. The Coogs controlled the game through the first quarter and a half, until quarterback Kyle Postma threw an interception into double coverage that was deflected and returned to the 1-yard line. To that point Tulsa was down 10-0 and barely had 70 yards of total offense. Or in other words they had no momentum.
The Coogs (4-2, 2-1 in the American Athletic Conference's Western division) had 200 total yards but only 10 points on a touchdown and a field goal in their first five possessions. Postma's second interception was thrown into TRIPLE coverage and was returned to the 7-yard line. A few plays later Tulsa crossed the goal line to give them a 17-10 lead. Postma would fumble off a sack with the game over and Tulsa would recover the fumble at the 3-yard line, turning it into a touchdown for the final margin. That's three turnovers that resulted in 21 points, or mistakes a team with a limited offense cannot make and expect to win.
The offense doesn't have the "playmakers" that can produce explosive plays on a consistent basis. The only deep completions were 33 yards to Steven Dunbar via a post, and a 26-yard "out" to D'Eriq King on the last possession of the game. This out of an attempted five balls thrown 20 yards or more downfield (granted one drew a defensive pass interference call via Dunbar). This means the offense must methodically drive down the field in which mistakes are magnified (due to fewer possessions), such as Postma's two interceptions. He now has five on the season, one more than Kyle Allen's four that got him benched.
Postma completed 25-of-41 passes for 258 yards with the two interceptions and zero touchdowns. He also forced a few passes into coverage that weren't intercepted. He seems to zero in on a receiver and attempt the pass despite the coverage, a mistake a first or second year QB should be making, not a fifth-year signal caller. He was sacked three times but pressure also flusters him, such as when he had Dunbar wide open in the back of the end zone on third-and-goal from the 3-yard line in which he simply overthrew him. That resulted in a field goal being kicked instead of scoring a touchdown on the Coogs first scoring possession.
Dunbar had 10 receptions for 107 yards but why he's not used more in the middle of the field continues to perplex me. He didn't have any receptions via the crossing pattern as I guess the receivers are allergic to this route. By my count four of his receptions were "comeback routes" for 38 yards, three "outs" for 16 yards, and he added two inside or quick screens for 18 yards along with his 33-yard-deep post.
King had 4 receptions for 65 yards but Johnson need to get him the ball more. The first completion of the game was a quick pass to the slot in which he ran for 24 yards. He also had two receptions for 14 yards on crossing patterns along with 3 rushes for 6 yards. Linell Bonner looked like the concussion issues still may have been bothering him as he had just 5 receptions for 44 yards with John Leday, Keith Corbin, Romello Brooker, Ellis Jefferson, Duke Catalon and Dillon Birden adding a reception each for a combined 42 yards. Jefferson just can't catch a break as after his 16-yard reception (which were all YAC yards via a swing pass), looked to injure his knee again and didn't return. It also doesn't help that receivers continue to make mistakes such as dropping passes (King and Corbin) or committing pass interference calls via pick plays.
As far as the run game was concerned, unlike last week versus SMU, the Coogs had to go away from running the ball when the game started getting out of hand late in the third quarter. For the game the Coogs had 146 yards on 47 carries but that includes three Postma sacks in which he lost 40 yards. Why he's not running more via the zone read option keeper is also beyond me, though I'm sure the coaches will say that's dictated by how the defense is playing the QB. If the defensive end flushes out, it's his job to hand the ball off inside and let the O-line do their job via the inside zone run game.
By my count, Postma had one zone read option keeper that resulted in an 11-yard gain. He added just 11 yards on 4 called draws and 4 yards in which he evaded pressure. He was sacked 3 times for 30 yards in loss.
Birden averaged 7.5 yards-per-carry (82 yards on 11 rushes) including a 24-yard scamper for a TD. After his career best 177 yards on 22 carries last week, Catalon only had 72 yards on 24 carries and a 2-yard TD. Why Mulbah Car didn't touch the rock a week after rushing for 67 yards on 9 attempts is also a head scratcher. The line of Josh Jones, Braylon Jones, Will Noble, Marcus Oliver and Na'Ty Rogers regressed after last week's effort of 265 rushing yards.
Defense
Tulsa had 317 of their 416 yards of total offense in the second half with 232 of those yards via the ground on 39 carries (and 3 touchdowns). The defense simply wore down as the 5.9 yards-per-carry would indicate. Like last week against SMU, Tulsa was effective in the run game in the first half, they just didn't stick with it as much as later in the game. D'Angelo Brewer had 7 carries for 35 yards in the first quarter alone. Tulsa had just 6 second quarter carries for 15 yards as the Coogs looked to be taking control of the game with their own run game (until the ill-fated Postma interceptions).
The front-7 continues not being disciplined in their run fits inside and doesn't set the edge on the outside. After Saturday, the defense is now allowing 176.3 yards rushing-per-game and 4.7 yards-per-carry, good for 89th and 93rd in the nation respectively.
Inside linebacker D'Juan Hines had a career high 20 tackles but only 4 were solo. Matt Adams had only 3 solo stops in 9 total tackles, meaning both weren't making stops until Tulsa's running backs were solidly past the line of scrimmage. Brewer had 140 yards on 23 carries including a 46-yard TD run in the third quarter in which nobody could catch him once he exploded through the initial hole. Shamar Brooks added 111 yards on 18 carries. The game was typified by his 20-yard run late in the game in which he moved the pile 16 yards (all 180 pounds of him). Ed Oliver (9 tackles, 1 for loss) can't continue doing it alone up front but the constant double teams did allow fellow down lineman Reggie Chevis to accumulate a career high 12 tackles (5 solo). Nick Thurman and Emeke Egbule added half a sack each but the defense had just the one and 3 TFL.
The pass defense was decent as Tulsa completed just 9-of-18 passes for 128 yards and a touchdown. Of course, 70 of those came in one shot as Luke Skipper hit Keenan Johnson for a quick pass in the slot that Johnson took 70 yards to the house after breaking a tackle from safety Garrett Davis. The free safety could use his bum shoulder as an excuse for having only 3 tackles, but where was the rest of the secondary in allowing Johnson to run for 70 yards untouched?
Undisciplined play continues to rear its ugly head for defensive coordinator Mark D'Onofrio's side of the ball. Jeremy Winchester isn't that good of a defensive back to be talking so much trash on the field, getting a flag thrown on him for unsportsmanlike conduct, wiping out a third-and-long and giving Tulsa the ball at the 5-yard line which led to a game tying touchdown in the third quarter. Winchester at least intercepted a pass between talking trash with Keenan Johnson throughout the game. The secondary did have four pass breakups with corner Alexander Myres having two early on with strong safety Terrell Davis (6 tackles) and Davis adding one each. Isaiah Johnson had only 2 tackles a week after having 11 as the ball wasn't thrown in his direction much.
Special Teams
There wasn't anything truly special on special teams as the return units could only muster 92 yards; 82 yards on 4 kick returns by Leday and 10 yards on 2 punt returns by Brandon McDowell. The return units allowed 40 yards on 2 kick returns by Tulsa as punter Dane Roy averaged 35 yards on 4 punts (in a stiff wind), pinning Tulsa inside their own 20-yard line on two of them. Kicker Caden Novikoff connected on his only field goal attempt of the game, from 26 yards in the first quarter.
Overall the team was outplayed and head coach Major Applewhite's staff was outcoached. On two fourth down plays in which three yards were needed the ball was run inside with no motion or misdirection to try to confuse Tulsa's defense, allowing them to line up, fire off and attack the ball. Dumb penalties and drops continue to hamper both sides of the ball. Three turnovers resulted in 21 points and a missed tackle resulted in another 7. That's 28 points given to the opposition in a 28-point game. Again, mistakes a team with limited talent simply cannot make and expect to win.
Applewhite and staff have only a few days to correct the problems as the high-powered Memphis Tigers (5-1, 2-1) invade TDECU Stadium for a Thursday night, nationally televised game on ESPN. Stay logged into Coogfans for a preview of that game later in the week.