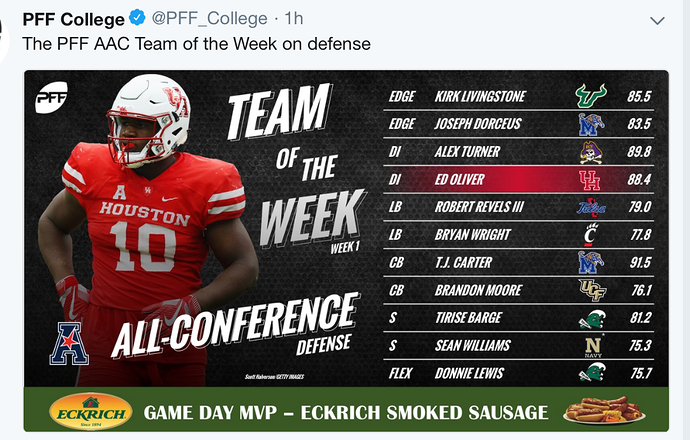 So they grade ED at 88.4
ED had 13 tackles, 5 Solo, 3.5 TFL, 2 Hurries
They grade Alex Turner…yeah who?.. a freshman at ECU who played vs NC A&T at 89.4
He had 3 tackles 2 Solo 2.5 TFL…no sacks or hurries
I like PFF however when I saw that Ed didn't make their National team of week…I was suspicious and waiting for AAC team to come out. I watched game several times and I saw ED get blocked once. When I say blocked I mean moved out his gap. PFF grades each play from +2.0 to -2.0
in 0.50 increments. Most of a players plays will be graded at 0.0…meaning you didn't do anything eventful…just did your job, what was expected.
They then come to a grade total…positive, 0, or negatives and count your snaps played and convert to a 1 to 100 scale.
I like what they do and understand how they grade…they are tough graders…but I watched game several times and really baffled.
Unless he had a low Pass Rush grade…