Need to get some revenge on the Owls
In today's Chronicle, I saw an ad that said tickets start at $15. Start at? And yet you could pick up $2 tickets at UH for the home game of this series.
We really leave a lot of money on the table for baseball. If you want to see us play, most would pay $8 instead of the $2 deal we have
It'll be interesting to see who they go with on the mound tomorrow. Henry is probably a no go after the last outing. I'm thinking some combination of Hurdsman, Bielamowicz, Pulido and maybe Fletcher/Villareal (though I realize those two pitched a decent amount over the weekend).
I think they give Henry another shot; need him to gain confidence.
But wouldn't be surprised to see Pulido out there. He didnt warm up at all over the weekend.
If he puts Henry out there first, I sure hope he has a much shorter leash than last week.
I'd imagine Henry will have a very short leash if he's out there.
Totally agree with this statement. I seriously doubt that there has been anyone say, hey tickets to the baseball game are $2, let's go. $2 or $8 is not going to cause someone to go. However, $2 hot dogs will sell a few more.
I suspect someone else will start but Henry will be brought in to relief with a very short leash.
http://www.uhcougars.com/sports/m-basebl/spec-rel/041017aaa.html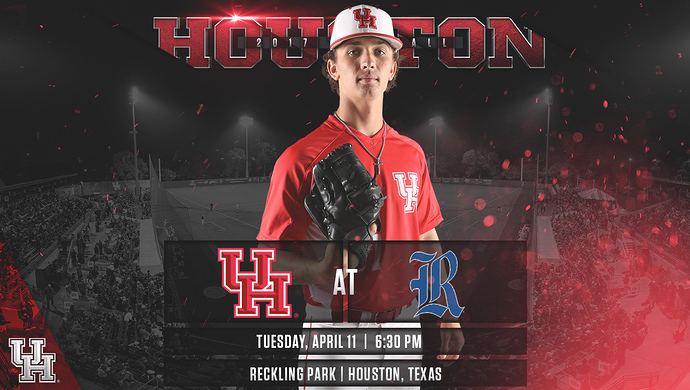 QUICK HITS ON RICE
Rice will host Houston on Tuesday, owning an 11-23 overall record and a 6-12 mark at Reckling Park.
The Owls are coming off a C-USA series loss at home to Louisiana Tech this past weekend.
As a team, Rice is hitting .269 with 62 doubles, nine triples and 18 home runs, while slugging .388.
The offense is led by Dane Myers' .352 clip and team-leading 43 hits, while Dominic DiCaprio paces the Owls with 27 RBI to accompany his .328 average.
Rice has walked 102 times to its 232 strikeouts, while fielding a .962 clip with 46 errors.
The Owls pitching staff owns a 4.78 ERA with 285 strikeouts to 168 walks in 289.2 innings of work. Opponents are hitting .255 against the arms.
Five Owls share the team lead in wins, led by Zach Esquivel's 2-4 mark and team-low 3.05 ERA in 13 appearances and seven starts. Rice's Kendal Jefferies started last week vs. Houston and owns a 4.38 ERA and is 2-1 in nine appearances and three starts.
Closer Glenn Otto has three saves and is 2-2 with a 3.16 ERA in 12 appearances and one start.
SILVER GLOVE SERIES HISTORY VS. RICE
Houston and Rice have met 182 times in program history, dating back to 1948.
The Owls own the overall series, 104-78, but Houston has won the series the last three seasons.
The Silver Glove Series officially began in 1998.
Houston was 2-1 last season vs. Rice with a 10-0 and 24-6 win, while falling 7-4.
Last Meeting | April 4, 2017 | Rice 9, Houston 0
The two teams will meet once more after Tuesday in Sugar Land on May 9.
I can't believe that this game will be played tonight.
Tarp's off, lineup is posted, one change as Nick Slaughter gets his turn in the 8 hole as I'm guessing they want Bielamowicz available in the pen tonight
Wong RF
Padgett CF
Davis DH
Scheiner SS
Julks LF
Triolo 3B
Lockhart 1B
Slaughter C
Hollis 2B
Hurdsman P
Is Stretch Internet working?
Your right, changed PCs and it works now…strange