http://www.uhcougars.com/sports/w-tennis/spec-rel/021617aaa.html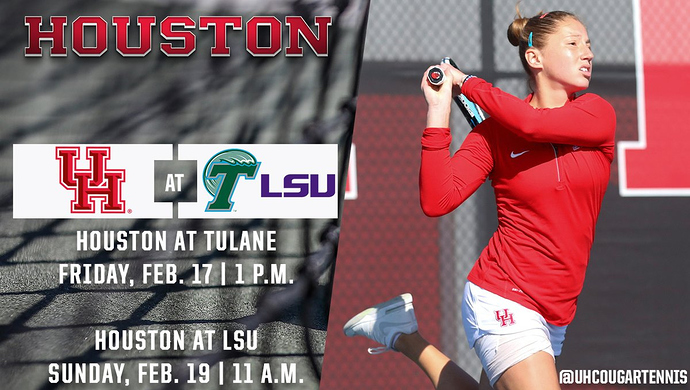 SCOUTING THE GREEN WAVE
Tulane enters weekend play with an 8-2 overall record after splitting its last pair of weekend matches. On Feb. 10, the Green Wave defeated Winthrop 4-3, before falling to Furman 4-3 two days later. Tulane will also welcome USF to New Orleans, on Sunday.
Christina Sisti and Naz Karagoz have paced the Green Wave with seven wins apiece this season. Sisti enters with a 7-1 record and a 3-match winning streak, while Karagoz dropped each of her matches against Winthrop and Furman to sit at 7-3. Elena Muller and Sade Atkinson each have six wins.
As a team, Tulane holds an 18-7 overall record in doubles play led by Karagoz and Muller who sit at 5-3. Sisti has combined with both Ivone Alvaro and Kyla Klier to produce 4-0 records with each.
SCOUTING THE TIGERS
LSU enters weekend play with a 5-1 overall record and will meet USF on Friday, before welcoming Houston to the LSU Tennis Complex on Sunday. The Tigers swept last weekend's contests without dropping a match, beating Memphis 5-0 before defeating North Florida 4-0.
Ryann Foster paces LSU with a 6-0 record in singles play, while Jade Lewis sits second on the team at 5-0 and Jessica Golovin is 5-1. Foster has won an impressive nine consecutive matches dating back to fall play.
LSU has also been solid on the doubles court, sporting an 11-2 overall record entering the weekend. Lewis and Becca Weissmann are perfect from the No. 2 slot with a 4-0 record, while Golovin and Skylar Holloway are 3-0.