Coogs enter the tourney at 48 in the RPI. A few wins should solidify their case for an at-large bid.
Fletcher should go Tuesday against Tulane. Win and the Coogs will play the UCF/ECU winner on Thursday at 2 pm; Lose and they play Wednesday at 6 pm
I dont think they edited the dates on the bracket graphic from last year…


Those are dates from two years ago
Game is on the facebook: (from this page=it looks like every game is on)
The new American Digital Network Plus page is going to be awesome.
The Phillies Spectrum Complex a sweet facility. Great location. I have a condo very close to there. Blue Jays also just down the road in Dunedin.
I should be at those games but Destin for Memorial Day makes it impossible.
Thought this was pretty funny. Coogs should put something out saying that NC is their state since they went 3-0 at their place. Still, good on ECU for trying to put themselves out there.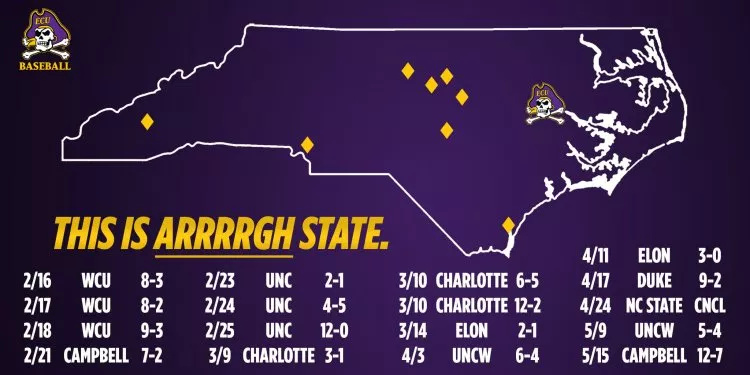 http://www.uhcougars.com/sports/m-basebl/spec-rel/052018aaa.html
TULANE HITS
Tulane will play as the No. 8 seed in the tournament after tallying a 24-31 overall record and a 9-14 mark in American play.
The Green Wave did earn the series victory over the Cougars, 2-1, in New Orleans earlier this season.
Tulane, as a team, is hitting .262 with 115 doubles, seven triples and 45 home runs to accompany 286 RBI.
Leading the way offensively is Grant Witherspoon with a .324 average, a team-high 70 hits and 46 RBI.
Tulane pitching owns a 5.20 ERA and has fanned 368 hitters to 278 walks through 481.0 innings.
Keagan Gillies paces the staff with a 3.39 ERA and is 5-6 through 13 starts. He has fanned 57 hitters and walked 29.
Kaleb Roper follows with a 4.46 ERA and a 5-4 record in 13 starts.
Sam Bjorngjeld has a team-high 30 appearances out of the bullpen and is 1-3 with a 4.40 ERA and one save.
Don't know if this is a good or bad thing. Is ECU game being moved also.
Yep, 9 am local start time.
These should be the links on YouTube if you want to watch the games there instead of Facebook:
Game 1: UCF and ECU
Game 2: Houston and Tulane
Watching the 1st game, some thoughts:
Currently 5-4 ECU in the T4, but UCF is rallying
ECU did start their ace, Chris Holba, but he only lasted 3.1 IP and 69 pitches. He wouldn't be available for the next game that ECU plays
UCF did not start their ace, instead going with a midweek guy/reliever in Luis Ferrer. He only lasted .1 IP and 28 pitches. More than likely, their ace, Chris Williams, will be the guy in the next game.
Good thing is that both teams are going to have to use their bullpen a lot.
No chance the Cougar game starts at 11. Currently 10:20 and they're only in the Bottom of the 5th
Pitching matchup today:
Tulane: RHP Keagan Gillies | So. | 5-6, 3.39 ERA, 13 APP, 13 GS, 74.1 IP, 59 H, 28 ER, 57 K, 29 BB
Houston: LHP Aaron Fletcher | Jr. | 6-2, 1.28 ERA, 14 APP, 13 GS, 84.0 IP, 74 H, 17 ER, 75 K, 16 BB
Coogs faced Gillies in the 2nd game at Tulane (Sunday 7 inning game) and they lost 2-0. Gillies pitched 5 innings, gave up 2 hits, zero runs, 3 walks, and struck out 4. Fletcher faced him and pitched 6 innings, gave up 8 hits, 2 runs (1 earned), 2 walks, 5 strikeouts, and hit a batter.
Gillies last pitched last Tuesday against ULL and was rocked for 6 runs in 4 innings.