According to the AAC Football Twitter account:
Get ready to scratch your head. I predict -
another very late bye week, week 10 or so
at least two Thursday night games
Saturday morning kickoffs in September when it's still 95 in the shade (my seats are NOT in the shade).
GO COOGS!!!
I don't miss the late 90's when we would play every game early season game on Saturday night, every late season game on Saturday afternoon, have two games on television, sometimes PBS or channel 51 and would have to justify spending $400k on a new coach hire.
I wrote about this several weeks back but ever since we've been in the AAC we've only had one year with more than three "quality" tailgates (Saturday 2:30pm or later start time). That year was 2015 and we were the "it" team so we got the A TV start times. When we aren't the "it" team we get relegated to the B and C slots (Thursday/Friday night and Saturday morning). The problem is we are one of the bigger draws in the AAC so ESPN wants us on TV but we aren't consistently dominant enough or enough of a national power to consistently get their A TV slots. Hence, we largely get stuck with the garbage TV times and quality of fan experience at the games suffers accordingly. The last 5 years in CUSA we had at least 4 Saturday start times of 2:30 or later every year. Refer to chart below - blue is AAC, red is CUSA.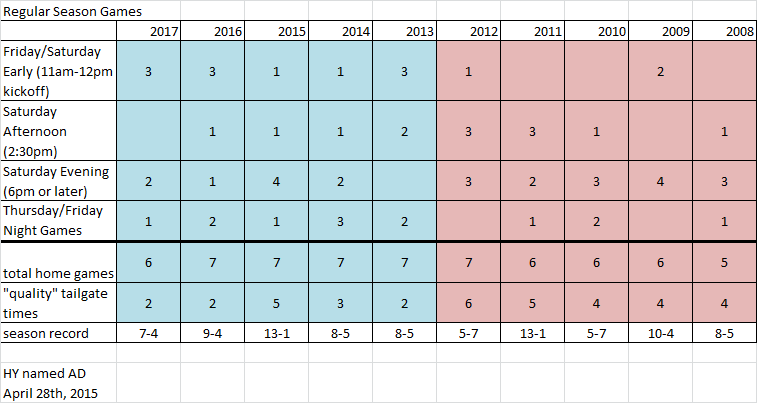 Seems like we would have been the IT team in 2016 after whipping the Noles. But that was the worst schedule ever! I think the AAC screwed us in 16 because we were the it team and they wanted us on Thursday nights for the money.
We've been given some Thursday/Friday night games in the past (CUSA) so we are somewhat accustomed to dealing with those although we now typically see about 2 a year vs 1 in CUSA.
A major difference in the AAC is we get many more 11am start times which are just killers for tailgating and brutal for weather for the first 2/3 of the season. We have had 6 11am start times in the last two years alone which is almost 50% of our home games. 2 of those 6 games were on ESPNU (UCF in 2016) and CBSSN (ECU in 2017). That is completely unacceptable if I'm the AD. ONLY 11am start times for ABC/ESPN/ESPN 2. In the last 5 years of CUSA we only had 3 11am starts which is the same as last year alone in the AAC!
I agree with this completely. Unless it's two tough teams on a short week, I don't mind Thursday and Friday night games at all. In fact, some of my favorite games over the past few years have been those. We've had some of our biggest games at 11 AM (AAC Championship, Peach Bowl, Texas Kickoff), but only games of that magnitude were really enjoyable for me. Too early, too hot, empty stadium, limited tailgate, etc etc etc.