2018 Houston Cougars Football Spring primer
By: Jimmy Schofield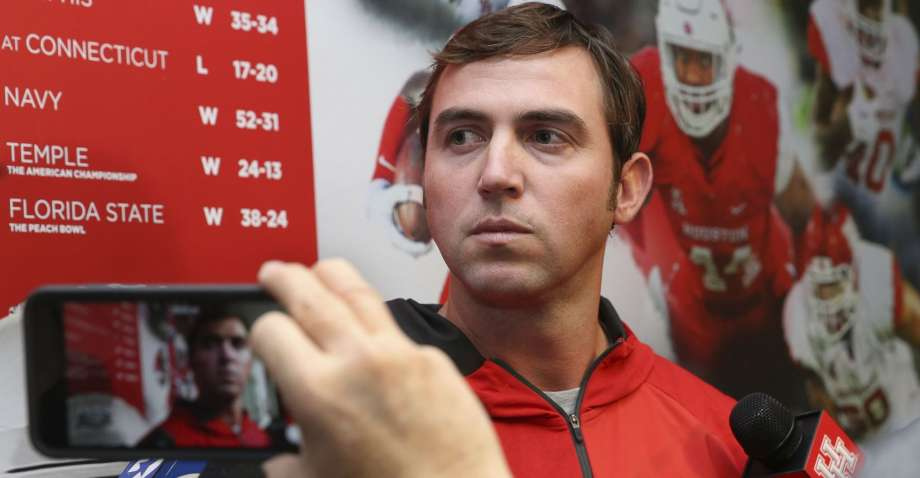 photo courtesy
houstonchronicle.com
With the University of Houston men's basketball team having its most successful season in decades, the football team looks towards its own version of "March Madness" as they take to the practice fields for 15 spring practices starting Monday March 5 with the annual Red-White game to be played on Saturday April 7 at TDECU Stadium. What needs to improve under second year head coach Major Applewhite to better his first-year mark of 7-5, capped with a loss to Fresno State in the Hawaii Bowl? We'll try to answer that by analyzing the depth chart, position battles and coaching changes that will shape this 2018 squad. This article will look at the offense with Friday's breaking down the defense.
The biggest addition to the offensive unit were coaches, more specifically offensive coordinator Kendal Briles and offensive line coach Randy Clements. While Briles brings controversy off the field, on the field it's quite the opposite as he's led three of the top offenses as an offensive coordinator for both Baylor and Florida Atlantic in the past three seasons. In 2015 Baylor led the nation in scoring (48.1 points-per-game), and total offense (616.2 yards-per-game, 326 on the ground to rank 2nd), while "falling off" to 34.6 points-per-game and "just" 522.7 yards of total offense in 2016. Last year at FAU he took a team loaded along the offensive line and backfield and led the Owls to their best offensive season ever, averaging 40.6 points-per-game (8th) behind 285.3 yards-per-game on the ground (6th). Before that the former UH wide receiver coached wide receivers from 2008 through 2015 in Waco.
Clements meanwhile helped pave the way for some prolific Houston and Baylor offenses from 2003 where he coached the OL for our Coogs until 2007, leaving to coach the line at Baylor until 2017. In two of his final four years in Waco the Bears led the nation in total offense behind punishing ground attacks and quick striking aerial assaults. One thing for sure is both coaches know how to blend the talent on-hand into their system.
Speaking of the offensive line, I guess that's as good a place to start as any as an offense only goes as far as the "big uglies" up front takes them. Seven lettermen return who have started at least one game, accounting for 97 total career starts led by senior Will Noble (6-feet-4, 297 pounds). With 32 starts over his first three seasons he's the unquestioned leader and the anchor of the offensive line at center. Shoulder, neck (stinger) and lower leg injuries have hampered him over parts of the past two seasons, though it hasn't kept him out of the starting lineup but it has kept him from playing his best ball as he hasn't been the "pile mover" in the middle the past two seasons that he was during the 2015 season in which the true freshman averaged 3.1 "knockdown blocks" per game and the O averaged 235 yards on the ground, 249 through the air and 40 points-per-game. His knockdown blocks slipped slightly to 2.5 last year. Along with toughness, the other key trait for the Leander native is his football IQ as he calls the blocking assignments for his fellow linemen.
Next up with 23 career starts is Josh Jones (6-5, 303, R-So.), manning the all-important left tackle position. After redshirting his first season, Jones has started the past two seasons only missing two games in 2017 due to an ankle issue. Probably the most athletic of the O-linemen as he also played hoops in high school, the Richmond-George Bush product should hold down the quarterback's blind side for the next two seasons as he should only get better under the tutelage of Clements. The few times the line did allow a sack (17, good for 19th nationally), it usually wasn't from Jones as he has quick feet and gets on his opposing defensive lineman locking him up quickly in their zone schemes.
Left guard should be occupied by another Jones, Braylon Jones (6-3, 311). No relation to Josh. Braylon will be a true junior this season but has picked up the left guard spot nicely since midway through the 2016 season as a true freshman which is a feat in of itself as the OL and QB are the two toughest positions to learn cerebrally as first year players. As athletic as Josh is, it's Braylon who's often seen pulling to the second level, clearing the path for his running backs or quarterbacks in the run game. As quick as Braylon is for his size, he needs to become more physical at the point of attack as the line hasn't gotten the push up front along the interior of the line over the past two seasons that was needed in the tough short yardage situations.
While the left side of the line appears to be set, the starters at right guard and tackle are totally up in the air with the graduation of Marcus Oliver and Na'Ty Rogers. Note – this is all conjecture on my part as with a new OC and OL coach every position is up in the air. Braylon Jones could easily be moved to right tackle as both Kameron Eloph (6-3, 290, RJr.) and Mason Denley (6-4, 308, RSr.) both have starting experience at both guard spots. It'll really be about getting the five best offensive linemen on the field once the games count for real. Plus, there will be a new offensive system in place so every player will be graded from day one, starting with spring practice.
As for Eloph and Denley, they have a combined 20 games started at both guard spots (12 for Denley) over the past few seasons (none this past year though). Eloph sat out the 2017 season due to back issues but started four games at left guard each of the previous two seasons. The converted defensive lineman has graded out at 68-percent over those two seasons with 26 knockdown blocks in a combined 772 snaps. Denley is more the road-grader with 45 knockdown blocks in over a thousand combined snaps during the 2015 and 16 seasons. During the 2015 season he averaged 3.5 such blocks per game, subbing in at both guard spots that saw a combined 11 different starting lineups over the course of the year. Knockdown blocks and grades were taken from uhcougars.com.
Then there's Alex Fontana (6-0, 305, RSr.) who started five games in 2016 (four at left guard) before having to redshirt during the 2017 season because of a foot injury. The New Mexico Military Institute transfer had 32 knockdown blocks in over 500 snaps that season grading out at over 75-percent. He's also valuable because of his versatility due to starting at center at NMMI.
Another player who may be overlooked is Jarrid Williams (6-6, 295, RJr.), who started two games at left tackle last season when Josh Jones went down with his ankle injury. He has the body type an expert offensive line coach could work with, lean and long meaning with his frame he has the reach to keep defensive linemen off him, so he can handle linebackers on the next level on pulls, disengaging himself quickly from blocks.
Dennis Bardwell (6-5, 290, So.) and Keenan Murphy (6-1, 290, RSo.) are two underclassmen who impressed the coaching staff enough last year to see playing time (Bardwell as a true freshman, Murphy as a redshirt). The pair only played in two games, in blowout wins against Rice and ECU. Bardwell averaged 8 knockdowns blocks per game his senior season at Huffman-Hargrave proving his toughness. Murphy meanwhile started 39 games for Crosby High, with the team going 34-5 in that span, while grading out at 92-percent with over 100 knockdown blocks, mainly at center. Both chose Houston over a plethora of Power-5 programs such as Colorado, Mississippi State and Texas Tech and could be the heir apparent at tackle (Bardwell) and guard or center (Murphy).
Speaking of center, Ryan Deshotel (6-4, 304, RJr.) backed up Noble last season with Fontana out and could be in the running to replace Noble as the starter next season with solid play this year under a new line coach. As a converted tight end, the Pearland product has the athleticism and body type the new staff appears to be looking for; long and lean with the ability to put on solid weight, over the big plodders of lines past.
A wildcard for the line could be Bo Alexander (6-4, 272, Jr.), a transfer from Arizona Western who has two years of eligibility remaining. The Orlando DR. Phillips (a Florida 8-A powerhouse) product was once listed at 300 pounds on his 247sports recruiting bio but is a "svelte" 272 on his UH bio. So, he's either lost "baby" fat at Arizona Western, or he was never that big. But recruiting profiles wouldn't lie of course (sarcasm alert). Either way his performance in spring ball and summer camp at either tackle spot could have a trickle-down effect at tackle and guard with various combinations that can play together. Cohesiveness is the key to a good line though, so Clements will want to know his best five as soon as possible.
Now that we've "briefly" looked at the line, who will they be protecting? D'Eriq King (5-11, 190, Jr.) probably has the clubhouse lead as he's the most experienced of the five scholarship quarterbacks listed on the spring roster. After splitting time between slot receiver and QB over his first season and a half, the full-time switch to QB came 8 games into the season, taking over for Kyle Postma one series into the South Florida game. King went on to start the next four games and would finish the season completing 64.9-percent of his passes (89-for-137) for an average of 247.6 yards-per-game (1,238 total) with just two interceptions to six touchdowns.
Before the Fresno State loss at the Hawaii Bowl, he was completing just over 70-percent of his passes, with many of those on quick screens. One thing is for certain, the Manvel product has the ability to throw the ball deep, completing 18-of-31 (balls that travel over 20 yards in the air) for 560 total yards. Those numbers were by my own unofficial count. The former 4-star recruit was 16-for-25 on such passes before a mediocre 2-for-6 against the Bulldogs. With Briles loving to call deep shots as he did in both his stints at Baylor and FAU, how the offense changes will be key in determining which quarterback is named starter.
King is also a dynamic playmaker as a ball carrier, averaging 5.7 yards-per-carry when pulling down the ball (333 yards on 58 carries), crossing the goal line an additional 7 times. Hopefully Briles uses the wide splits along the line and spreads his receivers out almost to the sidelines as he did at Baylor which would allow King open lanes for zone read option keepers or called power or draw plays in which he broke off huge chunks of yardage multiple times in just about each of his games last season as the starting signal caller.
Bryson Smith (5-11, 185, RFr.) is a King and Greg Ward Jr. clone in that he's a smaller dual threat QB type with fleeting speed and a strong arm. Smith redshirted last season after passing for just over 5,700 yards with 52 TD's to only 16 interceptions while adding 3,100 yards rushing and another 44 TD's for John Tyler high. He'll see competition for two incoming freshman who enrolled early in Julon Williams (5-10, 185) and Clayton Tune (6-3, 200), both of whom bring different traits to the position. Williams is another "dual threat" type who can run (nearly 3,400 rushing yards and 44 TD's) and pass (over 6,700 yards and 60 TD's) for Converse Judson.
Tune is athletic enough to buy time passing with his legs by scampering out of the pocket (just over 1,000 yards rushing with 20 TD's) but is more the classic "pocket passer" with nearly 6,700 yards passing with 66 TD's for Hebron (Carrolton) High. Rounding out the five on the roster is Mason McClendon (5-9, 180, RJr.) who was put on scholarship before last season began. While not throwing a pass yet in his career he has served an important role on the scout team and was has filled in at holder on special teams and may be the primary holder this season. He's a part of the only father/son combo to win a state title in Texas prep history, winning three straight at Division TAPPS II Midland Christian from 2011 through 2013, winning 39 of his 42 games.
Probably the biggest question going into spring ball is who will the quarterbacks throw to? In losing multiple year starters Steven Dunbar and Linell Bonner to graduation and possibly the NFL, the duo takes with them a combined 380 career receptions, 4,700 yards and 24 TD's. More importantly the receiver's meeting room lost a lot of leadership. Who steps up? Of all the receivers on the spring roster, only three receivers have caught passes in their short careers; Courtney Lark (6-2, 195, Jr.), Keith Corbin (6-3, 193, Jr.) and Terry Mark (6-1, 195, Jr.). The three could be the opening day starters at the two outside spots and in the slot respectively. Both Lark and Corbin have 16 receptions each over their first two seasons. Lark caught 13 last season for 235 yards and 2 TD's. The 4-star Bellaire product's 18.1 yards-per-reception was a team high as he and King meshed well in the deep passing game. Corbin caught 10 passes for 164 yards with a high of 49 from the other outside spot. Mark has just 3 career receptions, for 8 yards during the 2016 season but played on special teams extensively last year.
Other youngsters who have a shot at cracking the rotation include redshirt freshmen Tre'von Bradley (6-0, 185), Jeremy Singleton (5-10, 175) and Marquez Stevenson (5-11, 177, RSo.). Bradley has true track speed having been timed at 4.3 in the 40 at Cleburne High, he's the true definition of an "athlete" as he played quarterback, running back, wide receiver and defensive back in his four years as a Yellowjacket as he had over 7,000 career yards (3,700 yards passing, 3,000 rushing) and a combined 72 touchdowns (23 passing and 49 rushing). He also added 6 interceptions during his senior season to boot. Though Singleton was just a 3-star recruit, he signed with UH over schools such as South Carolina, Arkansas and Missouri. He had over 1,500 receiving yards for Brother Martin out of New Orleans and will give Mark some competition in the slot. Stevenson had been the talk of the past two summer camps, catching everything thrown to him, before injuries forced him to the sidelines most of the past two seasons, only catching two balls for 36 late in the 2016 season. Stevenson also played in Louisiana and was one of the top receivers out of Shreveport for the 2016 class. If Julon Williams doesn't pan out at QB he could move to the slot just to get his playmaking ability on the field in some way, especially via the speed sweep or quick "pitch passes" to get him the ball in space. Out of the six mentioned receivers, whichever one see's the field will be determined on the least number of drops and who blocks the best as the receiving core's blocking on outside screens was very underwhelming last season.
Speaking of blocking and receiving, the tight end spot will also be up for grabs with Romello Brooker (6-3, 240, Sr.) returning with the most playing experience, with Kobe Idumwonyi (6-1, 240, Jr.) and Parker Eichenberger (6-3, 225, RFr.) battling for playing time as well. Brooker is a better receiver than blocker as he was often flexed out in the slot last season in double tight end sets. The Alief-Taylor product is a great athlete as he also played basketball and ran track for the Lions and has 9 receptions for 55 yards the past two seasons combined as the top reserve. It should be noted that tight ends generally didn't see a lot of passes come their way with Applewhite as the OC or Brian Johnson last season. Idumwonyi is another great athletic type as he also ran track and was part of the powerhouse Cedar Hill program that won multiple state titles years ago. Though he'll need to beef up from his current listed weight of 225 pounds to be an effective inline blocker, Eichenberger is probably the best pure blocking tight end as he came from running powerhouse Katy High.
If the tight ends can block well on the perimeter and the OL can hold their blocks on the interior, the run game will have a better chance of succeeding under the multiple running backs on the roster. Duke Catalon (6-0, 215, Sr.) and Mulbah Car (6-0, 210, Jr.) will share the bulk of the carries as Catalon is the returning leader with 637 yards and 8 TD's last year after rushing for 528 yards and 4 TD's the previous season. He's also an effective receiver coming out of the backfield on swing routes as he's caught a combined 367 yards and an additional 4 TD's. While Catalon "danced" more in the backfield, Car was more the battering ram as he averaged nearly 5 yards-per-carry on his 80 totes as he improved as the season progressed filling in for senior Dillon Birden. Behind them are Davion Mitchell (5-11, 185, So.) and Patrick Carr (5-11, 197, RJr.). Mitchell played last season as a true freshman and totaled 38 yards on 10 carries after rushing for nearly 1,600 yards and 31 TD's as a senior in high school. The Rockdale High native also ran track, finishing fourth in the long jump and helping the 4X100 and 4X200 relay teams to state titles in 2016. Carr rushed for 28 yards last season after sitting out the previous year after transferring from Colorado where he rushed for 262 yards as a true freshman in 2015.
The talent exists on the offensive side of the ball. How Briles and Clements mold their systems to the personnel will ultimately determine the success of the club in 2018. Speaking of molding systems to the talent, stay logged into Coogfans.com as we take a look at the defensive side of the ball on Friday.