Weekdays games (all times Eastern).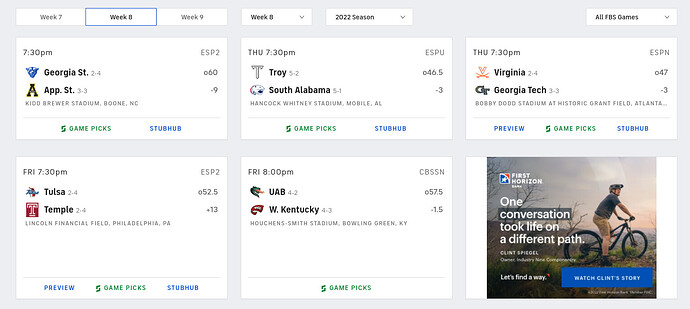 Memphis and ECU could do UH a solid with a win.
(all times Eastern)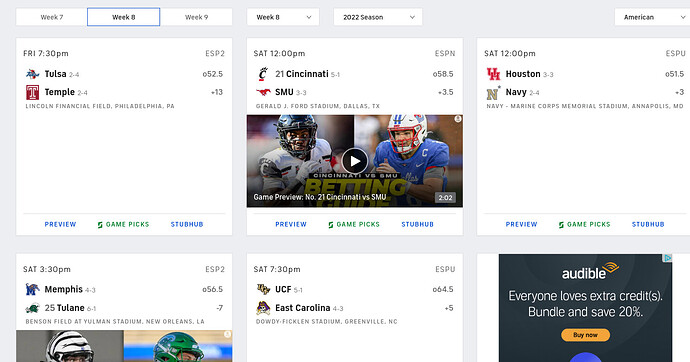 I have loved watching this game…HOWEVER! to me i have to say i dearly love the Dr Pepper(Fansville) commercials. Just freaking hilarious!
Looking forward to this one.
"2. NO. 17 KANSAS STATE AT NO. 8 TCU (8 P.M. ET, FS1)
Kansas State and TCU are the only two remaining teams with unblemished records in the Big 12, the most competitive conference in the sport this season"
UTSA's offense is going off.
NORTH TEXAS AT UTSA (3:30 P.M., STADIUM)
"UTSA quarterback Frank Harris has been fantastic, ranking fifth nationally in passing (328.6 yards per game) while completing 68.8 percent of his throws and ranking 25th in passer rating (158.4). Receivers De'Corian Clark and Sakhari Franklin continue to be dominant with 1,332 combined receiving yards to rank 14th and 15th nationally, respectively, and Joshua Cephusis 26th with 50 catches, the fifth-best total in the country."
https://247sports.com/LongFormArticle/College-Football-Week-8-best-games-UCLA-vs-Oregon-Texas-vs-Oklahoma-State-Ole-Miss-vs-LSU-195780011/
Applewhite has that South Alabama offense rolling. Just avoided a shutout in 1st half
Illinois at Nebraska
GO ILLINI!!!
The UVGay at Georgia Tech game is curing my insomnia at least. To think i gave up watching 'Hell's Kitchen' and the delightful, heartwarming situational commedies 'Ghosts' and 'Young Sheldon' for this punt fest.
Lets get ready to Fuuuuuuuumble!
Two more horrible games lol, no thx
Tulsa had two weeks to prepare for the trip to Philly. That spread seems high after losing by 32 at Navy on Oct 8 after being a 4.5 point favorite. Navy ran for 455 yards with an average of 6.6 yards per rush.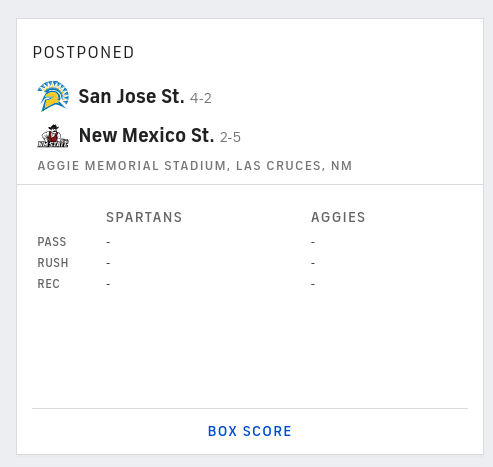 San Jose State RB hit by a school bus on his scooter. Team was in no shape mentally to make the trip to Las Cruces.
Surprised how athletic Tulsa looked compared to Temple last night.Tulsa RB went off
Not alot of noon est starts today.
Baylor whippin KU so far. 28-3 at the 1/2.
KU misses QB Daniels badly.
Cinn whippin SMU so far. 20-7.
Cuse w a 90+ yard fumble return.
Up 21-7 at Clemson.
Yeah - pretty big drop off in their offense.
SMU 1st and goal right before the half against Cincy. Could use an upset to help us get back in the race.
Edit: got the TD makes it 20-14 Cincy
Is Mordecai hurt?
Edit: Stone is in
Need SMU to pull this out.
Fire Fickel. Undisciplined team
Haha Memphis getting abused by Tulane. Today is a good day.