And you guys are talking about players we were not trying to get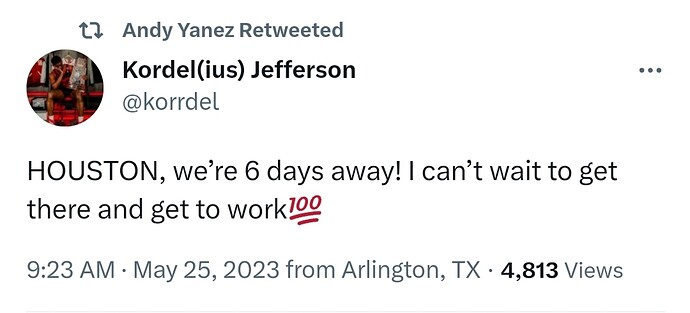 https://twitter.com/korrdel/status/1661739831859511297?s=20
June 1st- 3rd, is when the whole team should be back on campus
Does practice start tomorrow morning or do our boys wait until next Monday?
Projected lineup:
J Shead - point person
E Sharp - 3 in the corner
D Dunn - setting up a base at the FT line
J McFarland - stretch 3
J Roberts - heart, not height
Off the bench:
LJC - instant offense
J Francis - Swat Central until he fouls out
T Arceneauxxx - Sexiest player in NCAA
J Tugler - Pro Bowl TE
I think Arceneaux will start at the 3, over Dunn
Dunn can sub in for Shead, or at the 2 wings. Will be very versatile next yr
Shead
Cryer
Arceneaux
Roberts
Francis
Dunn - 6th man
Sharp
Tugler - backup 4
Lath - backup 5
Starting Arceneaux, could help him be more aggressive in games. Coach alluded to it last season. Hes not used to coming off the bench
Cryer isn't backing up Sharp.
It is what it is. In CKS we trust
Bold take but I'm with it
i think for game 1 its dunn… i have a hard time seeing it otherwise… not unless the international scrimmages shows insane growth from arc…
but i do think by mid season after a loss, sharp and arc will have a chance to jump into the starting rotation
also if we dont pick up another big i have more faith in sharp jumping than arc… sapcing is just a big issue otherwise
The only thing with Sharp is, hes 6'3"
So you got Shead and Cryer under 6'2". As your two starters
You kinda need that 3rd guard with more size…like Arceneaux or Dunn at 6'5"
---
On paper, yeah Dunn seems way ahead of Arceneaux for that starting role. 3.7ppg last season

dunns defense nor rebounding was notable so his size isnt really an edge… we ran plenty of sasser, shead, sharp lineups last year…
im just worried about the spacing… jwan doesnt shoot, francis doesnt shoot, arcenueax is scared too shoot… shead is just an okay shooter… the spacing is just a mess… sharp being a quick trigger shooter is the best chance at spacing…
that is with the roster as is, if we got a 5 with any offensive prowess, id lean arceneaux tho…as the big can be leaned on for offense and we can used the 3 for defense/rebounding
Lol, you're right. If Sharp is shooting high 30s% from 3pt, having him and Cryer on floor would be great for spacing
Theres alot of guys, im intrigued about next season. Arceneaux is probably at the top of my list
How big a jump will he take? Coach said he wasnt an Alpha type in high school. Didn't see it last yr. Will he be just a piece next season or take on more of a leadership role (even with Shead, Jwan, Cryer there as upper classmen)
We could run a lineup of Cryer at the point and Sharp at shooting guard while Shead gets rest on the bench. Thatd be an exciting backcourt to watch on offense.
We running 4 guards often next season… Count on it.
Sharp, Arc & Dunn will all get plenty of PT.