If it's chalk to the the semi-finals, those games are going to be some absolute wars.
We'll get Tacko after a hopefully tough game against Memphis… he won't be nearly as scary playing the second day in a row.
USF is a tough team to play (our first game with them had like 80 fouls called because both teams are so physical)
UCF is a hard match up and Memphis at home can play anyone.
All this before we even see the other side of the bracket.
This conference is really underrated because that's a nightmare path just to get to the finals.
I do kinda wish we were on the other side of the bracket
Personally I think Temple is a tougher matchup against us. I noticed Temple took it straight to the basket on Taco and thus he rode the bench early on.
Temple, like Cincy, is very athletic and talented. And I think the Owls can actually shoot better than the Bearcats.
That said, I think UH proved yesterday that they too can go into a tough situation and win. I loved the way our Coogs kept their composure in a very physical game.
It is going to be an interesting tourney and I think our Coogs will have their hands full…but so will everyone else…
I'm not saying it will happen but if Memphis beats UCF, I won't be surprised. UH vs Memphis would be real battle. Tigers are much improved over the past month.
We had one poor half vs UCF. Controlled them at their place and had a 5 point lead at the half despite not playing well here.
I do agree that Fall will have some issues playing back2back.
Or we get memphis playing a 3rd straight day.
I like our chances to make it to the final day. Either way Sunday night will be fun waiting for our seed.
I just wish we played later in the day so I can see the game live.
If Memphis gets all the way to tourney final and loses do you guys think they can get an at-large bid? They're on our side of the bracket so that scenario would likely include a win vs. us and another Q1. They get a nice home tune-up vs Tulane to start things off.
Not a chance.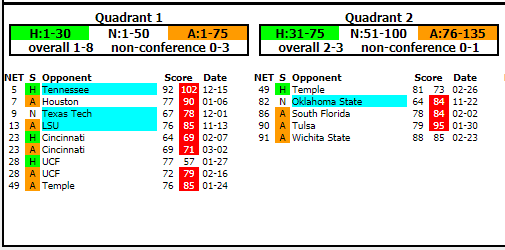 I'd be surprised if USF beats UCONN. USF has lost 6 of 7 with the only win being a 5 point victory over Tulane. UCONN beat them last week without Jalen Adams and Adams is now back. I have a feeling we'll see the Huskies in the Quarters.
Next round, I'm guessing UCF unless Jeremiah Martin goes off for Memphis or the refs tilt it towards the home team. That's fine, I think we beat UCF this time.
Looks about right to me. No complaints here but I see others struggling. Same folks as always…,
I think we will be playing UCONN and then UCF vs Memphis is a tossup.
I would like to see UConn, UCF and the Temple. Splitting with UCF and Temple leaves abad taste.
I agree USF overachieved early and has faded.
We've become the most feared team in the bracket.
After the Coogs, I think Memphis and Temple are the teams to beat in the tournament. Cincy looked really tired yesterday at the end and UCF peaked when they beat us, so not sure what you will get from them in the tournament.
From what I have seen, Memphis has really improved since we played them. I think Penny took a page from Coach Sampson and started to emphasize defense. They have played some excellent defense in the games I have seen them play. I still think we beat them.