http://www.uhcougars.com/sports/m-basebl/spec-rel/052617aab.html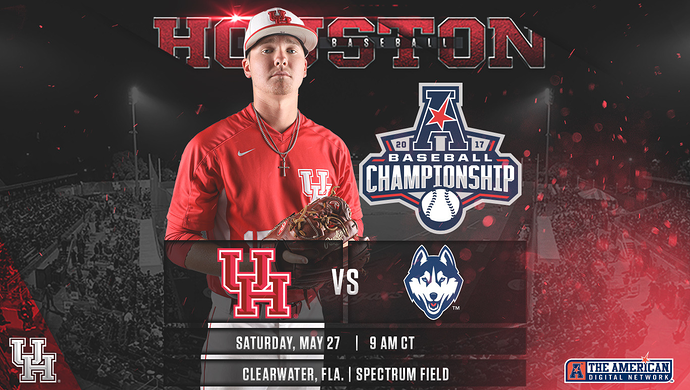 Video Link: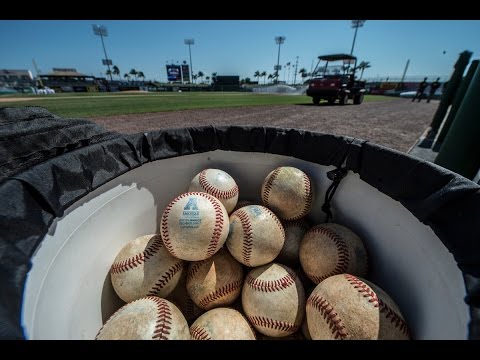 Radio Link: Houston - Home
Gametracker Link: http://www.statbroadcast.com/events/tournament.php?tid=631
With Montgomerie going for UCONN yesterday against Memphis, we should see Mason Feole in the first game Saturday. Feole's a freshman who isn't the power pitcher that Cate or Montgomerie are; relies more on getting groundball outs. He's 7-3 this year in 78.1IP with a 3.10 ERA.
Coogs did face Feole when they came to Houston in a game we won 9-1; Cumbie got the complete game victory while Feole gave up 6 runs, 6 hits, and 4 walks in 6 innings.
Same lineup as Thursday
Wong C
Hollis 2B
Scheiner 3B
Julks CF
Davis DH
Coldiron SS
Triolo RF
Lockhart 1B
Bielamowicz LF
Cumbie P
---
Coogs are the Visiting team today
The live stream URL listed on UHCougars is mangled. Does anyone have a working URL for this game? Thanks
Top 1st
Wong swings at the first pitch and flies out to center
Hollis flies out deep to right
Scheiner pops out to short
M1…No score
Bottom 1st
Flyout to center, flyout to left, K#1
T2…No score
I can't watch this circus pitcher.
Top 2nd
Julks walks
Davis grounds into a 5-4-3 double play
Coldiron pops out to shallow center
M2…No score
Bottom 2nd
K#2, K#3, Groundout to 2nd
T3…No score
Top 3rd
Triolo Ks swinging
Lockhart lines out to 3rd
Bielamowicz out after bunting and it hits him outside the box (bad call - he was still in the box)
M3…No score
Bottom 3rd
K#4, Lineout to left, flyout to left
T4…No Score
Top 4th
Wong Ks looking
Hollis hit by pitch
Pitching coach out to talk to Feole after a 2-0 count to Scheiner
Scheiner singles to left, Hollis to 2nd
Julks walks, bases loaded
Oof…Davis Ks swinging after getting ahead 3-1
Coldiron reaches on an error by the 2B as he couldn't handle it, Hollis scores…Coogs lead 1-0
Triolo flies out to center
M4…UH leads 1-0
Bottom 4th
K#5, popout to 1st, Infield single to short (should have been a Coldiron error), flyout to center
T5…UH leads 1-0
Top 5th
Lockhart almost kills Feole on a line single up the middle
Bielamowicz sac bunt, Lockhart to 2nd
Wong hit by pitch
Double steal (luckily the catcher bobbled before throwing), Lockhart to 3rd, Wong to 2nd
Hollis singles up the middle, 2 score…Coogs lead 3-0
Scheiner doubles to the left field corner, Hollis scores…Coogs lead 4-0
That's it for Feole, Nepiarsky in to pitch
Scheiner to 3rd on an errant pickoff throw
BOOOM! JULKS HOMER…Coogs lead 6-0
Davis pops out to shallow left center
Coldiron reaches on a throwing error by the shortstop
Triolo flies out to center
M5…UH leads 6-0
---
Nepiarsky was the guy I figured that would start the late game if the Huskies made it that far.