http://www.uhcougars.com/sports/c-track/spec-rel/013018aaa.html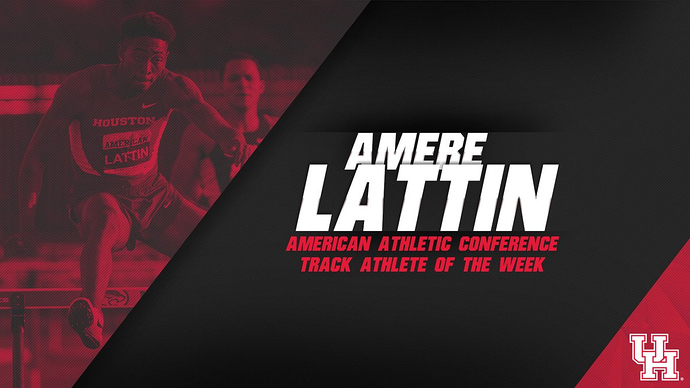 University of Houston Track & Field junior hurdler Amere Lattin has been named the American Athletic Conference Male Track Athlete of the week after running a top-20 time in the nation in the 60-meter hurdles at the Houston Invitational.
Lattin qualified second overall for the finals of the 60 hurdles after running 7.98 to win the third heat. The Missouri City, Texas, native returned for the finals later in the afternoon and posted a season-best 7.80 to edge former LSU standout Ryan Fontenot and take the title.
Lattin's time moved him to No. 16 on the NCAA 60-meter hurdles list this season and earned his fifth American Athlete of the Week honor. Lattin garnered all four of his previous laurels throughout the indoor and outdoor seasons of his sophomore year.
The award for Houston is the fourth this season after senior Elijah Hall claimed the track honor in back-to-back weeks on Jan. 16 and 23, while Tonye'cia Burks claimed the field honor on Jan. 16.