Summer camps are a prime recruiting time. I hope we have someone in place ASAP.
Good possibility we've been waiting on the WCWS to end. Should be done by Wednesday.
I always thought Kyla Holas was good for us. Steady on the helm, she was. I'm guessing the pressure to win is building, and that's a good thing!!
Disappointed in the hire. Why did we run Holas off if we were just going to promote from within? And why did it take so long? My guess: This was a backup plan, meaning we lowballed/couldn't afford our real target.Levine-ish hire IMHO. Hope I'm wrong.
I have a feeling there were issues between Holas and Yurachek (or others in the department). She resigned the day after the season ended as her contract was coming up; she then deleted almost all mention from social media of her association with UH immediately and has been posting nothing but cryptic messages since.
This may have been more to keep what they have going as this was only their 2nd losing season in program history (1st was the 1st season), most of that due to an extremely young team playing a very tough schedule. I'm wary as well, especially after Levine, but Vesely seems to be extremely capable per her resume and well liked. Hopefully she can bring in a stud pitcher that we've been missing.
Unfortunately with all hires, only time will tell.
I will say this, this seems to be a very popular hire with the players and peers based off what they've been saying on social media.
Kristin Vesely Named Houston Softball Head Coach
Two-time All-American at Oklahoma has spent six seasons at UH and has extensive recruiting ties in Texas
http://www.uhcougars.com/sports/w-softbl/spec-rel/061016aab.html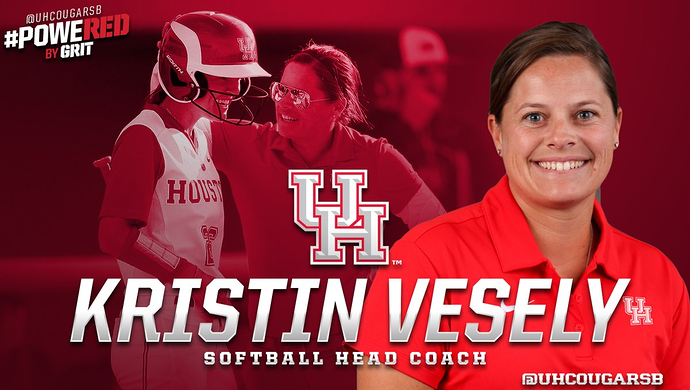 "This is a huge accomplishment in my life and fulfills one of my biggest goals that I have aspired to reach ever since falling in love with the game at an early age," said Vesely. "This achievement means so much to me in the fact of having the ability to establish a new tradition and a new history to an already great program.
"When people watch the University of Houston, they are going to see a team that is passionate about the game, our University and our city. They are also going to see a team that plays extremely aggressive as it will be a team that is predicated on being mentally and physically tough. I cannot thank Hunter Yurachek and DeJuena Chizer enough for this opportunity and look forward to building Champions for Life with this exceptional program."
1st Interview: