Well deserved. Kid's going to be a monster in a couple of years.
http://www.uhcougars.com/sports/m-baskbl/spec-rel/021218aac.html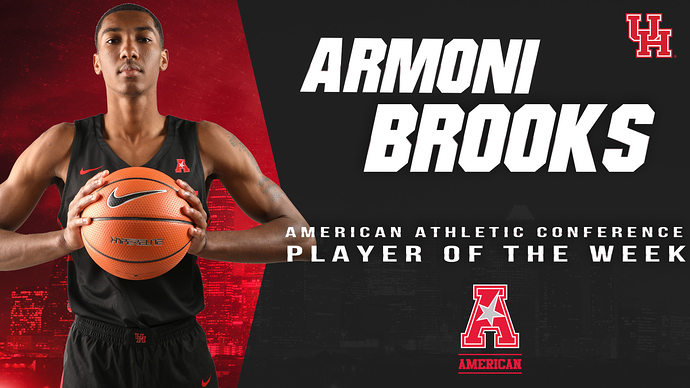 Brooks recorded the first two double-doubles of his career in back-to-back games against league-rivals SMU and Tulane inside H&PE Arena last week The Round Rock, Texas, native averaged 17.0 points and 11.0 rebounds per game while leading the Cougars in 3-point field goals (11), 3-point field goal percentage (.588) and steals (3).
He played a key role in a Houston defensive effort that allowed only 50.0 points per game and .350 shooting from the field in both games.
Armoni has a silky smooth shot!
A lot like James Harden, he's a good defender when he's locked in. The length of his arms causes all kinds of problems for opponents. On the offensive end, his elevation and release are so good, if he could perfect a step back like Harden and Chris Paul, watch out!