Yes he is. I went back to look and see how he ended up being a walk-on and it looks like he wasn't rated by any of the recruiting services nor seriously recruited by anyone. Found his HUDL and there's nothing special when you normally look at WR tape…he's not fast or tall, his routes were unpolished, he didn't run away or juke anyone…but a couple of things stand out. 1) He has great hands, made a number of diving catches and 2) like 60% of his HUDL tape is him throwing these great blocks that just knock folks off their feet. Not something you normally see from a WR much less so much of it…
So glad he ended up at Houston and, from what I've seen coaches/players say, he might be the hardest worker on the team. We needed a replacement for Ayers and so far Bonner's filled that role well.
Bonner and Dunbar are both a lot of fun to watch. They get open and they catch the football. It's fun to see guys that make it mostly due to hard work as opposed to a lot of natural ability
Hard to believe Bonner was third on the depth chart at that slot receiver position and one of the guys in front of him was a true freshman. If Bonner was third, makes me really wonder what we're missing with Samples and Stevenson being out. But on the bright side, Bonner has been fantastic and it's allowed us to see more of King.
I love it when overlooked kids work hard and make a name for themselves. That aspect made watching the Keenum to Patrick Edwards connection that much more fun to watch for me.
Bonner was in the proverbial zone last night. Game of his career.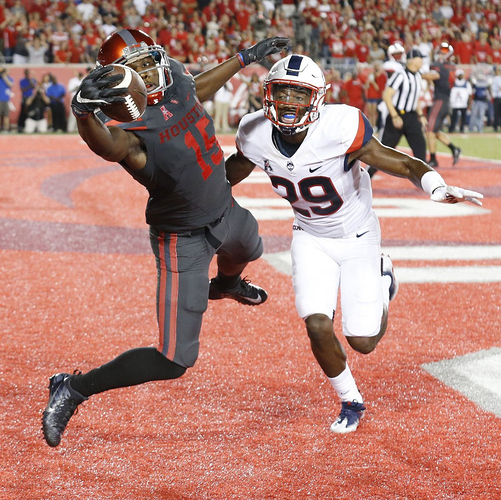 He had so many catches that got UH deep into UConn territory. He deserved a touchdown for his efforts, and he delivered in jaw-dropping fashion.
It was almost like Bonner responded to King's breakout game vs Texas State by saying "Not so fast my freshman friend."
Bonner and Dunbar both look to hit people after they catch the ball - you won't ever see those guys dance out of bounds instead of fight for an extra yard.